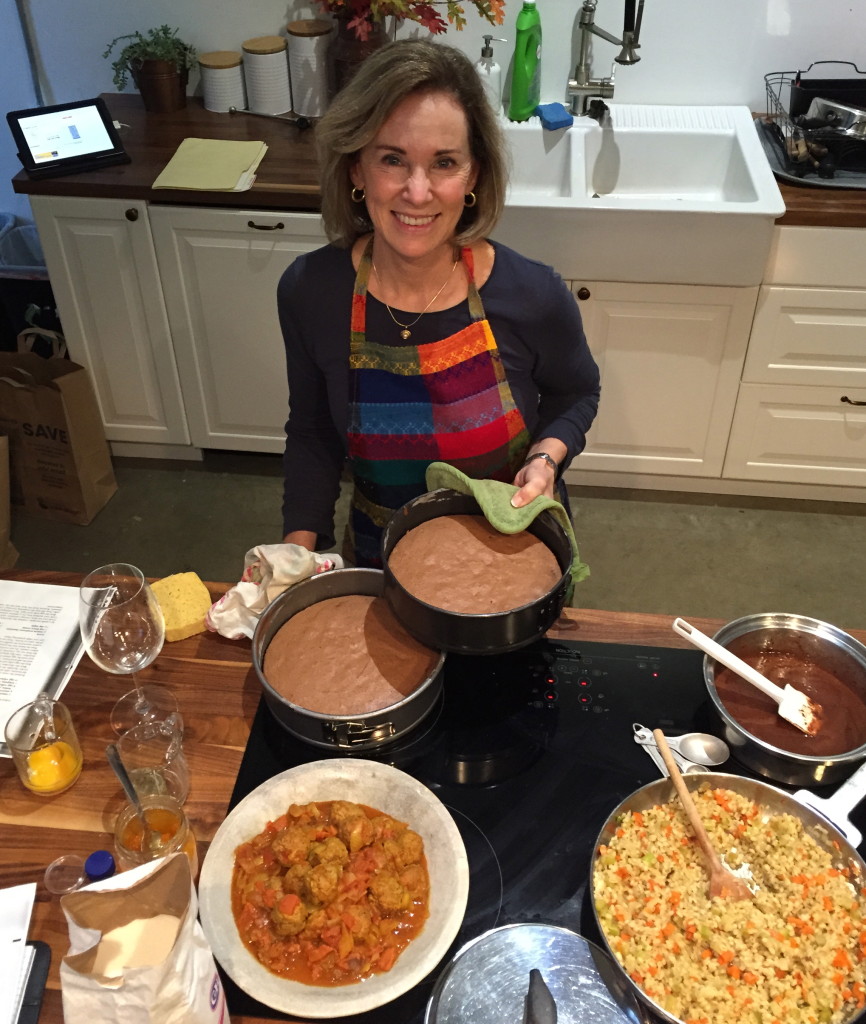 After two years of collecting and developing apricot recipes, the food photography process has come into clear focus for me. There is the summertime frenzy once fresh apricots become available, when we make jams, tarts, pies, cobblers and cakes during their short season, and the more relaxed fall/winter/spring seasons, when we can focus on all the delicious ways to use dried apricots. Last summer, I flew up to Seattle for a food shoot carrying 10 pounds of ripe Blenheim apricots to ensure our work not looked but also tasted wonderfully. My airplane seat smelled heavenly! Similarly, during our winter photo shoots, I packed 5 pounds of dried Blenheim apricots each time to cover the range of recipes planned.
My food photographer, Jessica Yager of Jessica Elizabeth Photography is based in Seattle, and works with The House Studios as a Production Coordinator and Photographer. It is wonderful to work with Jessica who has developed a successful professional career in food photography with a youthful eye, extraordinary patience and attention to detail.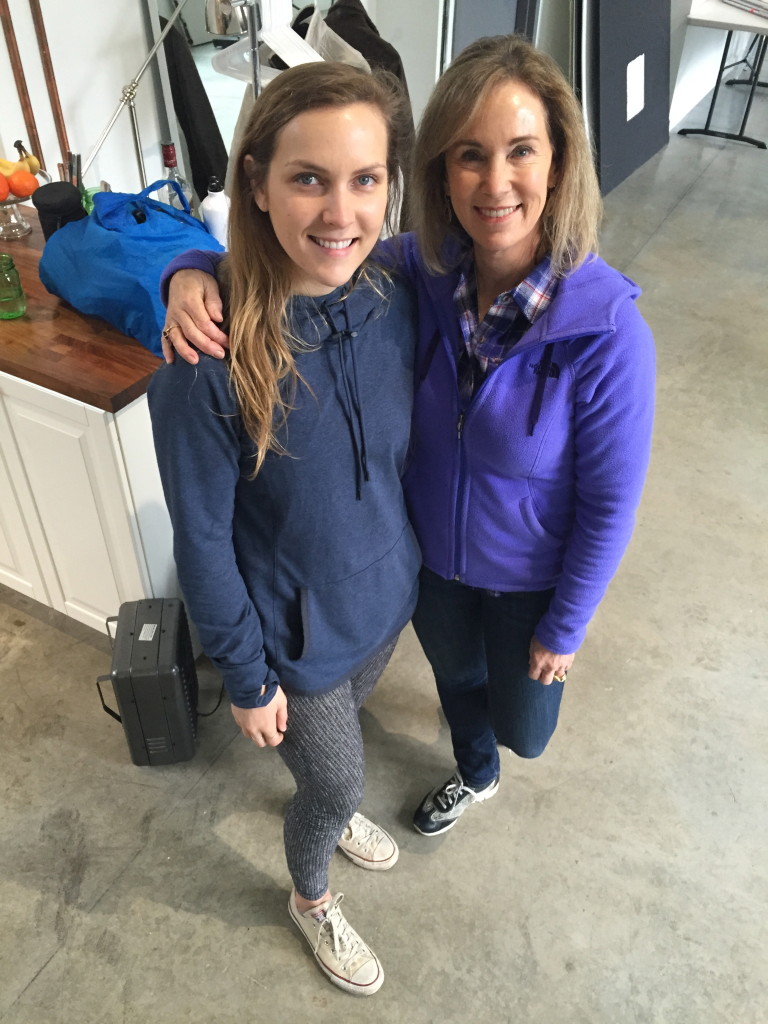 Jessica is also married to my multi-talented son Jack Newman, who works at Seattle City Light in the field of Renewable Energy and is a professional musician. This unique opportunity to mix my passion for apricots with family adds the elements of a family visit and fun in my second favorite city (after San Francisco), typically woven around two very long days in the studio.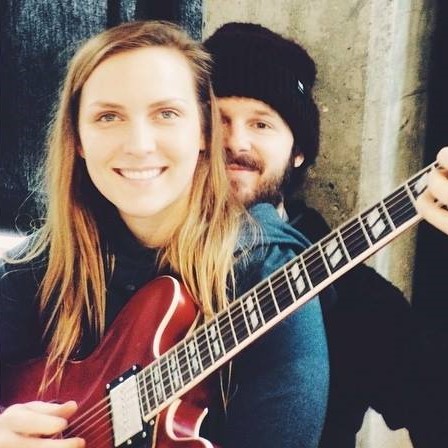 The family pitches-in in so many ways: Jack handles logistical issues, helps with dishwashing and food prep, and provides soothing musical interludes. Jessica's family provides housing, support in the test kitchen, and of course, enjoys a family dinner at the end of the day of shooting.
Most of the time we work with a Reggae backbeat, played by Jack or from Jessica's song list. Occasionally, I will change the mood, switching to my preferred groove, Jazz, and Seattle's wonderful Jazz station, KPLU.
The photo shoot days are long, time-challenging, exhausting and fun. It begins with lists, shopping (usually at multiple stores), and loading-in the food and photo equipment.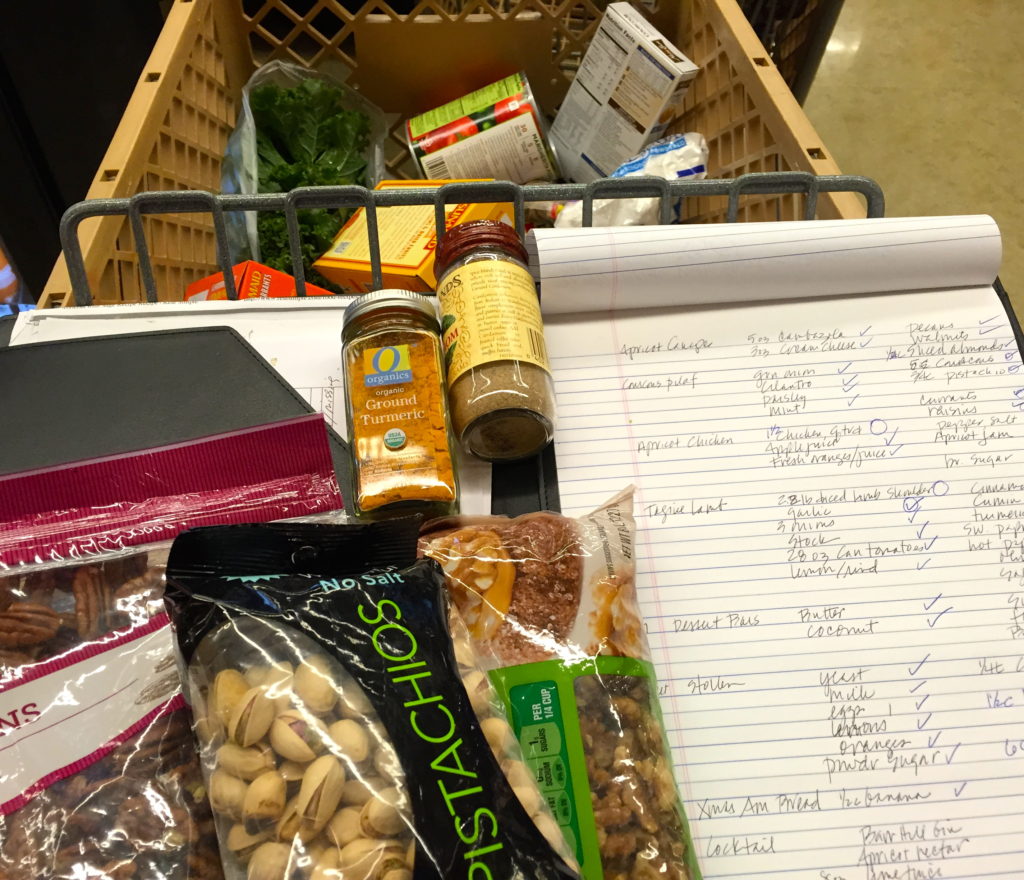 After making our initial prop selections from The House Studio's extensive collection, which includes more than 10,000 pieces of dishware, utensils, food props and backdrops, we set-up in the kitchen and photo studio, and finally, we are ready to cook and shoot. We have been fortunate to work in the greenhouse studios, a 1,550 square foot space that offers abundant daylight from three directions, and a test kitchen ideal for food shoots.
With Seattle's northern exposure, the goal of using natural light whenever possible passes quickly during wintertime, so the pressure is on to bring recipes out before the light fades.
In two days, we can produce ten recipes, working twelve hours per day. Often we forget to eat during the day, which makes the 5-course dinner that follows the shoot, a real treat! This winter we fit in two sessions, in December and February, covering holiday breads and cakes, wintry stews and roasts, appetizers, salads, cocktails and more. Over the course of 4 working days, we prepared 20 recipes including:
Appetizers:

Bacon-wrapped Apricots with Sage (see recipe below)
Apricot Canapés

Entrees:

Apricot Baked Chicken
Lamb Tagine with Apricots
Apricot-Whiskey Glazed Pork Tenderloin
Apricot Lamb Stew
Parsi Chicken with Apricots

A few side dishes

Rice Pilaf with Apricots and Almonds
Kale and Couscous Salad

Some holiday breads

Stöllen
Christmas Morning Bread

Lots of desserts

Poached Dried Apricots with Ginger
Brandied Apricots with Ice Cream
Apricot Dessert Bars
Apricot Cream Cake
Apricot Cranberry Pound Cake

And a few more things

Apricot, Almond & Coconut Granola
Apricot cocktails for holiday cheer!
As I mentioned, getting something ready quickly for the camera is important to make the best use of our time in the studio and to shoot with natural light.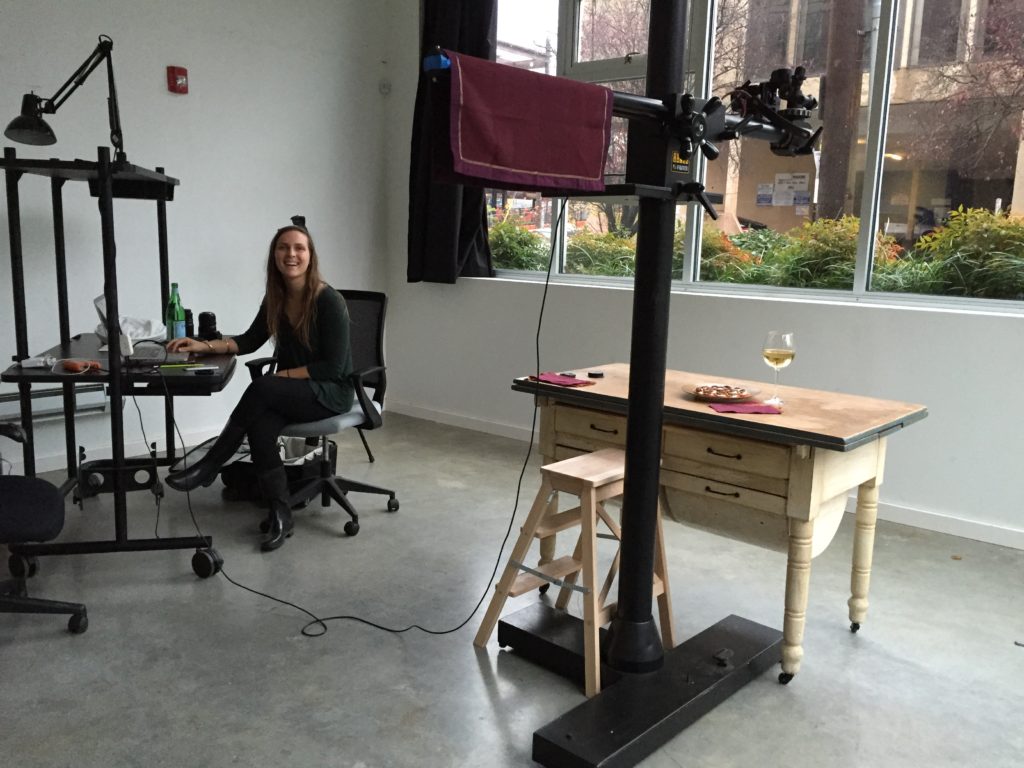 Among the many dishes I cooked and Jessica photographed this winter, this delicious dried apricot appetizer comes together quickly with just a few ingredients and minutes in the oven.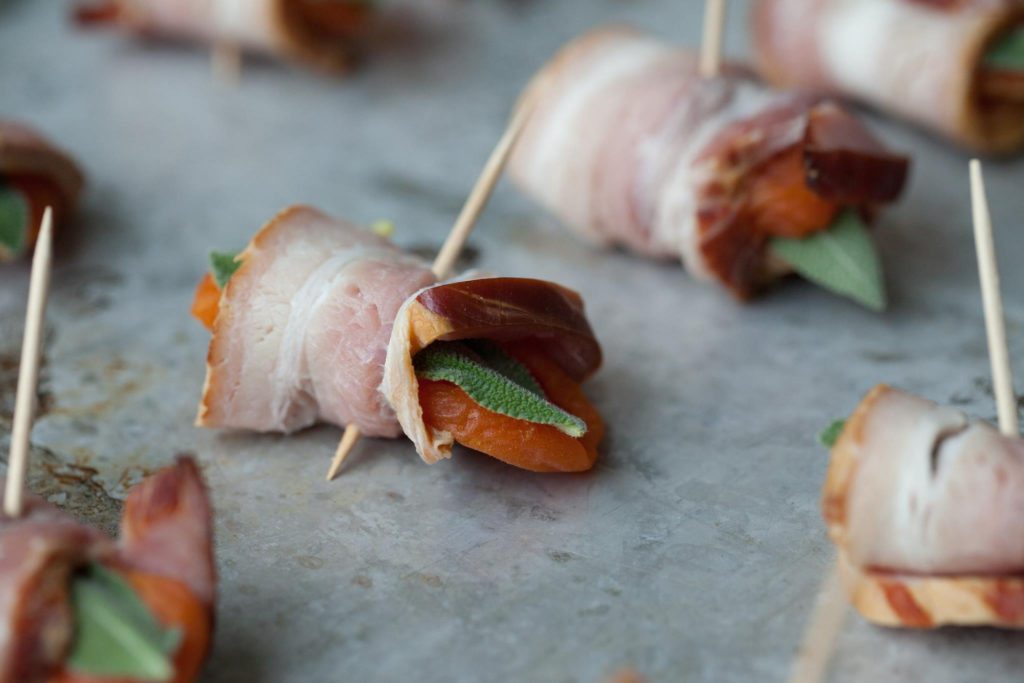 After easy assembly, the bacon wrapped dried apricots are baked in the oven, then brushed with maple syrup.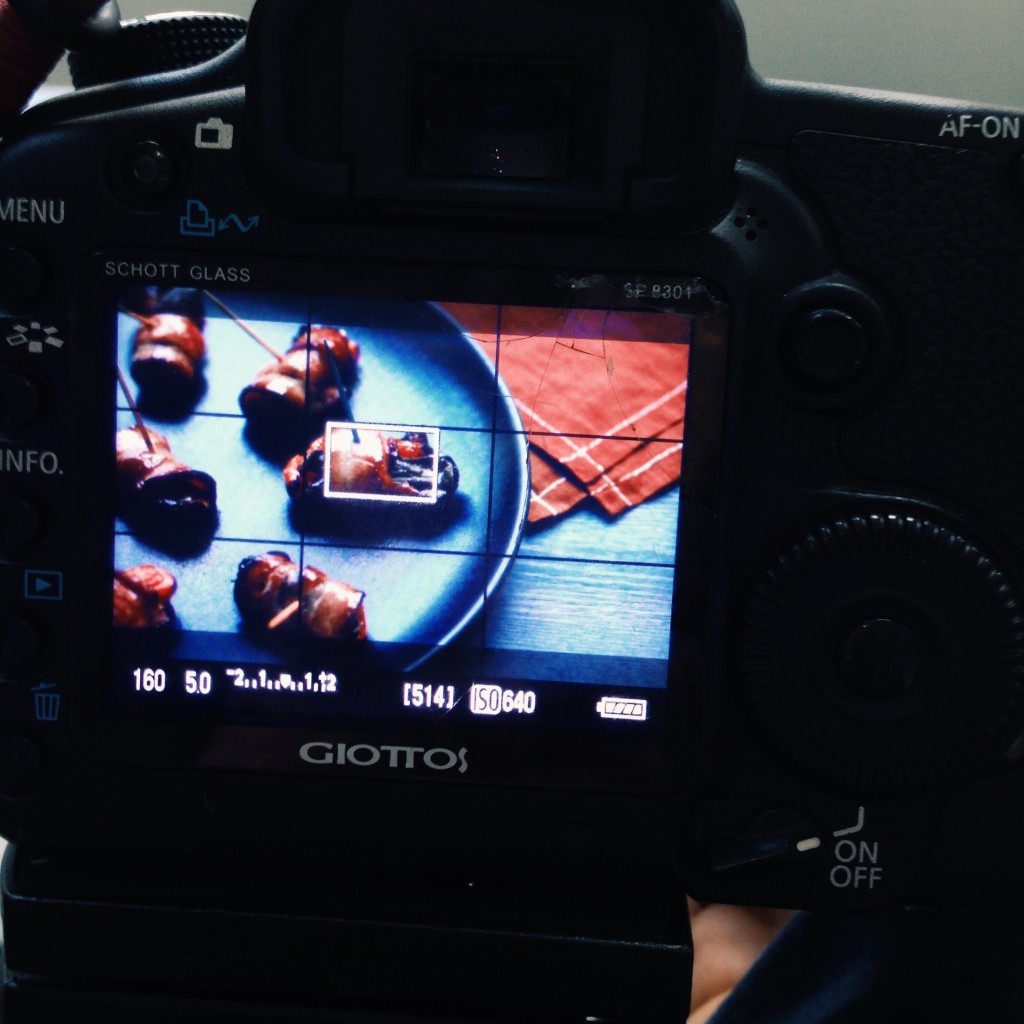 [recipe print="true"]
---
BACON WRAPPED DRIED APRICOTS
---
I first tasted a similar appetizer at a French bistro and loved the contrasting flavors of rich bacon with piquant apricots. Fresh sage adds a savory note and the maple syrup glaze, a sweet one, bringing all the flavors into harmony.
| | | |
| --- | --- | --- |
| Yield: 2 Dozen Appetizers | Prep Time: 10 minutes | Cook Time: 10 minutes |
Ingredients:

24 large dried apricots, preferably Blenheim's

12 slices of bacon, cut in half (or shorter lengths) to wrap around one apricot; applewood smoked bacon is a nice choice

24 large fresh sage leaves

1/4 cup maple syrup

24 toothpicks

Directions:

Preheat oven to 350 degrees F. Line a cookie sheet with parchment paper.

Place a sage leaf on each apricot half and wrap them in a piece of bacon.

Secure each bundle with a toothpick, and place seam side down on the cookie sheet.

Bake for 5 minutes and turn the bacon rolls over. Bake 5 minutes more or until the bacon is cooked through but not crisp.

Remove from the oven and brush lightly with a teaspoon or more of maple syrup.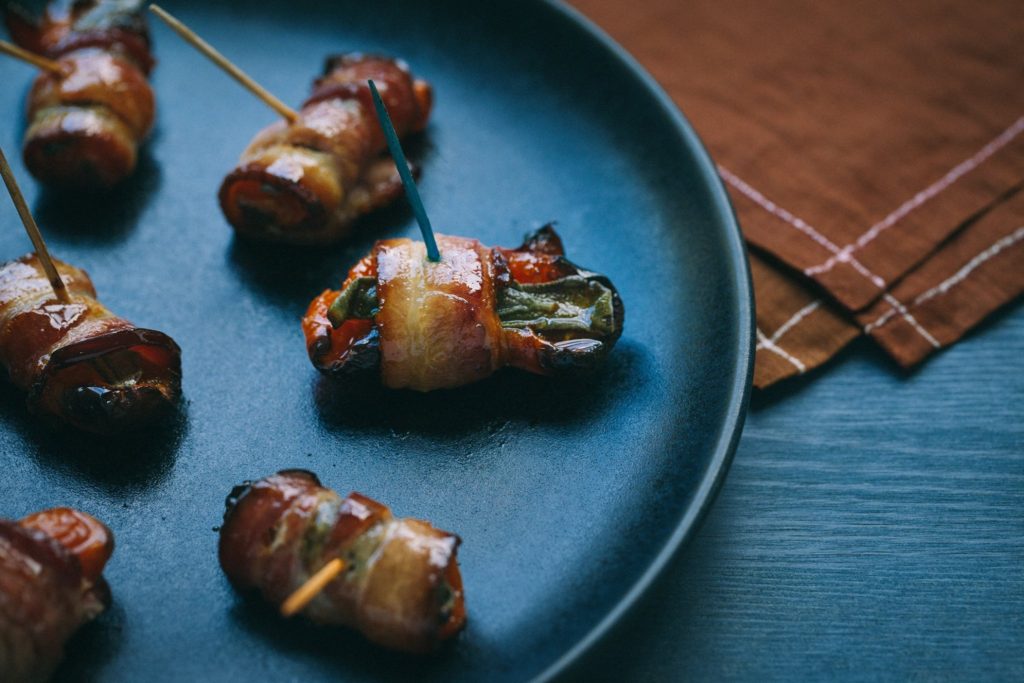 [/recipe]
---
The bacon wrapped apricot appetizer was the perfect start to this post-shoot dinner, along with a good Oregon Pinot Noir. It felt great to get off our feet, relax and enjoy the delicious recipes. (I'm the photographer here)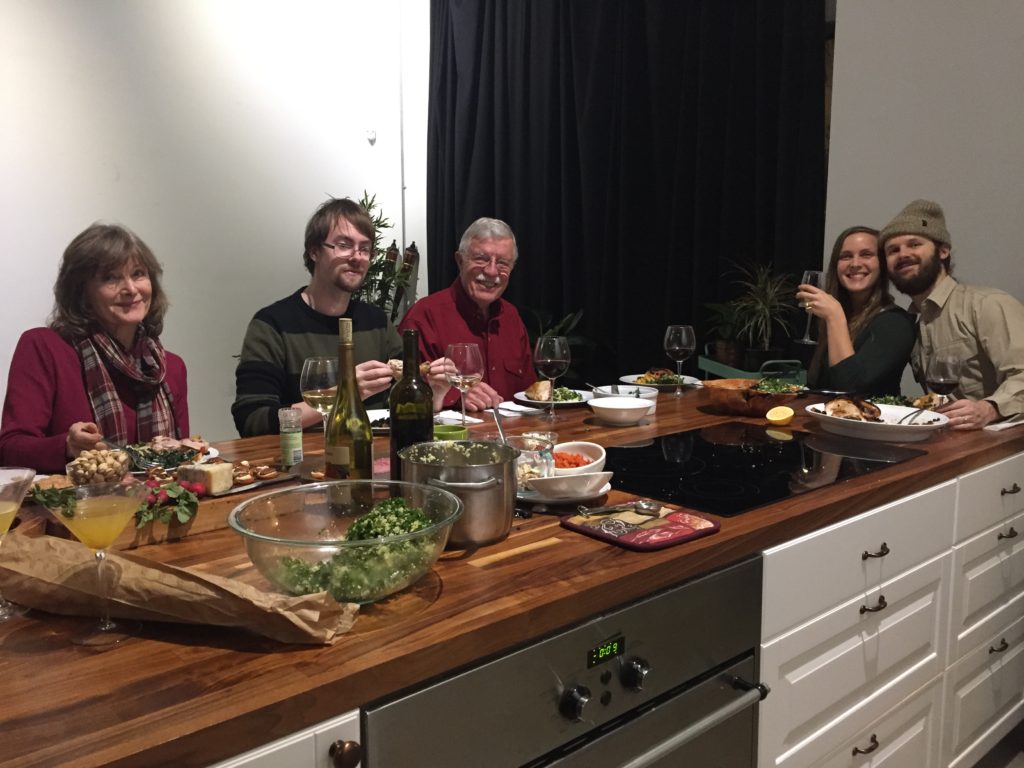 Before the weekend ends, there is time for some cultural highlights (Jazz Alley is a favorite), visits with cousins, and a little sightseeing. Just up the hill from the studio is this stunning viewpoint over Downtown Seattle, Elliott Bay and, when it's "out", Mt. Rainier.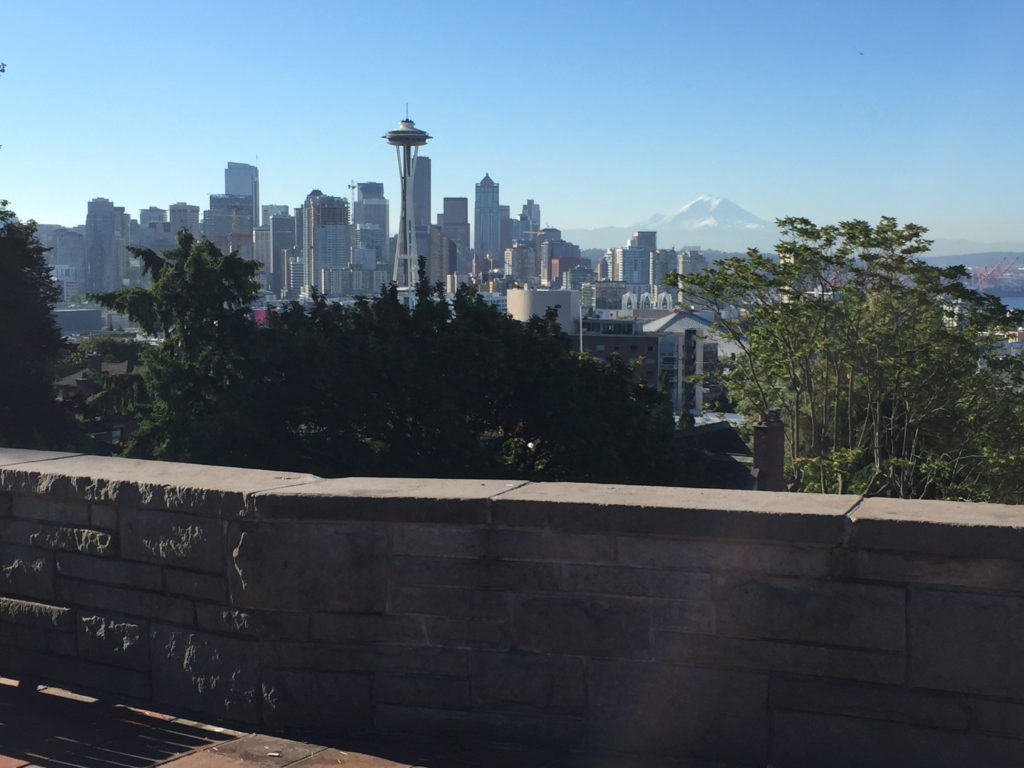 ---
Follow my blog
---