Long ago in France, Apricot Day was celebrated on August 1, roughly the time when fresh apricots came into season. Just a few years ago, National Apricot Day appeared in the U.S., thanks to the National Day Calendar, on January 9! Like me, you might wonder, "Apricots in January?" All I can say is that, yes, they are in season right now — in the southern hemisphere – where apricots are in the market from November to February.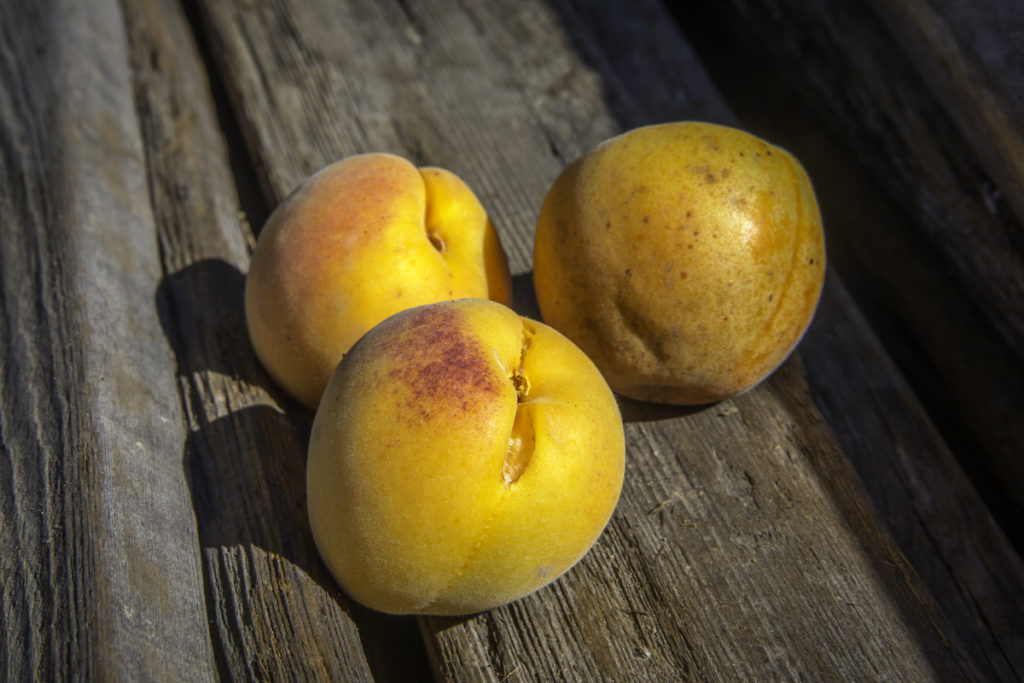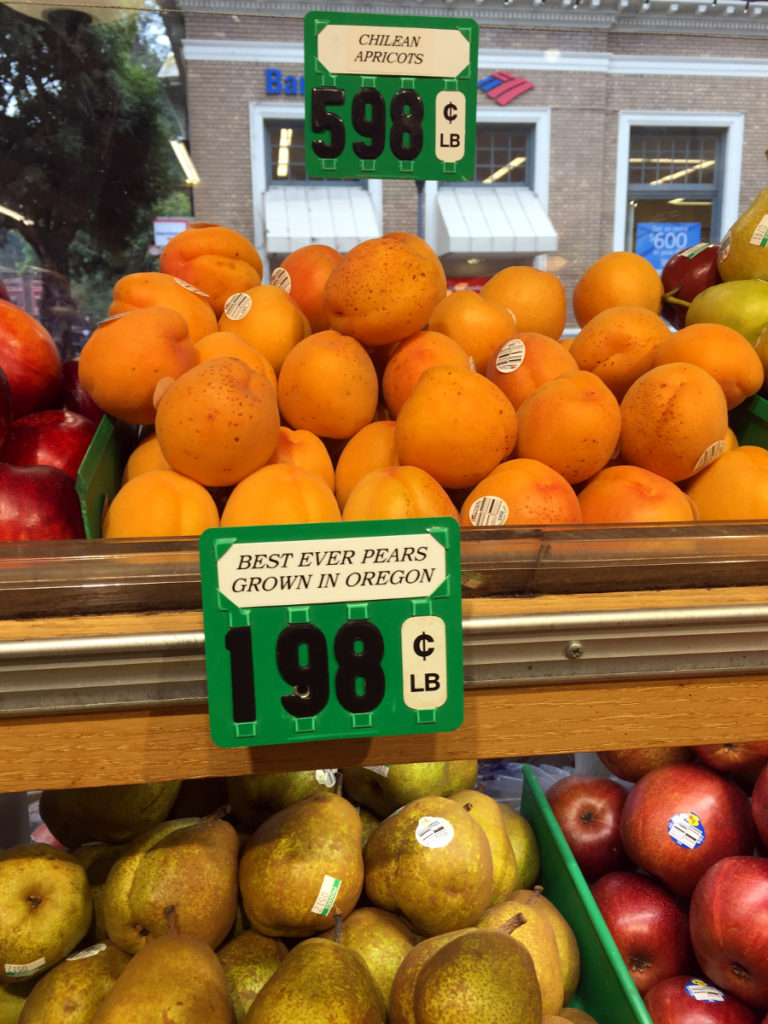 This was something I never thought about until last year, when I noticed apricots from Chile and New Zealand were featured right next to Oregon pears in select markets. They are beautiful to behold and quite dear ($6 to $9 per pound). Of course, I couldn't resist buying some but sadly, found that their flavor did not measure up to their looks. Still, it is fun to hold an apricot in your hand in January and know that our California crop is only five months away!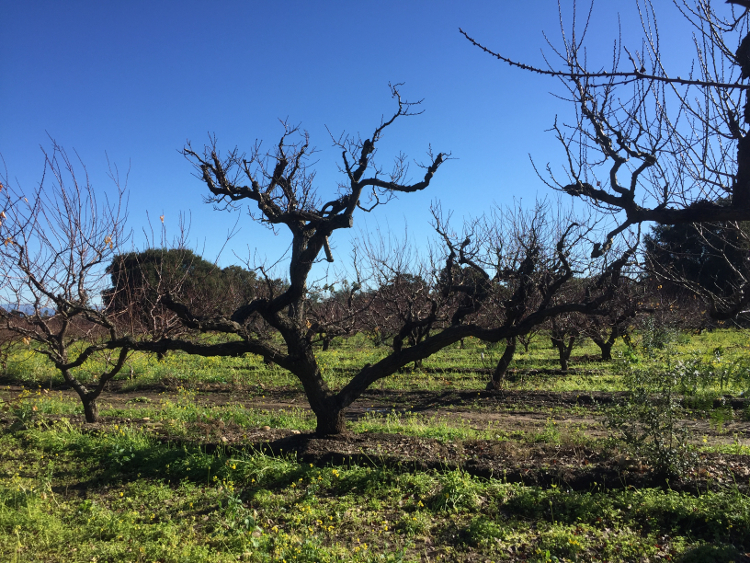 Here in North America, the apricot trees are dormant in January. Small, tight buds are visible on the branches, waiting for warmer days in February and March when they will swell and burst open with their gorgeous, fragrant blooms.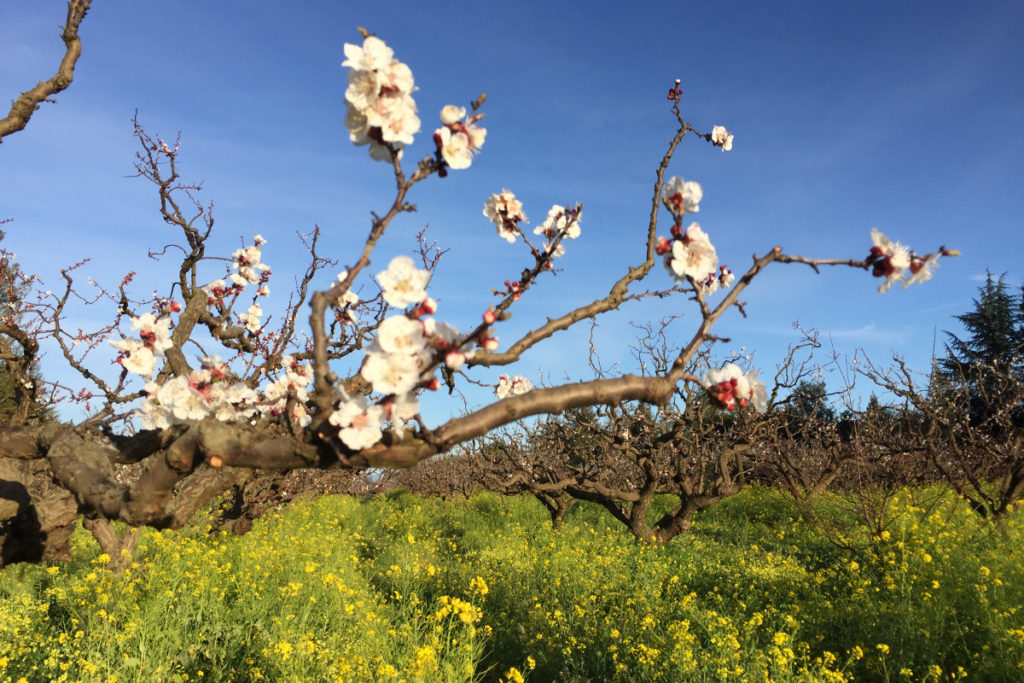 I visited Novakovich Orchards in Saratoga right after the New Year and talked with Matt Novakovich about the busy Christmas season. It was late afternoon, the sun had dropped behind the Santa Cruz Mountains, and he was carrying a ladder back to the barn, wrapping up a day of pruning. With 100 trees to the acre and six acres planted in apricots, the Novakovichs have 600 trees to prune during the dormant winter period. Pruning apricot trees is entirely done by hand, from ladders and lifts, tree by tree. I thought of the generations of this family who, year after year since 1925, have made the seasoned pruning choices to eliminate the suckers and keep the up-facing fruitwood that can best support the weight of this year's crop. As we talked and examined the trees, I made mental notes for pruning my young trees at home.
Apricot treats from Novakovich Orchards and Andy's Orchard (l); Apricot syrup and crêpes (r)
There is so much you can do with apricots in winter, which means there is a lot to celebrate on National Apricot Day! From my cookbook, I'm enjoying the Chocolate-dipped Apricots I made and other apricot treats that I purchased for the holidays. Gifts of my Apricot Syrup were very well received. On Christmas morning, the family enjoyed pouring it over their
crêpes. From breakfast to cocktails, apricots add wonderful flavor, texture and healthfulness to so many recipes.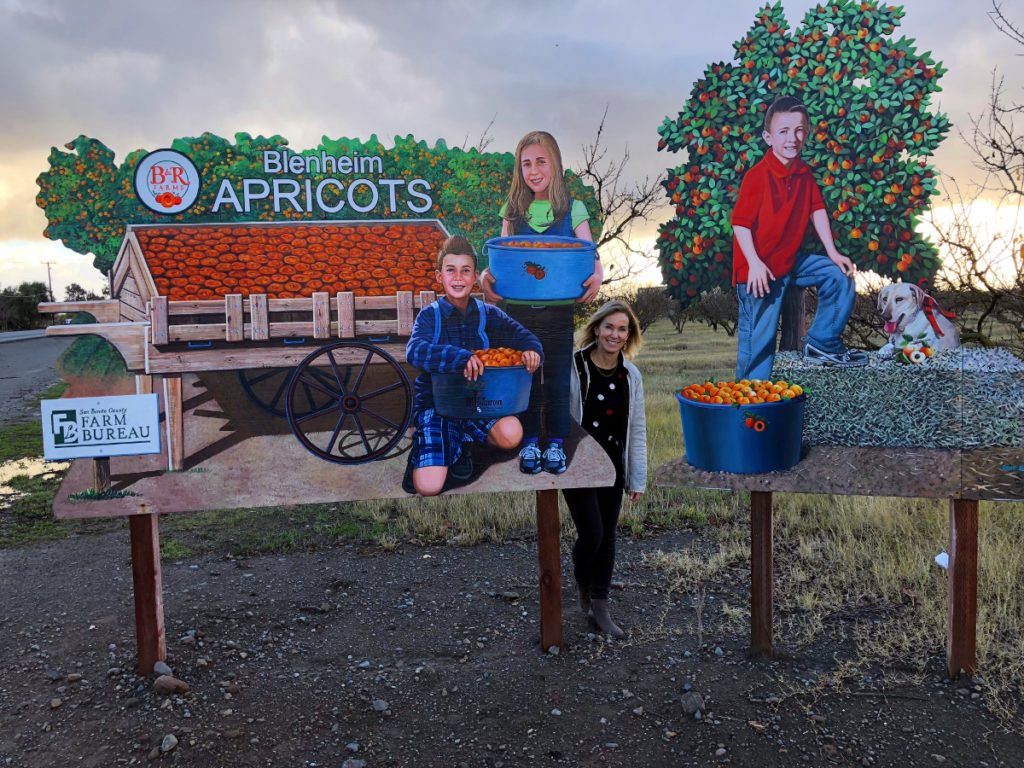 The Rossi family, owners of B & R Farms in Hollister, will be celebrating National Apricot Day by serving Hot Apricot Tea and Apricot Scones. It is worth the trip to their scenic ranch to enjoy their warm hospitality and exceptional range of apricot products. Here are some recipes you can easily make on National Apricot Day – or anytime you please – to enjoy with family and friends.
Apricots With Basil-Goat Cheese & Walnuts
This quick and tasty appetizer from B & R Farms is perfect for National Apricot Day!
4 ounces fresh goat cheese (room temperature)
2 teaspoons milk
2 tablespoons fresh basil, finely chopped
40 B & R Farms Dried Blenheim Apricots
40 walnuts
Mix together cheese, milk & basil with a wooden spoon until spreadable. Thin with more milk, if necessary.
Spread a heaping ¼ tsp. mixture on each apricot and top with a walnut. Serve immediately.
---
Chocolate Apricot Bonbons
This chocolate-apricot delicacy is a recipe from my cookbook. Chocolate Apricot Bonbons can be an elegant dinner party dessert or a lovely gift; either way they are unforgettable!
MAKES 40 Bonbons
2 1/2 cups (12 ounces) dried apricots, jumbo size preferable
1/4 cup heavy whipping cream
5 ounces bittersweet chocolate, cut into small pieces
Finely grated zest of 1/2 orange (about 1 teaspoon)
Select dried apricots that are large, moist and have a bright orange color. Line a baking sheet with parchment paper. Lay out the apricots in rows, cut side facing up.
To make the ganache: In a small saucepan, bring the cream to a boil over medium-low heat. Remove from the heat and add 3 ounces of the chocolate and the orange zest. Stir with a spoon until smooth and glossy. Transfer to a bowl and let cool completely.
Fill a pastry bag with a #4 plain tip and pipe a dollop of the ganache onto half of the apricots. Top each with another apricot half (skin side up) to form a sandwich. Refrigerate until firm.
Melt the remaining 2 ounces of chocolate in a double boiler set over barely simmering water, until smooth. Using a fork or spoon, quickly drizzle chocolate decoratively, back and forth, over the apricots. Store bonbons in an airtight container in the refrigerator, and return to room temperature before serving.
---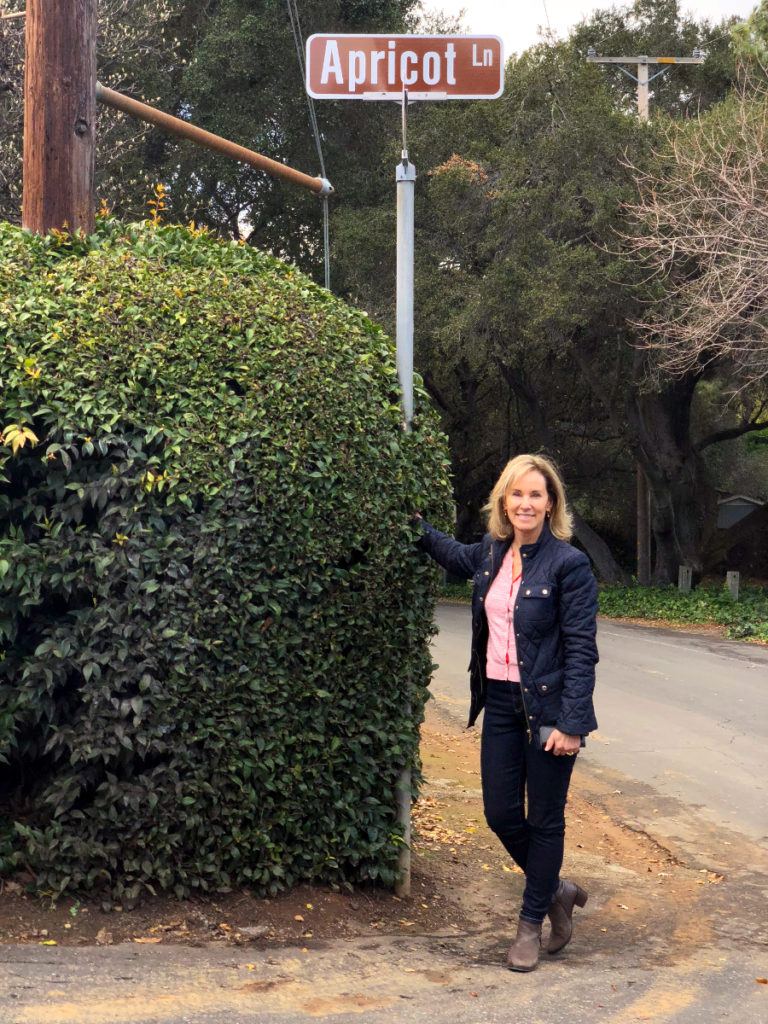 Please check out and "Like" my new Facebook Page
"For the Love of Apricots"!
You'll find a new video and lots of Apricot updates.