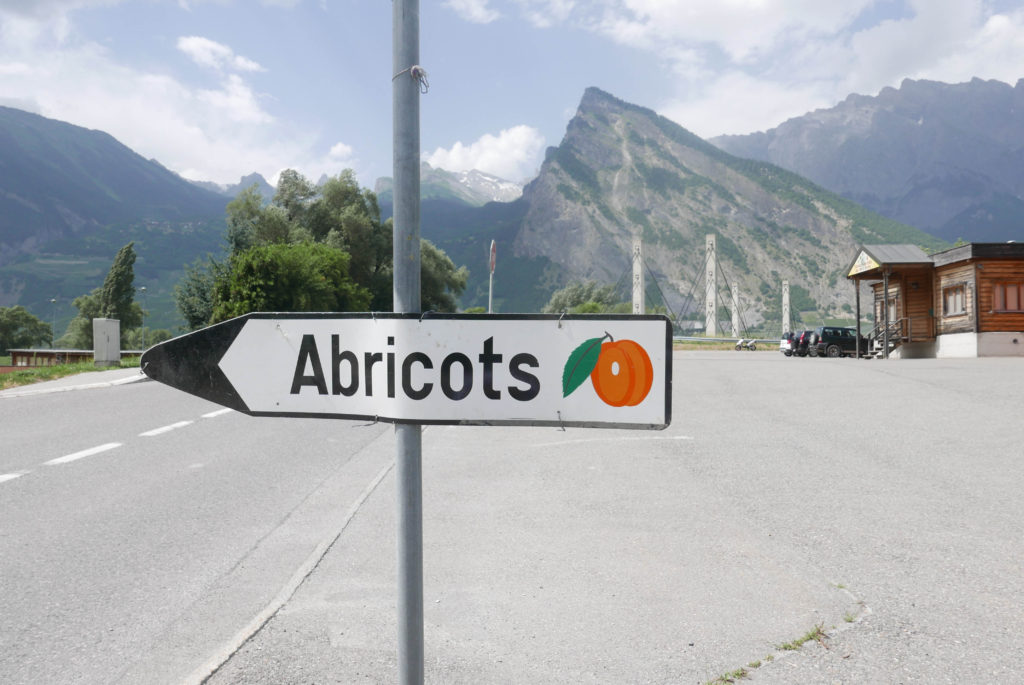 Switzerland is famous for its chocolate and fondue…but apricots? Switzerland and apricots just didn't seem to go together, especially in a valley located at the base of the Great St. Bernard Pass. Yet, on a recent visit, my husband and I were delighted to discover that this small country, renowned for its glaciated alps and crystalline lakes, has the climate, soils and longstanding tradition of producing outstanding apricots.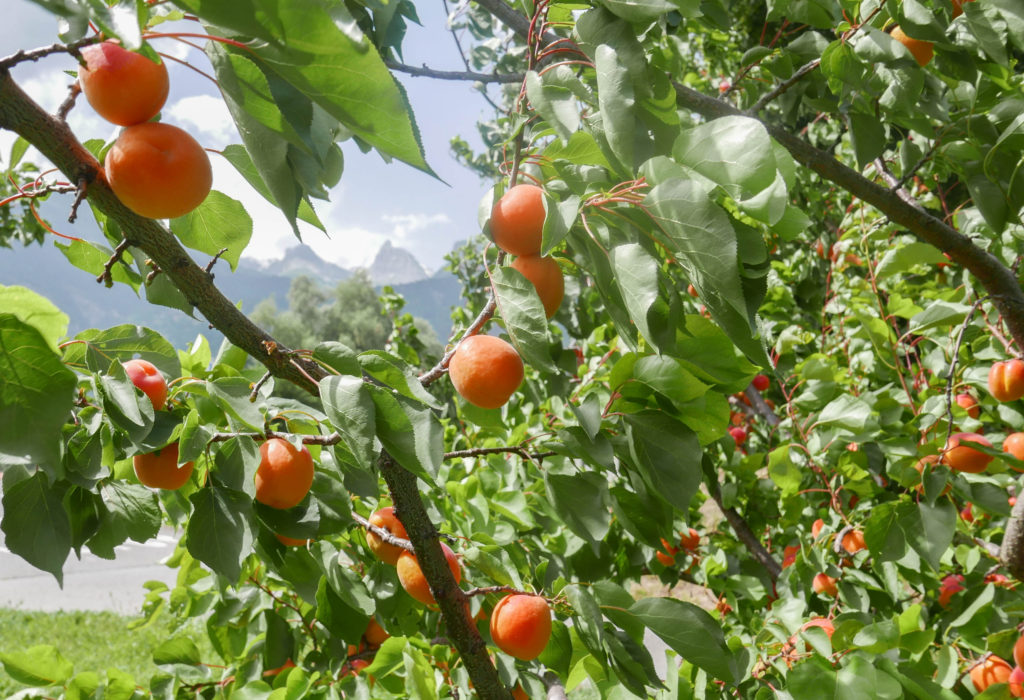 The Canton of Valais, a large province in southwestern Switzerland, holds the glacially-carved Valais valley through which flows the inaugural stretch of the Rhone River. Framed by soaring alps including the Matterhorn, the Valais valley enjoys abundant sunshine, fertile soil and produces more than 96% of the apricots in Switzerland.
We arrived in Geneva in May to visit our daughter at the end of her studies and travel for a few weeks. While she packed her bags, we headed out on a road trip along Lake Geneva to Montreux (home of the famous Montreux Jazz Festival) and into the Valais valley in search of apricots. I realized it was early in the season but was curious to see for myself how an alpine country could produce this delicate fruit that I had thought mostly thrived in Mediterranean climates.
As we drove into the valley, we were alternately looking at maps and the passing landscape to find our non-tourist destination. Suddenly, approaching the town of Martigny, there they were. We took the next highway off-ramp and headed down a country lane, looking for an invitation into an apricot orchard. After seeing this encouraging sign, we parked the car and began to explore on foot.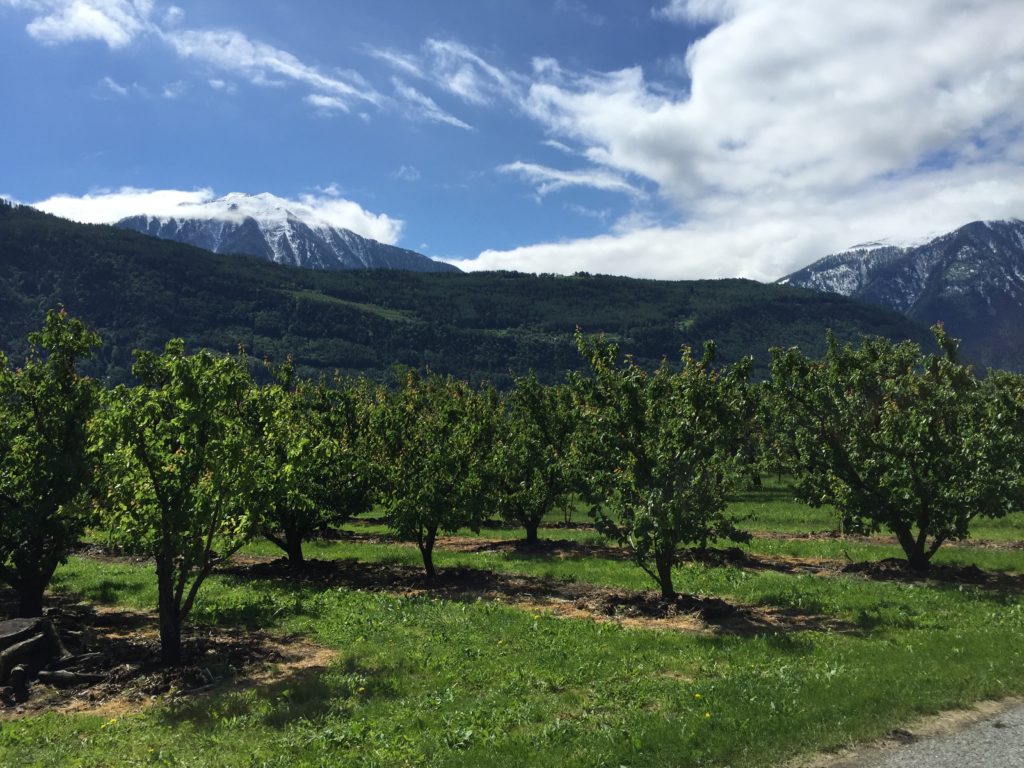 In late spring, the Valais apricots were just beginning to blush on the trees, too early to pick or taste. We had to content ourselves with the scenic views as we followed the apricot trees from the valley floor up a narrow, winding road that leads to the Great St. Bernard Pass. Stopping at a small farm orchard clinging to the mountain slope, we caught a view of the Valais valley stretching eastward from Martigny to Sion, where apricots begin to give-way to a prime wine-growing region.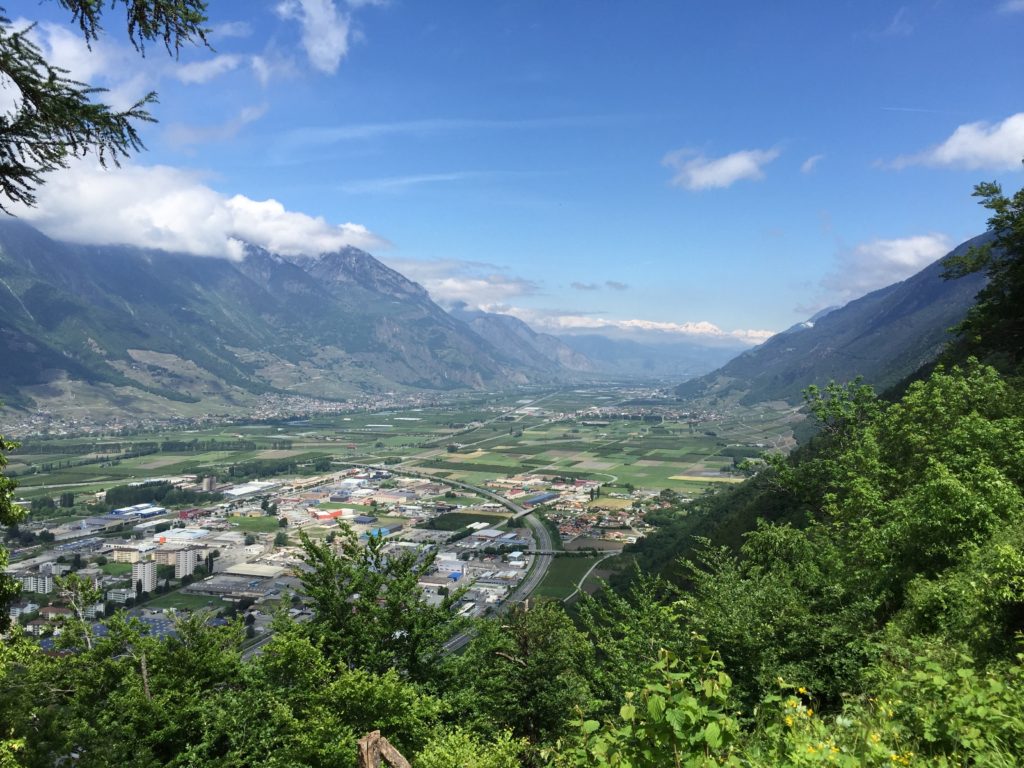 The most famous apricot grown in Valais is the "Luizet" variety, that ripens from July to the end of August. Luizet apricots are prized for their beautiful red-orange color, juicy texture and excellent tart/sweet flavor. In recent decades, cultivation of other varieties has increased to approximately 70 different types of apricots today. Despite the wide range of outstanding fruits and vegetables grown in the Valais, I was charmed to learn that the apricot is known as the "prince of the Valais orchards".
This year, our son and his wife visited the region in July and discovered this apricot stand, where they learned about the delicious fruit from a lovely Swiss lady, who coincidentally had lived in San Francisco for many years before returning to her home in Valais.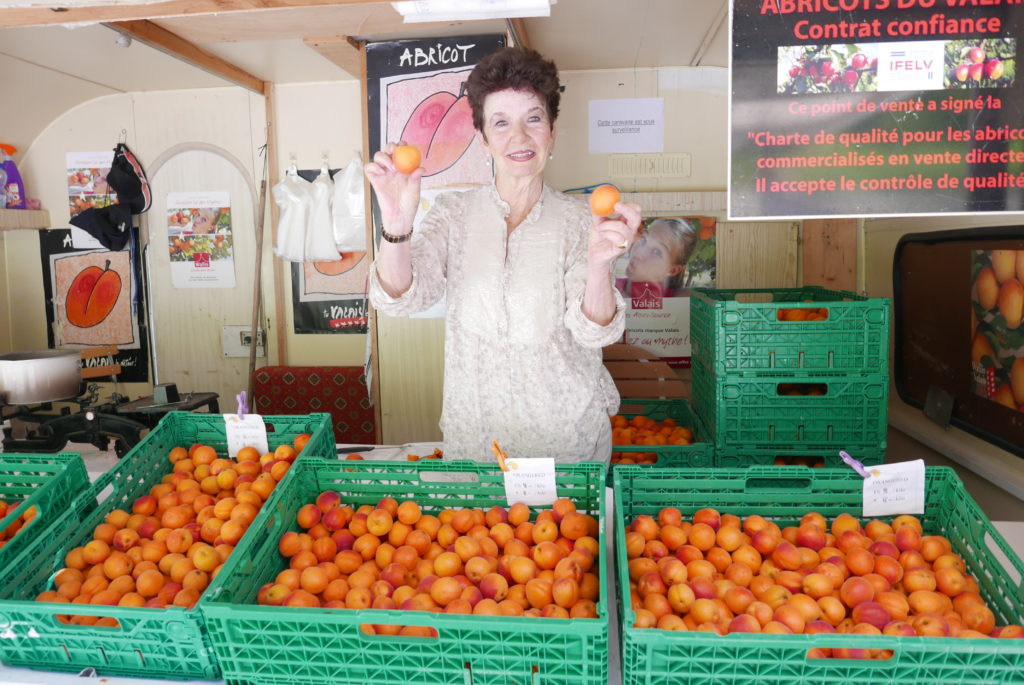 Nearly all of the Swiss apricots are consumed within their borders, so to learn of their pleasures one must make a visit. Beyond being enjoyed as fresh fruit, the Swiss produce an impressive variety of apricot products. Foremost among these is Apricot brandy, which has a luminous orange color and extraordinary flavor. Having made my own apricot brandy, I have to say the Swiss have some traditions up their sleeve that I would like to learn!
Apricots also make their way into delicious chocolate bars, brandy, apricot nectar, eau de vie, moisture lotion as well as many other products.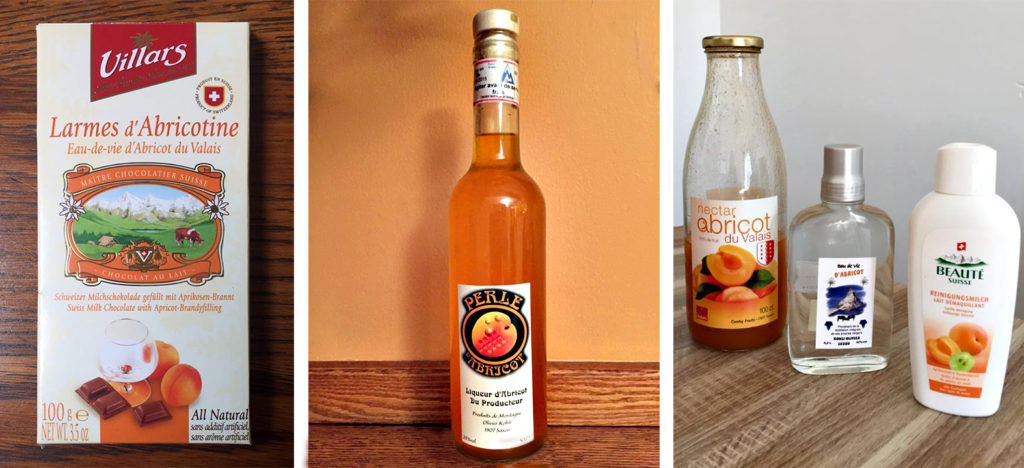 We made a few stops near the provincial capital, Sion, to taste Apricot Brandy, the local wines, and shop for other apricot products; all conveniently sized to bring home to savor, while remembering the beautiful and bountiful Valais valley. With our local apricots, I prepared this Swiss recipe for Apricot Mousse and imagined the flavor of Swiss apricots!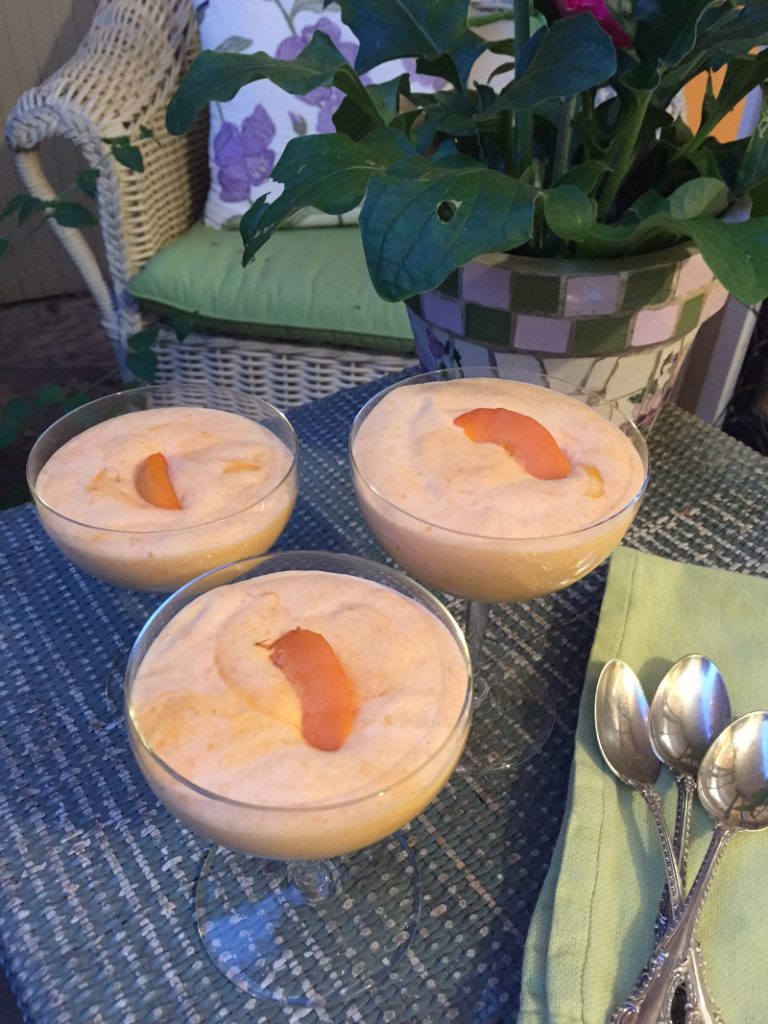 [recipe print="true"]
---
Swiss Apricot Mousse
Adapted from a Swiss recipe, this Apricot Mousse is easy to make, with a light and delicious apricot flavor. If fresh apricots are not available, substitute canned or frozen apricots
---
| | |
| --- | --- |
| Yield: Serving Size: 4 | Prep Time: 45 minutes |
Ingredients:

1 lb fresh apricots (6-8), or use frozen or canned if fresh are not available

3 Tbsp Apricot Brandy

5 Tbsp sugar, divided

3 egg yolks

½ cup whipping cream

Directions:

Cut the apricots in half, discarding the pits

In a small saucepan, gently cook the apricots, brandy, and 2 Tbsp sugar on medium-low heat, covered, stirring occasionally until apricots soften, 3-5 minutes.

Puree the apricots in a blender and let cool to room temperature.

In a small pan set over simmering water, whisk the egg yolks with 3 Tbsp sugar, beating constantly until slightly thickened and warm to the touch. Remove the pan from the water.

Add the puree to the yolks and sugar mixture and blend until smooth. Chill in the refrigerator.

When the puree is cool, beat the cream just until stiff peaks form, and fold into the apricot puree. Pour the mousse into individual serving cups or wine glasses, cover loosely with plastic and chill. Decorate with a sprig of mint or a slice of apricot and serve.
[/recipe]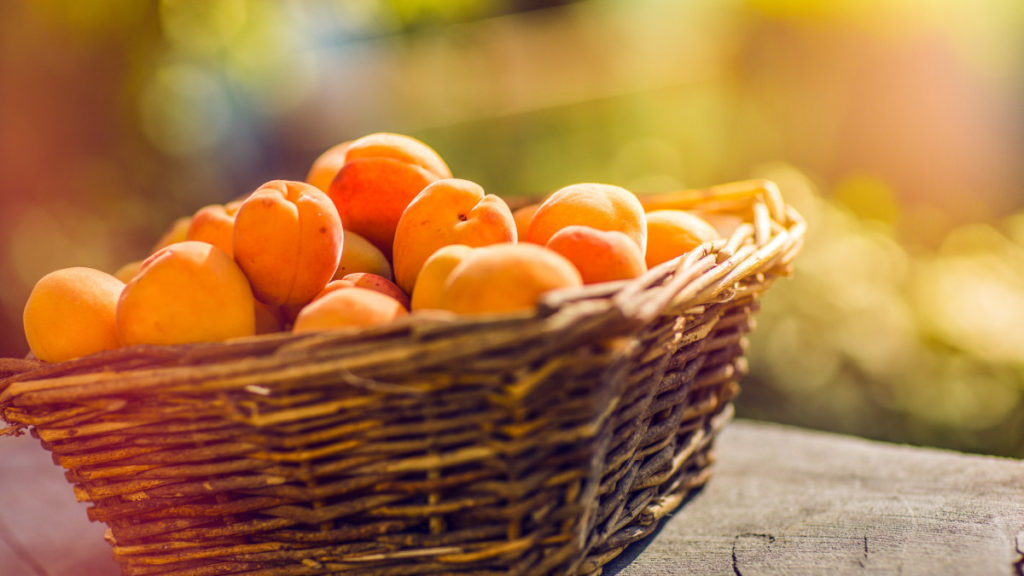 I enjoy reading your comments very much and would love to know where in the world you've experienced apricots?
---
Follow my blog
---