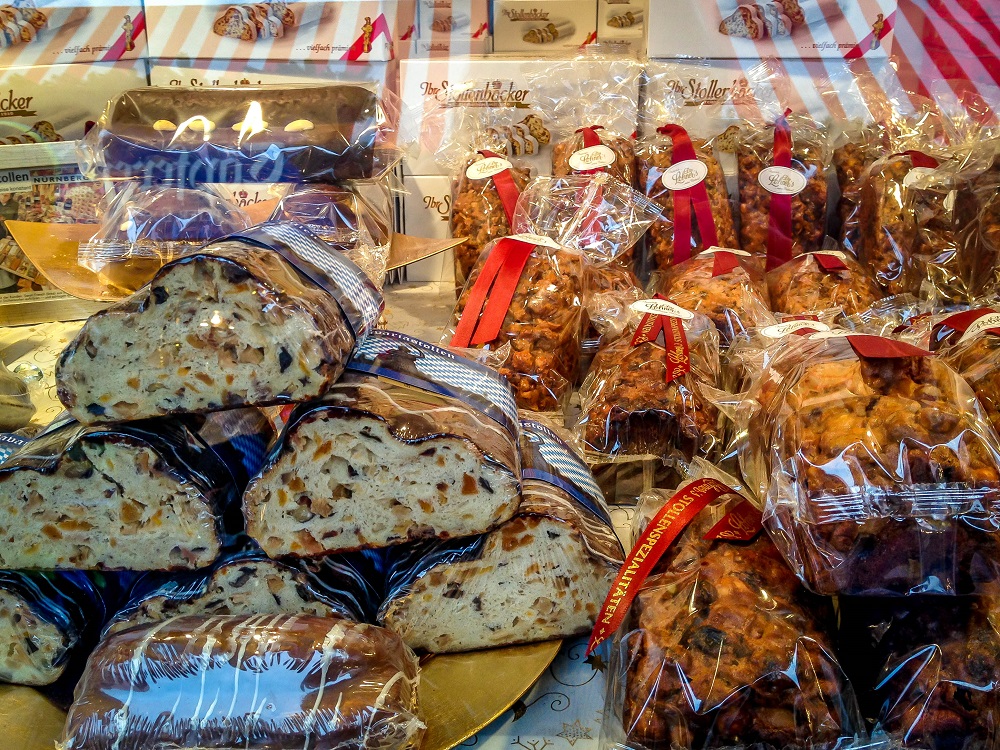 The Christmas holiday season is well underway with all the hectic plans for decorating, gift-giving, parties, music, Nutcracker performances, and religious celebrations, all of which I love (in reasonable doses). I always hope for those moments of simple joy during the holidays and often find them while baking cakes, cookies and breads, to give as gifts and to enjoy with guests.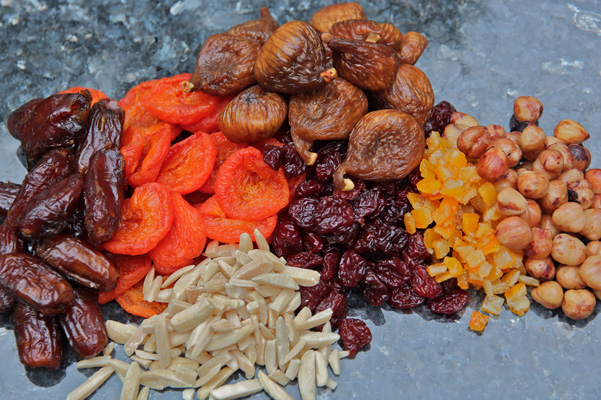 Apricots, whose brilliant color and piquant flavor brighten up the look and taste of rich foods so well, are a prominent feature in my baking repertoire. Each year, I give gifts of my Apricot Jam and Brandied Apricots, as well as Chocolate-dipped Dried Apricots and Chocolate Apricot Turtles to a growing list of people who must have them.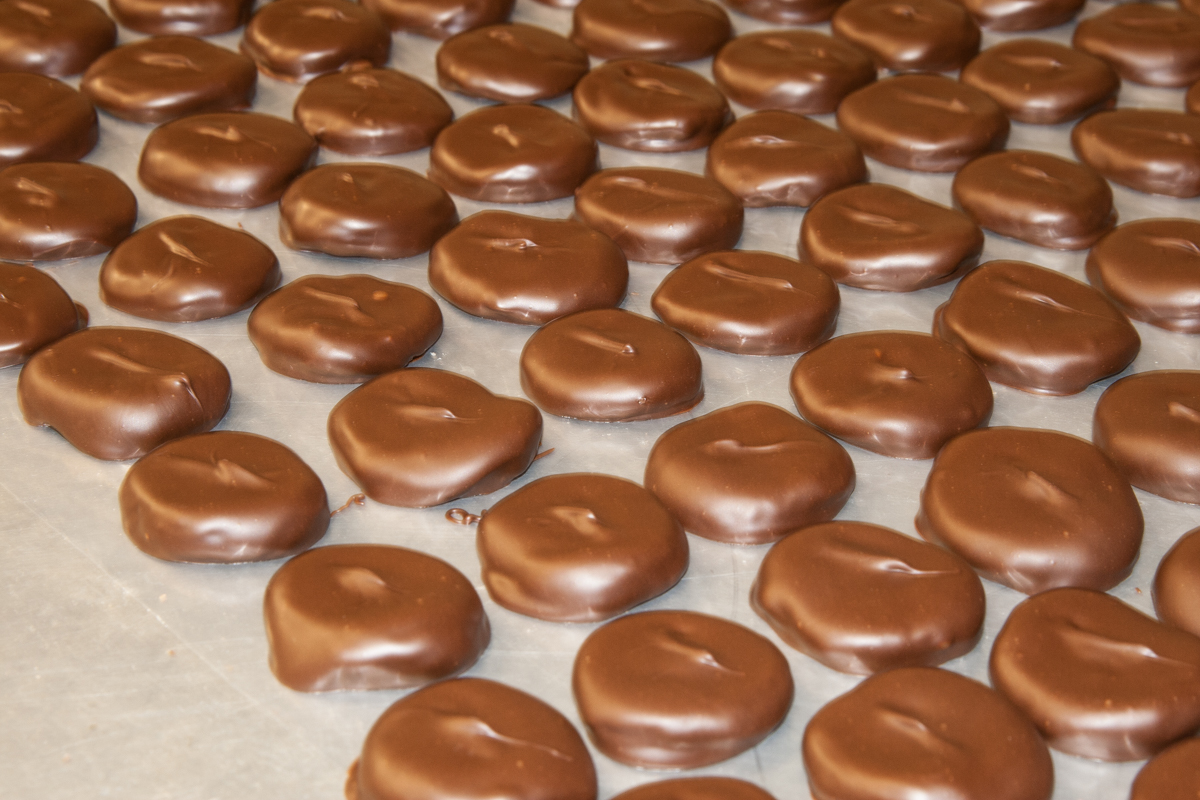 For both Christmas and New Year's I bake several loaves of Stöllen, as did my mother, to give as gifts and to enjoy at home. A traditional German holiday yeast bread, Stöllen is packed with dried apricots, currents and nuts and frosted with a thin, sweet icing (my mother chose to color it pink) or simply dusted with powdered sugar. I also enjoy baking a variety of cookies and other tea cakes during the holidays, many with apricot fillings.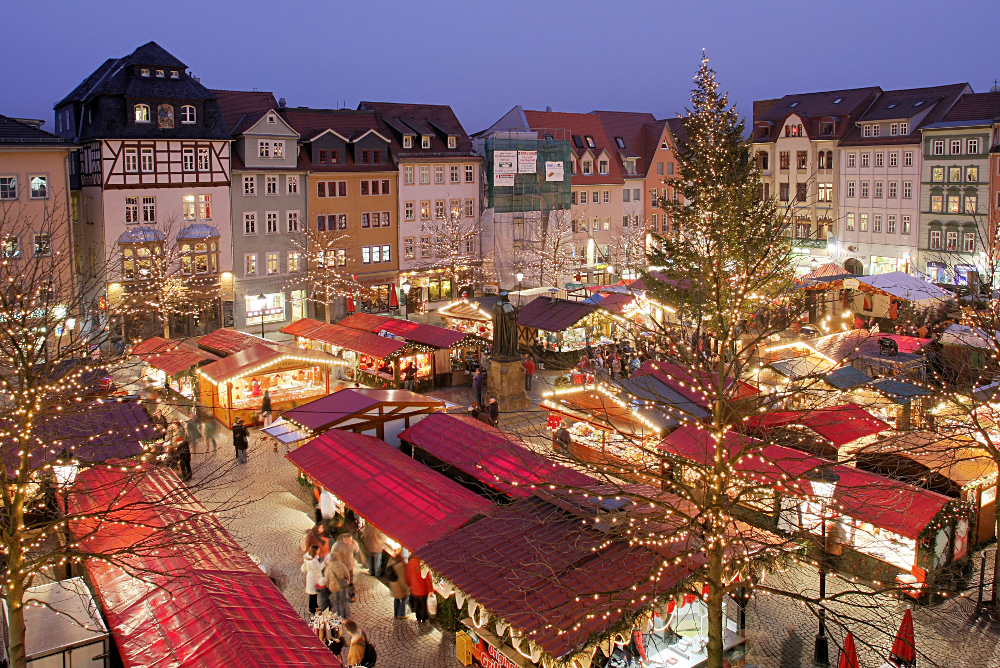 This holiday season, we will be traveling to France where our son and his wife are living for a year. We have plans to visit the famous Christmas markets in Paris and Strasbourg and cook homey holiday feasts in their apartment. Having lived in Europe and enjoyed Christmas there in the past, I thought it would be fun to share some traditional European holiday recipes that feature Apricots, in addition to my recipe for Stöllen.
---
Lebkuchen Hearts (Lebkuchenherzen)
Lebkuchen are German Christmas cookies, similar to gingerbread, with a fruit filling and chocolate frosting. This recipe adds cocoa and a mixture of seven warm spices to a simple cookie dough. The charm of this recipe for Lebkuchen heart cookies is a filling that combines marzipan and apricot jam!
Rugelach
Rich, nutty and flaky Eastern European pastries like this delicious Apricot Rugelach are a special treat on Jewish holidays like Hanukkah and Purim. An apricot jam filling is delicious although other jams can be substituted.
Hausfreunde
The literal translation of hausefreunde is 'friend of the house' – these elegant cookies could be my house friend anytime of the year! This classic German recipe calls for dipping buttery apricot-marzipan sandwich cookies in bittersweet chocolate.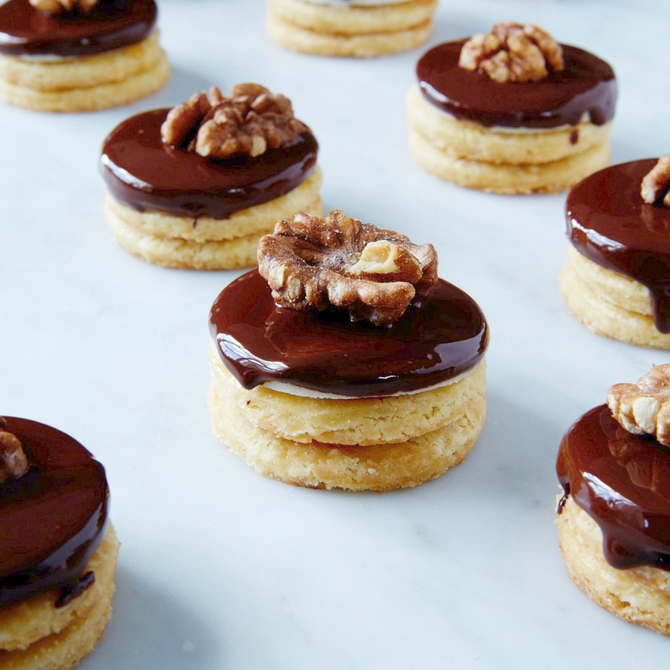 Bûche de Noël (Yule Log)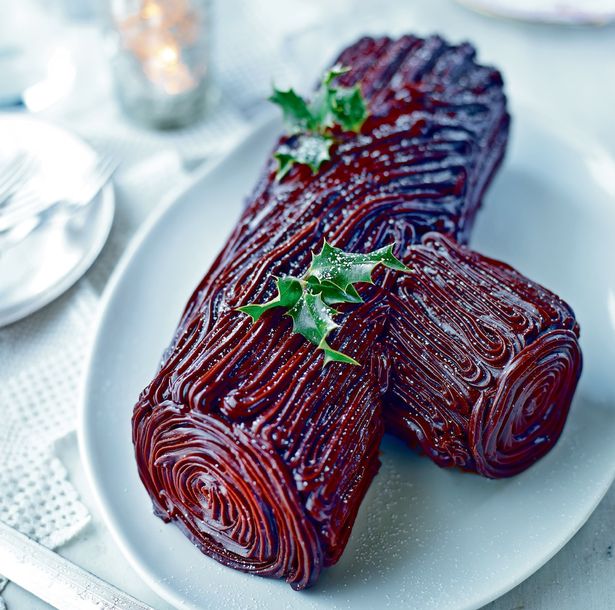 Every Christmas, I bake a traditional French Bûche de Noël and serve it either on Christmas Eve or for Christmas dinner, depending on the guest list. It is a simple yet elegant roll cake that can feed and delight a crowd. This year, I will let the Parisian bakers do the work! Here is an English recipe for an easy Yule log, using apricot jam to bind the cake to the chocolate icing. Apricot jam can also be brushed on the cake before filling and rolling it for added flavor.
Panforte
In Italian, the name panforte means "strong bread", due to its long shelf life and spicy flavors. Dried apricots brighten the flavor and look of this dense fruit cake. Panforte is a specialty of Siena, Italy that dates back to the 13th century. Traditionally a Christmas pastry, panforte is now enjoyed year-round in Italy.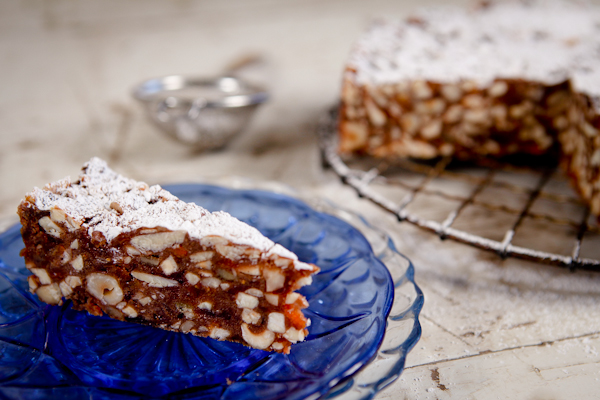 As overwhelming as the Christmas season can sometimes be, I always enjoy my time baking holiday treats. I love the childhood memories that return and treasure sharing these traditions with my family.
I wish you the very best this holiday season and hope you enjoy baking some of these apricots recipes for your family and friends!
---
[recipe print="true"]
---
My mother made Stöllen for our family every Christmas morning and served it sliced, toasted, and buttered while we opened presents. Apricot jam is a lovely accompaniment! I particularly like the subtle taste of cardamom in this recipe, adapted from The Secrets of Jesuit Breadmaking, which reminds me of when I lived in Norway where it is a traditional spice. 
---
| | | |
| --- | --- | --- |
| Yield: 3 loaves | Prep Time: 3 hours | Cook Time: 15 to 20 minutes |
Ingredients:

For the Bread:

1 tablespoon active dry yeast

1/4 cup warm water

1 cup scalded milk

1 stick unsalted butter, softened

1/4 cup sugar

1 teaspoon salt

1/4 teaspoon ground cardamom

4 to 4 1/2 cups unbleached all-purpose flour

1 egg slightly beaten

1/4 cup chopped dried apricots

1 cup golden raisins

1/4 cup currants

2 tablespoons grated orange peel

1 tablespoon grated lemon peel

1/4 cup sliced almonds

For the Glaze:

1 cup confectioner's sugar

2 tablespoons hot water

1 teaspoon unsalted butter

Directions:

Combine the yeast and water in a large bowl and stir until all is dissolved, and then set aside for 5 minutes.

Combine the scalded milk, butter, sugar, salt, and cardamom in a bowl and cool to lukewarm. Stir in 2 cups of flour and beat well. Add the yeast mixture and the egg. Stir in the apricots, raisins, currants, grated orange and lemon peels, and the almonds. Beat for 10 minutes gradually adding the remaining flour until the dough begins to pull away from the sides of the bowl.

Turn out onto a lightly floured surface and knead for 8 to 10 minutes until smooth and elastic, adding flour as necessary to prevent stickiness.

Place dough into a large, lightly oiled bowl, turning to coat all sides. Cover with plastic wrap and let rise in a warm, draft-free place until doubled in bulk (about 1 to 1 1/2 hours).

Punch down the dough, turn out again on a newly floured surface, and divide into 3 equal pieces. Cover with a kitchen towel and let rest 10 minutes.

Roll each portion into a 10 x 6 inch rectangle then fold the long side over to within an inch of the opposite side. Fold the remaining side over and gently seal with your fingers. Place on a parchment-lined baking sheet and let rise again until double in bulk (about 1 hour).

Bake the loaves in a preheated 375° F oven for 15 to 20 minutes until golden brown. Remove from the oven.

Make the glaze and brush it over the top of the Stöllen while still warm. Adding your choice of food coloring to the glaze gives a festive touch.
[/recipe]
Follow my blog
---