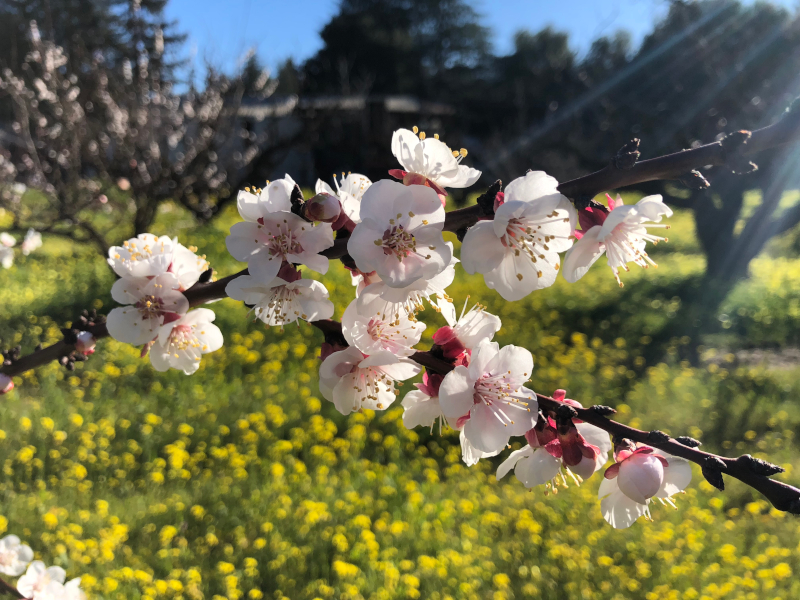 February is the month when apricot blossoms arrive. A carpet of yellow and green mustard rises up from the earth in anticipation of the tree buds that will soon burst into fragrant, pristine flowers. In these uncertain times of increasing temperatures and erratic weather patterns, orchardists hope for enough cold hours in winter (about 750 hours between 32 to 45 degrees) to support bountiful blossoms and a healthy apricot crop. So far in the Bay Area, we are nearly there. Andy Mariani, owner of Andy's Orchard in Morgan Hill, says he's "cautiously optimistic". In mid-February, he measured 680 cold hours. The short-term forecast for cold temperatures at night is promising, although warm daytime temperatures are a concern. The unseasonable heat may cause blossoms to open too early and risk damage from subsequent rain or wind, particularly for early producing varieties like the Nicole apricot.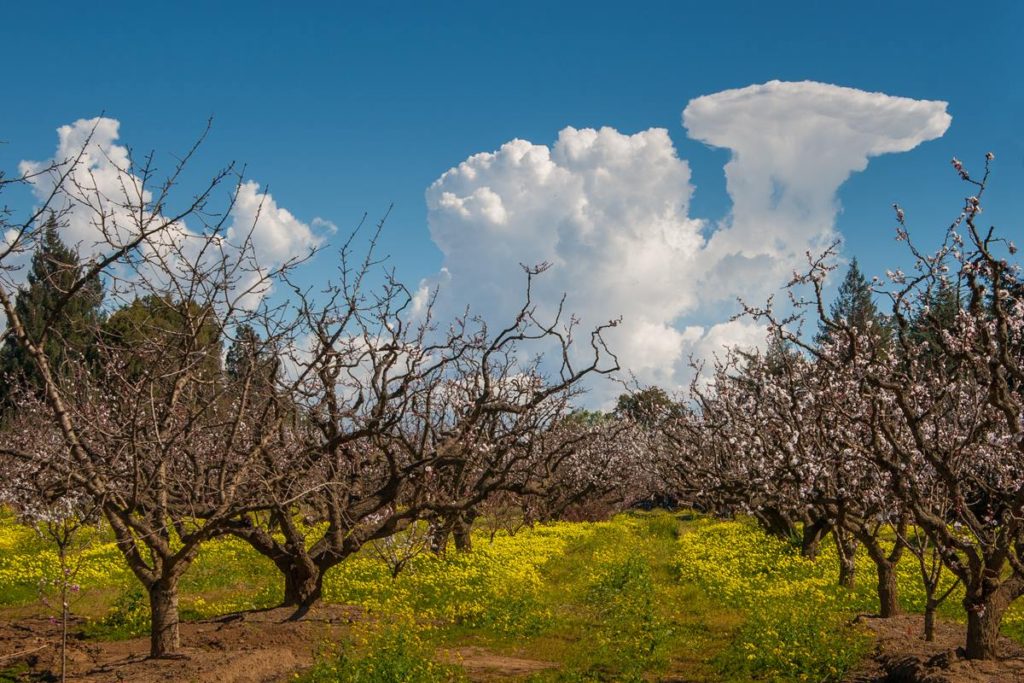 Over the past six years, I've developed relationships with Bay Area orchardists, researched the region's agricultural history, written dozens of blog posts, and developed apricot recipes to create my cookbook/memoir: For the Love of Apricots: Recipes and Memories of the Santa Clara Valley. Along the way, I have learned that people in the Bay Area and beyond — from California to Texas to Maine — cherish California's fresh and dried apricots. People ask me all the time where they can find the best apricots, especially as Blenheim apricots and other choice varieties become ever more scarce with the continued urbanization of agricultural land.
California apricots are not only prized for their flavor. For many, they also represent a deep and dear connection to their childhood, when fruit orchards were a rich part of the region's economy. Eating a fresh apricot in July or a handful of dried California apricots at any time of year, brings back memories of homemade jam, preserves, and pies; of picking and cutting "cots"; and a personal connection to nature. These nourishing memories are profound reminders of the power of nature in our lives!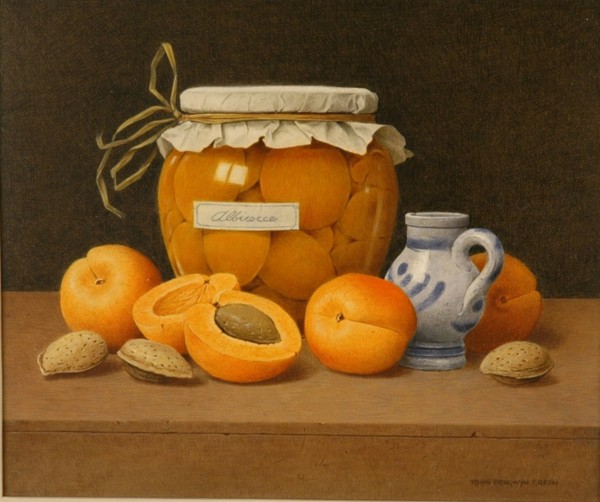 Given the pleasure of eating and cooking with apricots, we often overlook their extraordinary health benefits. Recently, a friend whose husband is recovering from a serious illness, told me that one of his health issues – severe anemia – was cured by eating dried apricots. No pills required!
Sun-dried California apricots concentrate the fruit's already high nutritional value and enriches its flavor. Dried apricots are one of the healthiest and most beneficial of fruits. Apricots help improve not only anemia but also digestion, through their high fiber content. Vision and skin problems are enhanced with their large concentration of Vitamins A & C. The antioxidants in California apricots can also reduce the risk of heart disease, cancer, and stroke. Naturally, I keep a large supply in my "apricot refrigerator" where they stay fresh and colorful under cool temperatures for up to a year.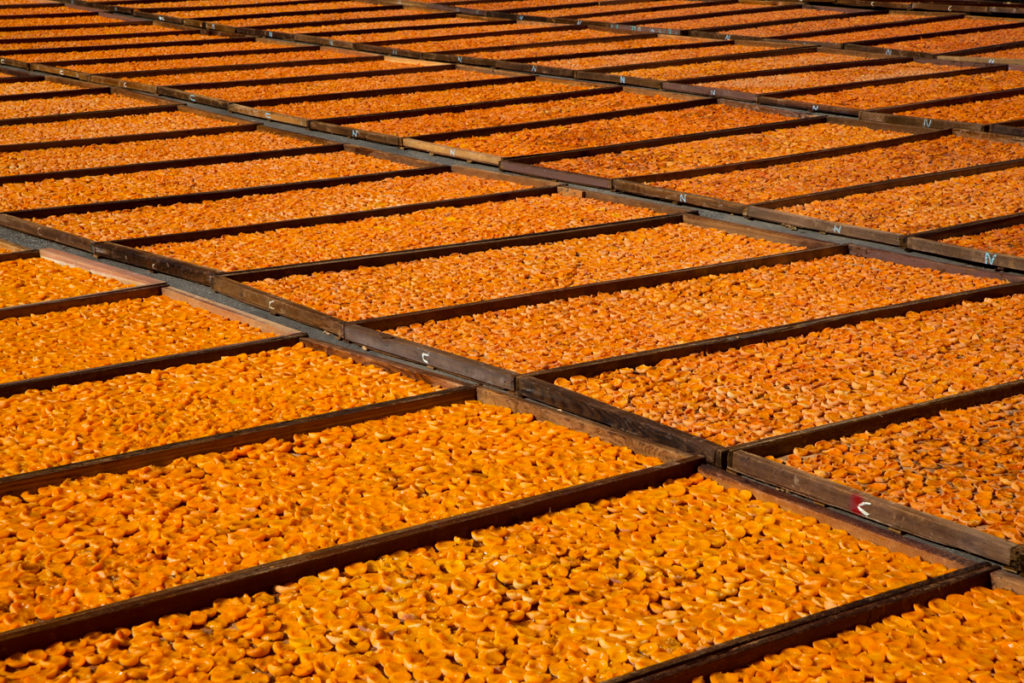 Today, the sad truth is that there are actually more imported apricots on local store shelves than those grown in California. Split in half for better drying, California apricots are cute and curly as a baby's ear, with a bright orange color, and tangy/sweet flavor. Imported Mediterranean apricots have a paler, yellowish color. Often called "Turkish" apricots, they are dried whole and then pitted like a prune. Turkish apricots are smooth and soft with a very mild, sugary taste compared to California's tart and chewy apricots.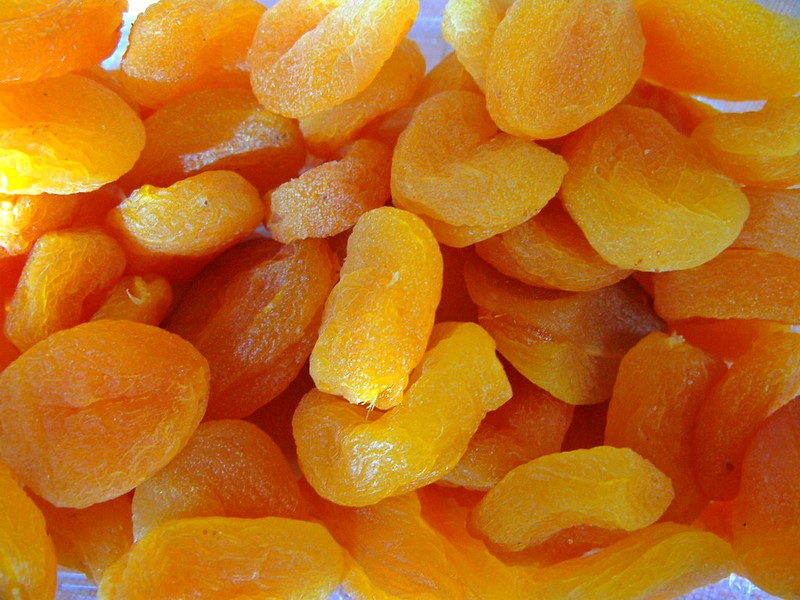 For some, choosing between these two comes down to a question of cost. Since the 1980s, inexpensive Turkish apricots have driven down demand for and production of California apricots. For those who know the fabulous flavor of a fresh Blenheim apricot grown in California and dried to perfection, cost is not a barrier. Purchasing and enjoying California's superior tasting fruit is an important choice that we consumers can make to encourage local agricultural production. Our health and happiness will benefit from it!
In 2019, I had the pleasure of giving Apricot book talks to many independent bookstores and community groups. In my talks, I love to mix together beautiful images, personal memories, and stories from one of the world's most blessed agricultural regions, the orchards of the Valley of Heart's Delight, where I grew up. Of course, sharing taste memories, recipes and samples add to the experience. Whether you have deep roots or are new to the region, the joy of apricots comes to life!
The wonderful ladies of the Saratoga Foothill Club invited me to be their speaker in November. They made several recipes from my cookbook to serve at the Tea following my talk. One hundred members attended the event and during my talk, we were all so engaged in the experience, the atmosphere was electric. Afterward, many ladies shared their memories of picking 'cots for summer wages, enjoying local orchards for their beauty as well as fresh fruit, and making favorite family recipes for the next generation. It was a peak experience for me!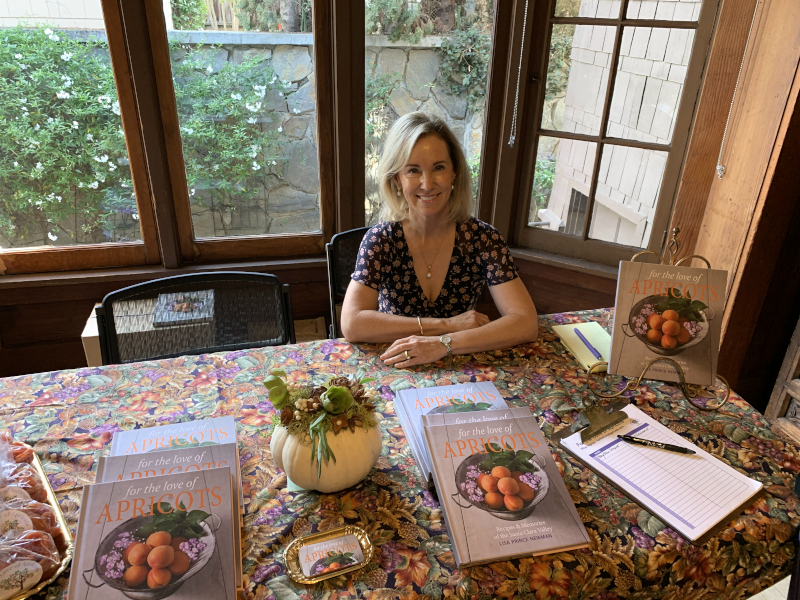 Club President Saundra Hill wrote in the Saratoga Foothill Club newsletter, "Our program was "For the Love of Apricots" by Lisa Newman. It was one of the best programs we've ever had at one of our teas, according to quite a few of our members."

In addition to anticipating the upcoming apricot crop, I am looking forward to the 2nd edition of For the Love of Apricots, which arrives this spring. The 1st edition sold out twice, which inspired me to make some improvements before the next printing. For the Love of Apricots 2020 includes new recipe images, an updated Resources sections, and many other refinements. I am excited to share it with future readers at events and book talks this year. Stay tuned to the upcoming events list on my website and join me at the annual Saratoga Blossom Festival for a fun day in the City's Heritage Orchard on Saturday May 9!
For snacking, teatime or dessert, California dried apricots are wonderful by themselves, baked into cookies and cakes, or poached and puréed for use in creamy desserts, entrées, and cocktails. Here is a recipe from my cookbook that will make you smile with every bite. I recommend that you enjoy these delightful cookies next to a bouquet of spring blossoms, and imagine planting an apricot tree of your own to enjoy next spring!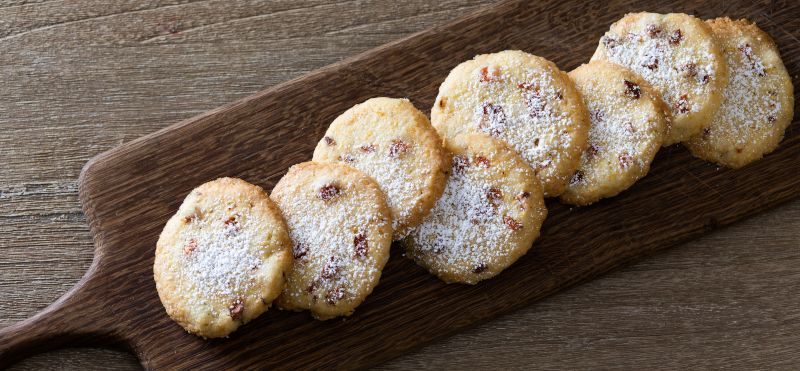 [recipe print="true"]
Apricot Orange Shortbread Coins
A simple delight, these roll-and-slice shortbread cookies are studded with bright dried apricots and dusted with powdered sugar. They are pretty to look at, delightful to eat, and can be made any time.

---
Yield: Makes 3 dozen cookies
Ingredients:

1 cup (2 sticks) unsalted butter, cut into tablespoons, at room temperature

2/3 cup sugar

1/2 teaspoon fine sea salt

Finely grated zest of 1 orange (about 2 teaspoons)

1 teaspoon vanilla extract

1 1/2 cups all-purpose flour

1/2 cup yellow cornmeal

2/3 cup finely chopped dried apricots

Powdered sugar, for dusting

To Prepare:

Preheat the oven to 325°F. Line two large baking sheets with parchment paper.

Using an electric mixer, beat together the butter, sugar, and salt until pale and well blended, 2 to 3 minutes. Beat in the orange zest and vanilla.

Reduce the mixer speed to low and gradually beat in the flour and cornmeal, just until blended. Mix in the apricots.

On a clean work surface, form the dough into a compact log about 2 inches in diameter, pressing firmly to avoid any air pockets in the log. Divide the log in half and wrap each piece in plastic wrap. Refrigerate until firm, about 2 hours.

Unwrap the dough and cut into slices about 1/2-inch thick. Arrange the cold slices at least 1 inch apart on the prepared baking sheets. Bake until the tops of the cookies are set and the edges begin to turn golden, 10 to 15 minutes.

Let cool on the baking sheets for 5 minutes, then transfer to wire racks to cool completely. Dust cookies with sifted powdered sugar. Serve at once, or store in an airtight container at room temperature for 4 days.
[/recipe]