It's a good question for those of us who can't take our hands off fresh apricots! During their short, early summer season, I become mesmerized while sorting through a farmer's market table of fresh Blenheim apricots, feeling for the softly firm, unblemished, beautifully blushed apricot that I want to take home and make into jam, preserves, tarts and pies. I keep searching for the next and the next until I have many more pounds than I ever planned to buy. It's a happy obsession!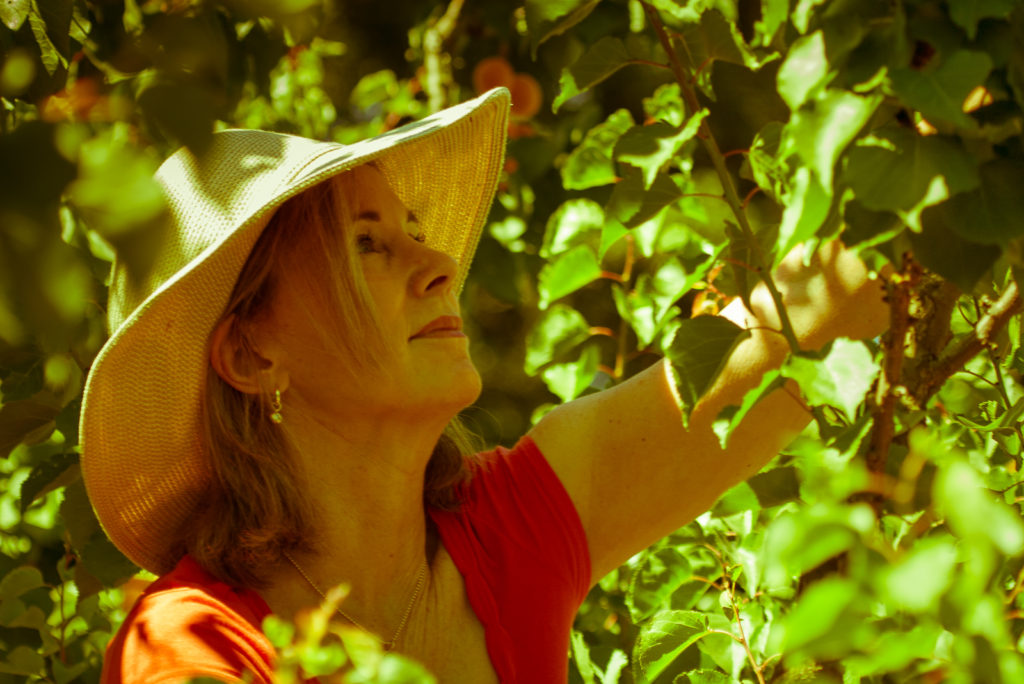 And if you are lucky enough to have your own tree, then every apricot is a treasure.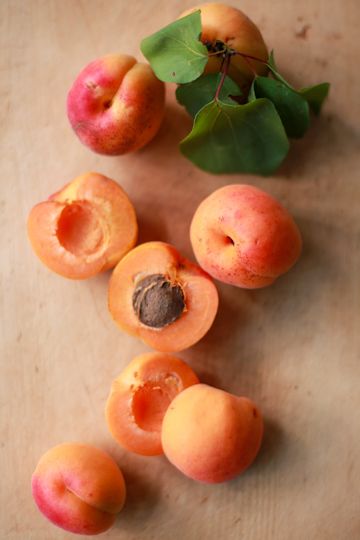 My trees are small enough that I've counted them – just over 100 apricots last year – and waited impatiently for them to ripen to the point where they give a slight resistance when you pick. You don't want the apricots to get fully ripe and fall to the ground. When picked just under-ripe, they will safely ripen for a few days in a cool place indoors and, if not eaten or used immediately, can be stored in the refrigerator for several days to a week or even a little more.
In June, the first thing I do with the abundance of fresh apricots is to make jam. It is a joyful annual ritual that is rewarding in the process and results in a bounty of gifts to friends and family as well as a staple to enjoy throughout the year. There is always a jar of Apricot jam in my refrigerator to use on toast, muffins, crepes or waffles. Apricot jam is also a defining ingredient in the many savory and sweet recipes in my (forthcoming) cookbook, including vinaigrette's, marinades, cakes and cookies.
When I make apricot jam, I use a "reduced sugar" pectin such as Sure-Jell, which is easy to find in the grocery store. Reduced or no sugar recipes that are provided in the box allow the apricot flavor to shine through better than traditional recipes with a higher sugar ratio. Be sure to follow the instructions provided to achieve a proper jam consistency and the best flavor.
There are a few utensils that make the jam-making job easier, including three different sized pots: large – in which to boil the jars, medium – for making the jam, and small – for boiling the lids; pot holders and tongs to lift the hot jars out of their water bath onto a clean cloth; a wide-mouth funnel to insert into the hot jars; and a ladle to pour the hot jam into the hot jars before sealing them tightly with the screw band lids. I deviate from the recipe at this point and don't process the jam further because I think the jam has a fresher fruit flavor. I've been making jam this way for years with great results.

Although finely chopping the apricots according to the jam-making instructions takes time, I find joy in the speckled beauty of the fresh, ripe fruit and savor its delicious perfume. The repetition of splitting the apricots with your fingers or a sharp knife, slicing each half into four wedges and then turning the cots 90 degrees to slice them into a small dice is meditative.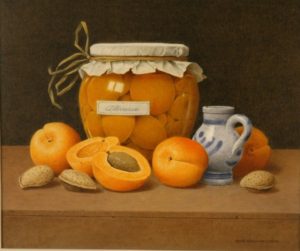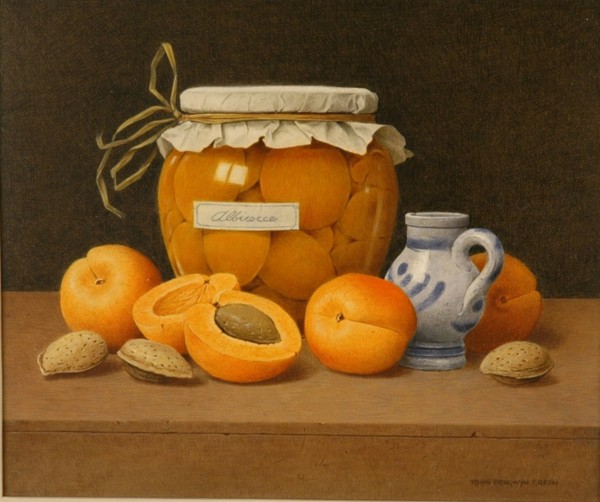 Once you've measured 6 cups of fruit and set it to boil with the pectin, lemon juice and sugar, the burst of apricot aroma and the brilliant orange/red color of the jam makes the work to create each batch so worthwhile! And while I'm cleaning up after making jam, I listen for the pleasing "thwap" each jar makes when the hot jam in the boiled jar creates a vacuum seal and know the job is done. Now, repeat over and over!
Once making homemade jam becomes a habit, you can experiment with creating a custom jam jar label. My friend Martha, a graphic artist, used a botanical clip art to create the lovely labels I use for making many varieties of jam and preserves.
There are as many ways to make apricot jam as there are mothers, aunts and grandmothers who make it. My mother preferred to make freezer jam, which doesn't involve boiling jars and lids. She stored the jam in in Tupperware containers that lasted our family through the year. I loved her jam growing up, but as an adult decided it was overly sweet for my taste. I wanted to make a jam that tasted more like the actual fruit. Still, I prefer a sweetened jam that can be preserved for its versatility throughout the year to a "rustic" jam that is made from fruit boiled down over a long period of time with a minimum of sugar. Ruth Reichl's new book "My Kitchen Year" has an inviting recipe for a fresh apricot jam that will last a short while in the refrigerator.
[recipe print="true"]
---
Lisa's Apricot Jam
This recipe is the one I use to make many batches of jam each year. I keep a case of 16 oz. size jars for our family's enjoyment and make a few more cases in varying sizes for gifts. Friends and family really enjoy receiving these jars of Apricot sunshine!
---
| | | |
| --- | --- | --- |
| Yield: 4 jars | Prep Time: 15 minutes | Cook Time: 15 minutes |
Ingredients:

3-1/2 lbs. Blenheim apricots, finely chopped (or enough to make 6 cups)

4-1/2 cups sugar

2 Tbsp fresh lemon juice (Meyer lemon is preferred)

1 box Sure-Jell Reduced Sugar Pectin

4 jam jars with lids and screw bands

Directions:

Place three 16-oz jars and one 8-oz jar in a large pot, cover with water and bring to a boil. Simmer for 10 minutes and turn off heat and keep jars in the hot water until time to use

Place jar lids and screw top bands in a small pot, cover with water and bring to a boil then turn off the heat. Keep lids in the hot water until time to use

Split apricots in half and then dice finely until you have 6 cups of chopped fruit.

Measure the sugar into a large bowl and mix 1/4 cup of the sugar with the pectin in a smaller bowl

Add the chopped fruit, sugar/pectin mixture and the lemon juice to a medium saucepan and bring to a boil, stirring, over medium-high heat

Follow the jam making instructions to bring the fruit mixture to a full, rolling boil, then add the remaining sugar

Stir in the sugar and continue stirring constantly until it reaches a full rolling boil again for 1 minute

Turn off the heat, skim off any foam, and ladle the hot jam into the hot jars, wipe the rims and seal tightly.
[/recipe]
Last year, after a lesson from my friend Laurel's uncle Bruno in San Francisco, I made Apricot Brandy with a delicious result. This led me to make Brandied Apricots, a simple recipe shared by my friend Linda who grew up among abundant apricot trees in the East Bay. This process is much simpler and faster than making jam because you merely split the fruit in half, cook it gently in a simple syrup for a few minutes, ladle the fruit into the boiled jars and add a taste of Brandy (or if you have Apricot Brandy, even better!). The result is much greater than the sum of its parts.
[recipe print="true"]
---
Brandied Apricots
---
Brandied apricots are wonderful in a parfait glass with ice cream, sliced on top of a cake with some of the syrup drizzled over or as a filling inside a crepe. These are a few suggestions and you'll think of more!
| | | |
| --- | --- | --- |
| Yield: Six 8 oz jars | Prep Time: 15 minutes | Cook Time: 10 minutes |
Ingredients:

4 cups fresh, pitted Blenheim apricots

1 cup sugar

1 cup water

1 Tbsp Brandy or Apricot Brandy or Amaretto Liqueur

Directions:

Prepare jars in a large pot and lids in separate small pot, as directed for making Apricot jam: cover each with water and bring to a boil. Simmer jars for 10 minutes and bring lids just to a boil, then turn off heat and keep jars and lids in the hot water until used.

Combine sugar and water in a medium stainless steel saucepan over medium-high heat. Bring to a boil, stirring constantly until sugar is dissolved.

Add apricots to the syrup, stirring, and return to a boil. Reduce heat and simmer gently for 3-5 minutes, watching carefully that they retain their shape. Turn off heat.

Using a slotted spoon, gently place apricots in the hot jars to within 1/2 inch of the top. Add the spirit of choice and ladle hot syrup into the jar until the liquid is within 1/4 inch of the rim.

Tap the jar against the counter to remove air bubbles and add more hot syrup if necessary.

Wipe the jar rim with a moist cloth and screw on lids tightly.
[/recipe]
---
Follow my blog
---