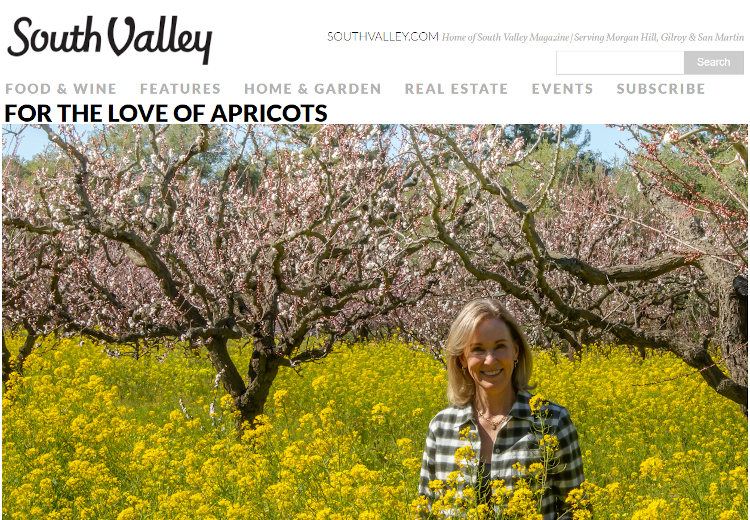 Spring's renewal was well underway in March with beautiful blossoms and emerging fruit. I was excited about the prospect of bringing a Second Edition publication of For the Love of Apricots to market in May when, as you well know, a major pandemic grabbed us by the throat. Within a weekend, work, family relationships, and our social lives changed drastically. Everyone's plans for March, April, May and perhaps the rest of the year began to evaporate. Public events of all kinds were cancelled one-by-one. Each day, news of the Coronavirus brought increasing concerns and stress about the future of our health and safety, our economy, and for some, even their survival. Comfort eating became a national pastime!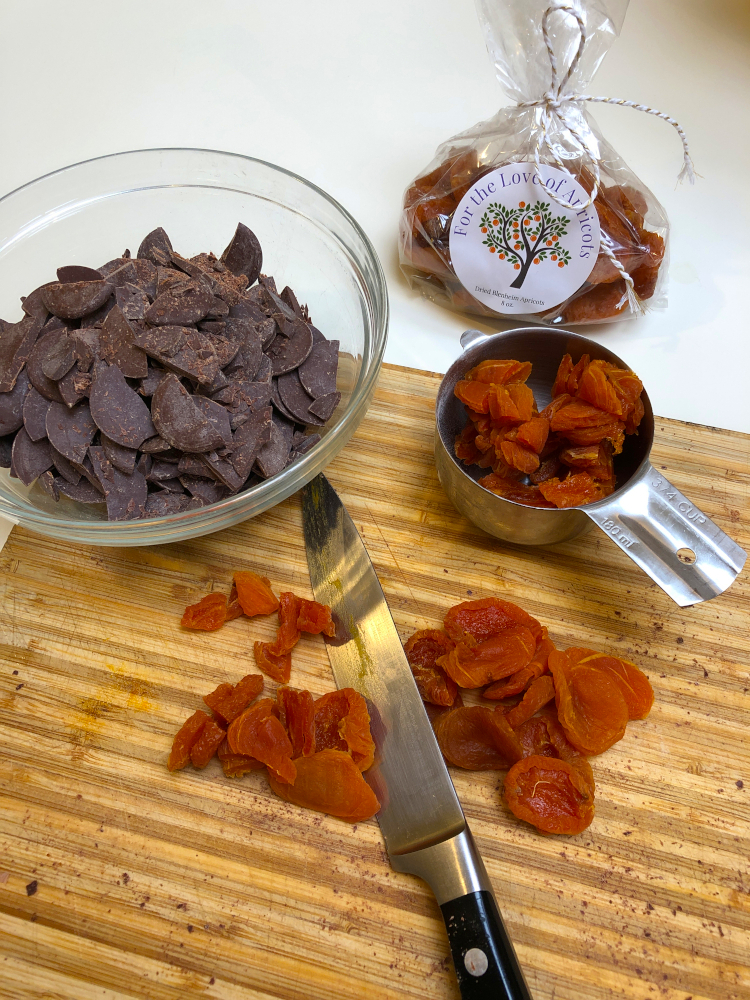 Being food obsessed under normal conditions and as a former independent consultant, cooking and working at home flowed together pretty naturally for me. Of course, apricots reigned high in my repertoire of snacks and recipes. With an abundance of dried Blenheim apricots on hand, as well as apricot jam and syrup plus some Apricot Brandy, there were so many options!
Dried apricots are always a great snack because of their high antioxidant and fiber content, and great taste. Baking cookies with bright-colored, tangy apricots is an instant mood booster, even if it's mostly my husband and I or a few lucky neighbors enjoying them. A Sunday morning Dutch Baby Pancake slathered in Apricot Syrup will get your day off to a happy start and an evening "Quarantini" helps bring it to a graceful end (see French Apricot Cocktail recipe below).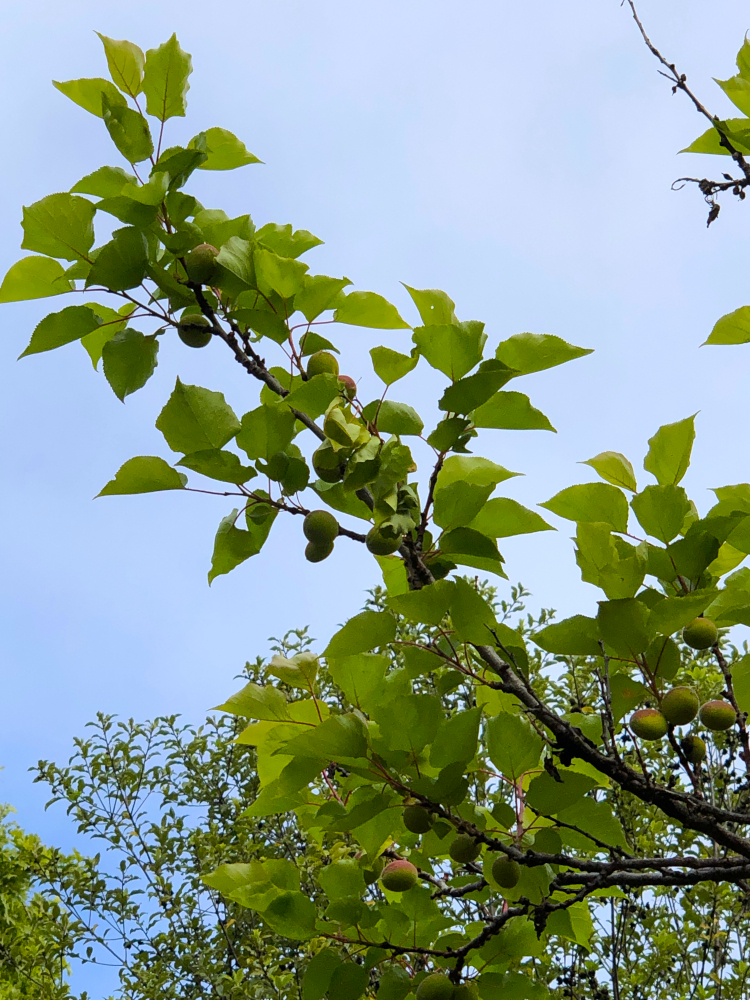 In early March, spring blossoms turned to baby apricots on my three trees of varying ages and varieties. With two established Blenheim apricot trees and a young Bonny Royal tree (an exceptional variety created by George Bonacich of Gilroy, CA), I counted nearly 100 baby cots; knowing that there are always sneakers hidden among the leaves. Not bad for a suburban yard in Marin County! But I had room for one more. Last summer, I placed an order for a second Bonny Royal tree with Andy Mariani and it was time to claim it.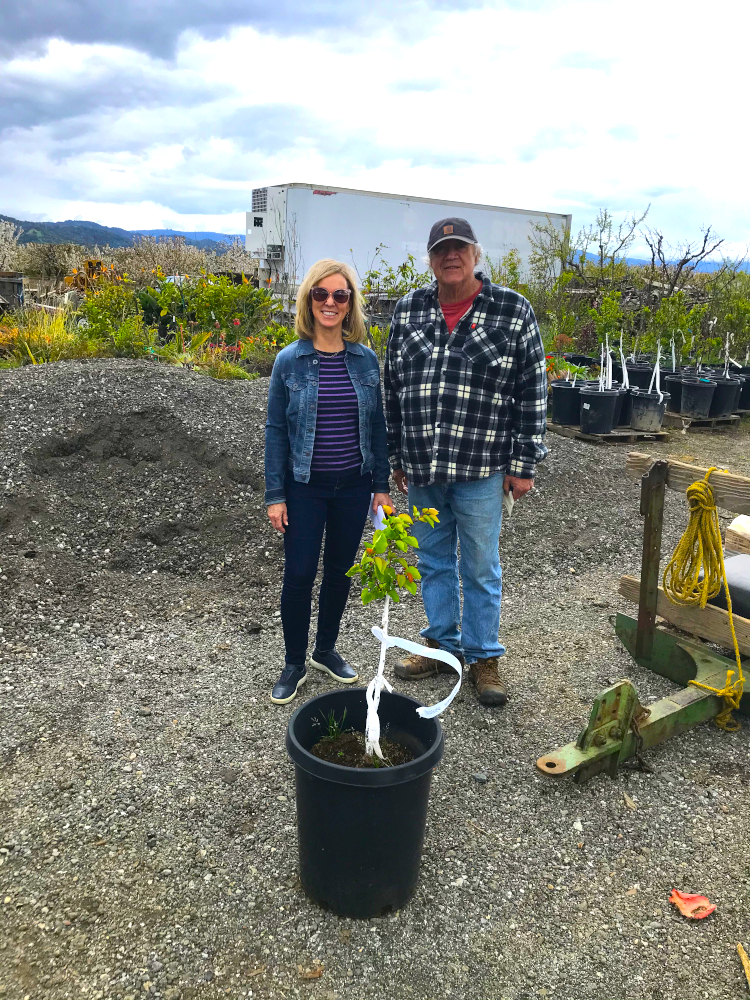 I relished the drive to Andy's Orchard, the opportunity to say hello to Andy, and select the tree. During our visit, Andy gave a guardedly optimistic assessment of the fruit season ahead. The fruit set on his trees (and mine too) was generally excellent, so barring a late frost, he predicted 2020 will bring a great apricot crop. Being an "essential business", agriculture, farm shops, and farmers markets were undisturbed by the California state and Bay Area Public Health Orders. However, the Coronavirus and our response to it has disrupted demand and supply chains which impacts orchardists like Andy. In normal times, strong local sales are vital to local producers, however, their world class fruit also sells to national and international markets. But these are not normal times and orchardists are losing summer contracts for fruit sales. Layered on top of that is the question about how "social distancing" will affect local farm shop sales this summer. Andy hopes for the best, as all farmers do.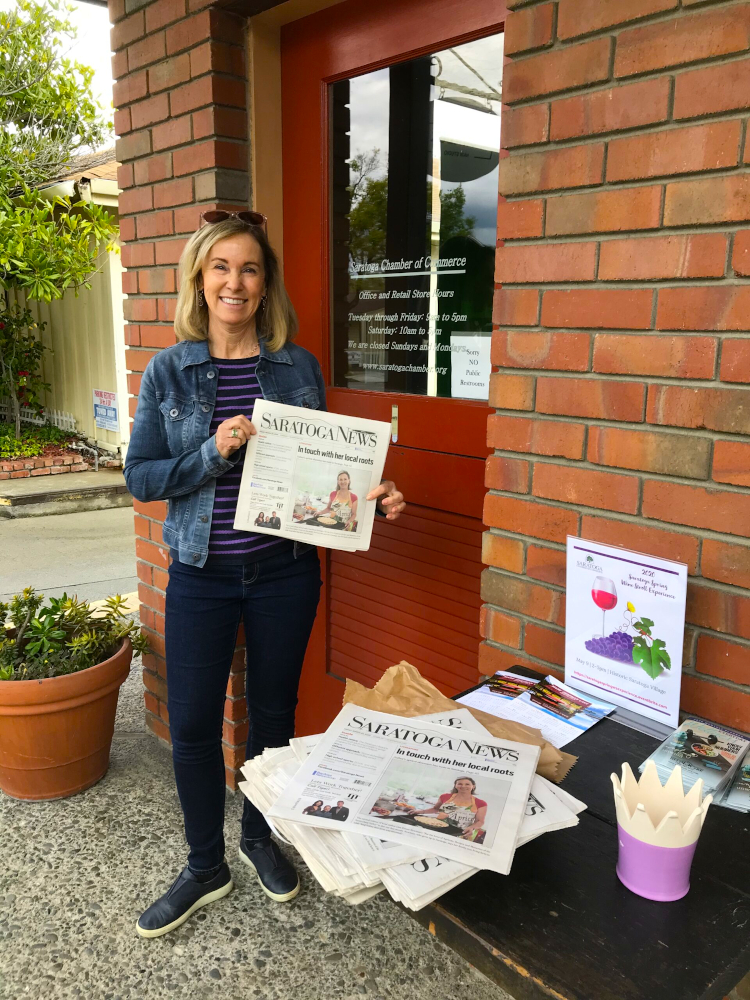 On the way home, I stopped by the Saratoga Chamber of Commerce and helped myself to a few copies of the weekly Saratoga News that featured a lovely article about the new 2nd Edition of For the Love of Apricots by Laura Ness. Laura is a true apricot lover and I deeply appreciate her vital interest in the fruit and efforts to shine a light on the farmers who cultivate them. It was a very special experience to be featured in my hometown newspaper! As many of the scheduled events and opportunities to share the cookbook with an audience began to disappear this Spring, Laura's syndicated articles were a bright spot in a dark time. Back home, husband John dug a large basin in which to plant the baby Bonny Royal tree, with its ambitious 6 tiny apricots.
After many weeks of isolation, May brings with it new hope that the virus is waning and we can take small steps toward restoring our economic health and social freedom. While difficult, sheltering-in-place has presented an opportunity to reconnect with ourselves, to reflect, and count our blessings. Spending much more time than usual in my kitchen, garden, and neighborhood makes me appreciate anew how important it is to grow food locally and have nature close by for our sense of well-being.
Of course, city and suburb dwellers can only provide some of the foods we need for our health and enjoyment. I am deeply grateful for local agriculture and the farmers who produce beautiful foods that we rely on to sustain us, under increasingly difficult conditions. Our support to keep them going is more important now than ever before. There are many ways to do that, including: shopping at your local farmers market, ordering CSA farm box deliveries, and visiting local farm shops and farms. It's also important to ask your grocer to stock your favorite locally sourced products.
With Mother's Day and the summer's fresh apricot season just ahead, there is a lot to look forward to! Consider giving delicious Mothers Day food gifts that will be available at all the local farm shops that I know and love. And keep a look out for updates to my website Events page and Facebook page. My fingers are crossed that there will be some time and place soon where we can enjoy the love of apricots together!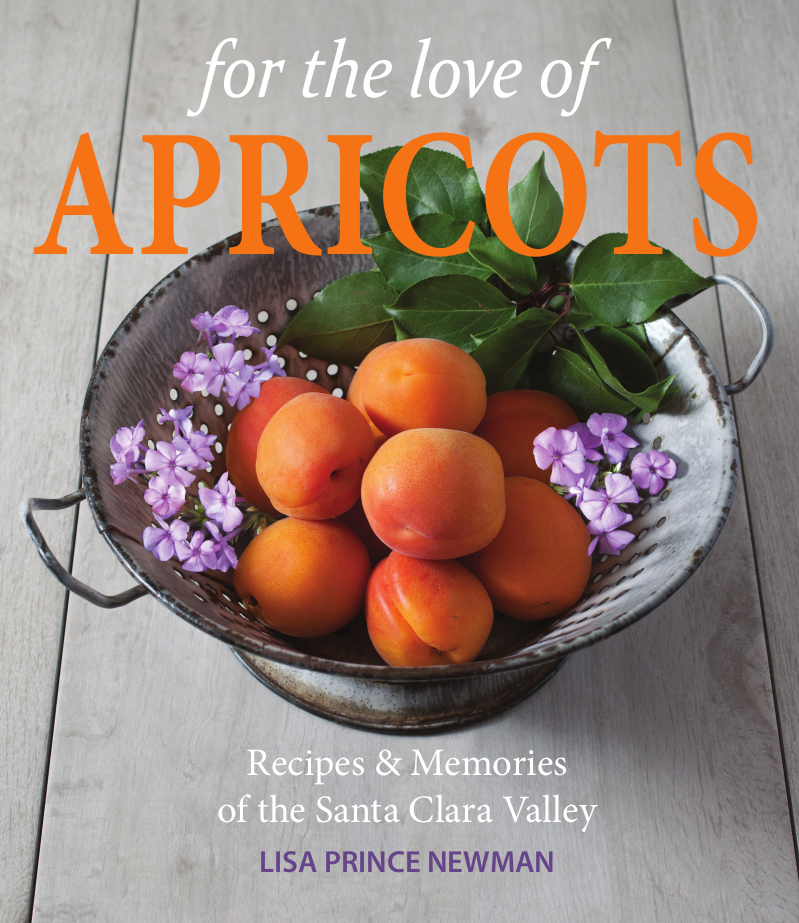 After two successful years since For the Love of Apricots debuted, I took the opportunity to make small improvements throughout my cookbook/memoir and create a Second Edition. Everyone on the team re-engaged to add new photographs, tweak recipes, update information about apricots and orchards, and enhance graphics. I am delighted with the result and believe this new edition is truly the best it can be. I hope you will give the apricot lovers in your life the gift of the new For the Love of Apricots!
As we look forward, a few things are certain: no matter how strange these times are, 2020 will bring a great apricot season in all its golden glory. With it will come a flurry of activity to select the best fresh apricots, juicy-delicious eating, and joy-filled hours spent baking and preserving our favorite fruit for the ones we love!
Now, what about that Quarantini?
French Apricot Cocktail
This cocktail is like a French 75, apricot style. Salut!
MAKES 1 FOUR-OUNCE COCKTAIL
1 1/2 ounces Apricot Brandy or brandy
1/2 ounce cognac
3/4 ounce Bonal Gentiane-Quina or dry vermouth
1/2 ounce fresh lemon juice
2 dashes bitters
Ice
Fresh mint sprig for garnish
Combine the brandy, cognac, Bonal/vermouth, lemon juice, and bitters in a cocktail shaker. Shake vigorously for 10 to 15 seconds.
Add 1 cup of ice and shake vigorously again.
Strain into a tulip or champagne glass.
Garnish with mint sprig and serve at once