I'd been phoning in regularly for a few weeks to ask the Novakovich brothers when their fresh Blenheim apricots would be available. To be honest, I hedged my bets. Knowing that the harvest might be light this season, I bought some early-ripening apricot varieties from the Central Valley towns of Patterson and Winters. But that was just a prelude to the peak-of-summer experience I anticipate each year when the Blenheim apricots are harvested in Santa Clara and San Benito Counties. Walking through these orchards in the hot sun and leaning over the cutting trays to inhale the apricot perfume is an intoxicating experience! Blenheims are supreme eating, baking and jam-making apricots with an addictive and soul-satisfying flavor. In recent years, I've learned from Andy Mariani and George Bonacich about other new varieties like the Bonny Royal that are close runners-up to the Blenheim for flavor, so I've added them to my shopping list.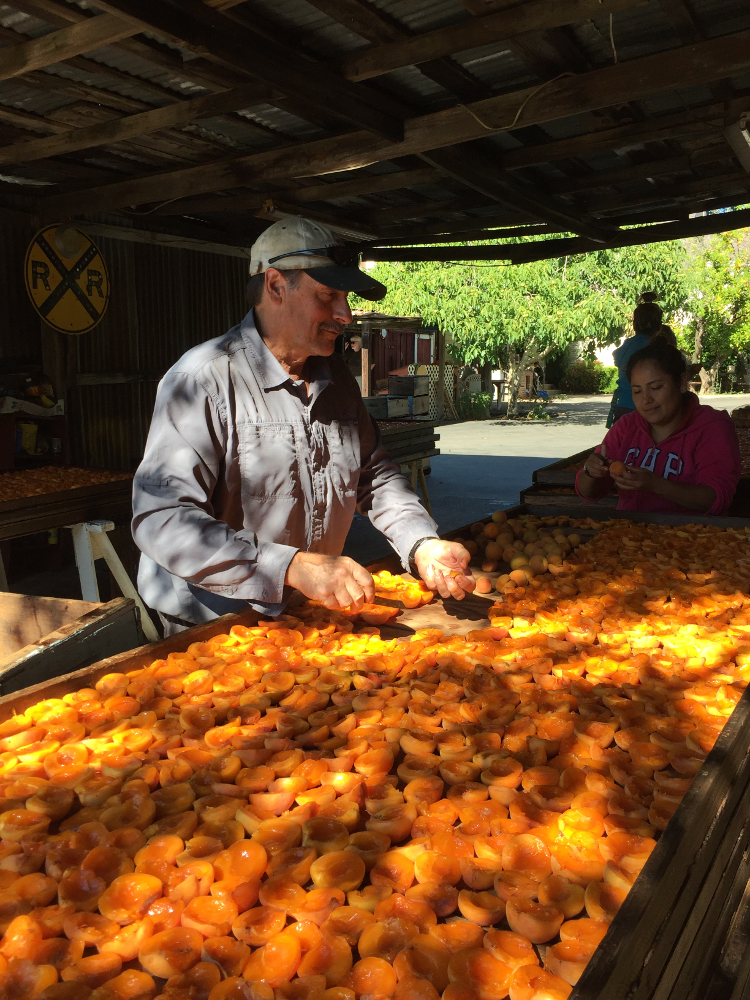 After the drought-busting winter, the apricot trees went into splendid bloom. Untimely rainstorms with heavy wind during blossom time left the farmers with a big question about the summer harvest. Damage had been done to the yield, yet each of the Bay Area orchardists I consulted said that later-budding fruit would be fine and perhaps the loss wouldn't be too bad. Time would tell as the fruit matured. Nearing harvest time, Mother Nature had some more tricks up her sleeve. In early June, the weather vane swung from a rare rain peppered with hail, to a string of clear hot days with temperatures reaching up to 105 degrees. The extreme heat caused many of the small Blenheim apricots to literally cook from within. Their dense apricot pits got so hot that they burned the surrounding tender flesh. Other apricots ripened so quickly with the heat, they fell to the ground. The farmers had to scramble to begin the apricot harvest while the cherries were still being picked.
When I got word that picking had started and fresh apricots were available, I hit the road back to my hometown of Saratoga and Novakovich Orchards. Arriving at the ranch, I heard the welcoming sound of the chickens clucking near the farm stand. Several cars were parked ahead of me which made me feel a little anxious about getting the supply of apricots I need to make fresh apricot tarts and pies for summer enjoyment as well as jam and other preserves to last throughout the year. I was excited to soak in the June heat, see the harvest in action, and talk to Matt, George and Dan Novakovich about this year's crop.
The Novakovich brothers were each busy in their elements, weighing crates of fresh apricots and delivering them to the cutting crew, setting out trays of freshly cut cots on the large drying yard to soak up the sun for a day or two, and driving forklift loads of trays loaded with dried apricots to store for future use. I chatted with a few of the cutters, noticing that it was a smaller crew than in past years, and was pleased to learn from two younger workers that they still enjoyed eating apricots after cutting and filling trays for several days!
The apricot crop is indeed light this season and most of it will be reserved for drying to meet demand throughout the year, which includes the chocolate-dipped apricots and chocolate apricot turtles that many customers expect to purchase and enjoy for the winter holidays. As I write this, apricot picking is underway and there is hope that the yield will be at least as much as last year's crop. So, if  you're reading this post in late June or early July, call ahead to reserve some or drive on over to your local orchard before the fresh apricots sell out. And when you arrive, take a deep, cleansing apricot breath and appreciate the hard-working family farmers who continue to provide this wonderful fruit!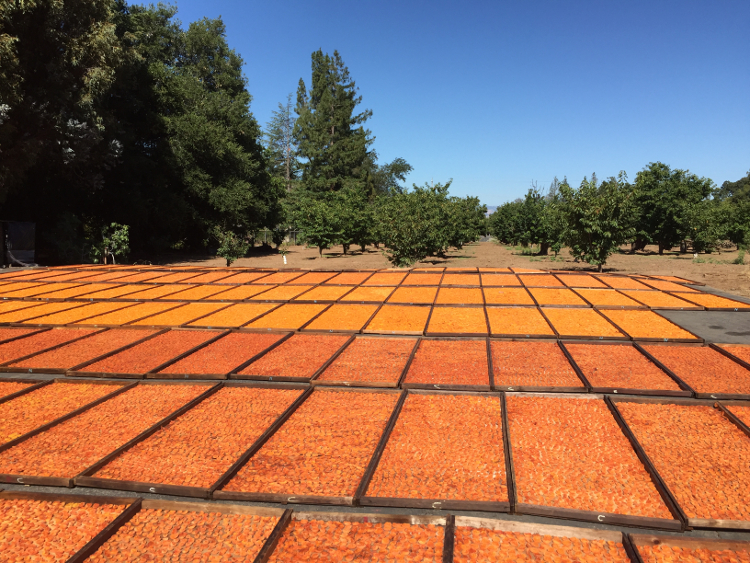 [recipe print="true"]
---
Chocolate Apricot Ice Cream
If you've ever tasted the famous Austrian Sacher Torte, you know how sublime chocolate and apricots taste together! This recipe echoes that experience, with a subtle fresh apricot flavor peeking through the rich chocolate. You could add a twist to the basic recipe with an extra handful of dark chocolate chips or chocolate bar shavings. Or perhaps roast the apricots first to heighten their flavor.  Either way, this ice cream is the perfect summer treat!
---
| | |
| --- | --- |
| Yield: Makes about 3 cups | Prep Time: 30 minutes |
Ingredients:

1 1/2 cups heavy cream

5 tablespoons unsweetened Dutch-process cocoa powder

2/3 cup sugar

2 cups ripe fresh or frozen apricots, chopped

Optional additions: 1/2 cup dark chocolate chips or finest quality semisweet chocolate bar, grated

Directions:

Whisk together the cream, cocoa powder and sugar in a large saucepan over medium-high heat, stirring continuously until it comes to a full, rolling boil and starts to foam.

Remove from heat and add the apricots.

Cover and let stand for 10 minutes.

Puree the mixture in a food processor or blender and chill the mixture thoroughly before freezing it in your ice cream maker per the manufacturer's instructions.
[/recipe]
Follow my blog
---