The abundant fresh apricot season was met with joy at every orchard and farm stand I visited! Some old friends joined me to pick apricots at Novakovich Orchards in the peak heat of summer and before we wilted, our buckets were full. From June to August, my spare time was filled with jam making, baking (pies, crisps, tarts, and cookies), roasting apricots with meats and vegetables, preserving (apricot syrup, jam, brandied apricots) and freezing apricots at their peak of flavor. I leave the drying to the experts, which is how most of the crop is preserved, ensuring apricot enjoyment and good health throughout the year.
The summer flew by as I shared my cookbook/memoir For the Love of Apricots: Recipes and Memories of the Santa Clara Valley at orchard farm shops, fruit festivals and conferences, bookstores, and at author book talks. These experiences brought me into contact with apricot lovers of all kinds – people who know the joy of eating a great tasting apricot and how precious and increasingly rare that joy is.
The joy I see on people's faces when they think of, taste, or talk about apricots was an important ingredient that went into writing my cookbook/memoir. In the course of writing the cookbook, I realized my goals were bigger than simply sharing great apricot recipes that can be used throughout the year. I also want to inspire people to plant their own apricot trees. Beyond that, I hope to help sustain the remaining orchardists who still grow the world renowned apricot varieties like the Royal Blenheim in the Bay Area and beyond.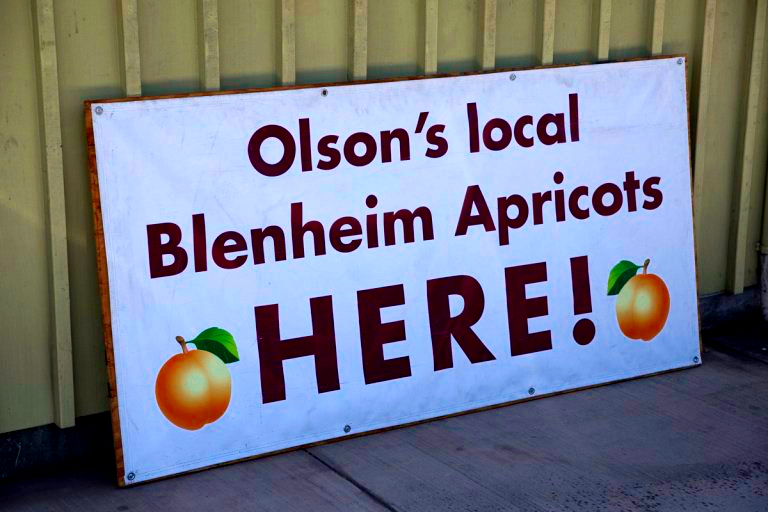 At every venue, I met people who have planted apricot trees and know the joy of harvesting their own apricots; also, the frustrations!  A frequently asked question was "how do you keep squirrels from getting the apricots before you do?" I thought the best answer came from a woman who attended one book talk. She places a radio tuned to a talk radio station right in the apricot tree. Apparently, squirrels don't like the sound of human voices! For the urban/suburban "farmer", this is a clean and green solution. Orchardists have varied methods to discourage apricot predators from their large scale operations including BB guns, noise makers, and in this high tech era, lasers.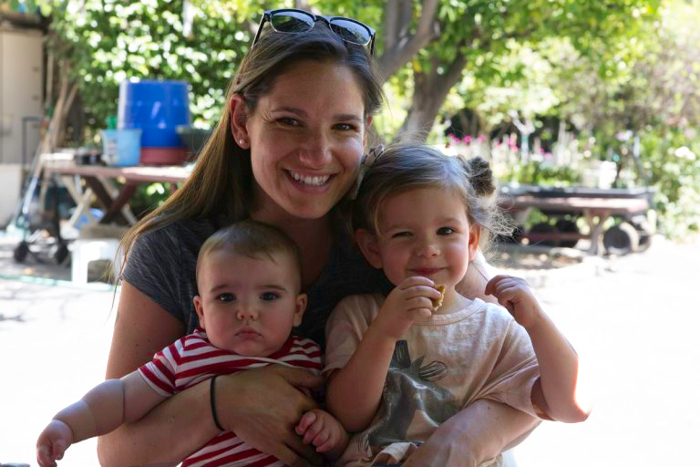 In July, the Santa Clara Chapter of the California Rare Fruit Growers held their 50th Anniversary conference with the theme of the Valley of Heart's Delight and apricots as their emblem. The Santa Clara Chapter, founded in 1968, is located in the heart of today's Silicon Valley. They hold meetings at the San Jose Heritage Orchard. The three-acre site located within Emma Prusch Farm Park is planted with a wide variety of stone fruits and figs. Members are encouraged to join volunteer work parties to maintain the orchard.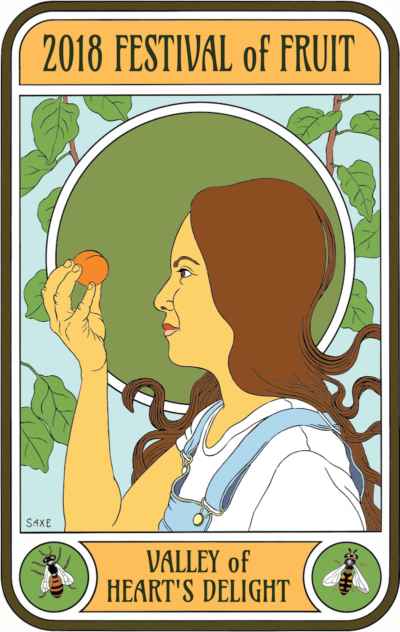 I attended the Festival of Fruit conference as a vendor to present the cookbook, and enjoyed talking with fruit aficionados who ranged from backyard enthusiasts to professional growers. Among the many presentations, garden tours, and tastings, I particularly enjoyed lectures by pomologist David Karp and Andy Mariani of Andy's Orchards as well as tours of Andy's Orchard and the new Apple Campus' apricot, plum and (of course) apple orchards.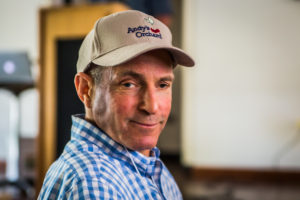 David Karp is a journalist, pomologist affiliated with UC Riverside, and a partner with Andy Mariani in apricot and other stone fruit propagation. He reminded listeners that the Valley of Heart's Delight was the center of "fruitdom" in the United States just a few decades ago. His talk focused on the concept of "high flavor", a common term just a few generations ago that has been mostly forgotten in this more urban era. While sharing tastes of apricots, plums, and other stone fruits that demonstrate the concept, David explained that the elements of high flavor are elevated sugar, acidity, and aromatics.
In the Bay Area, Blenheim apricots are at the top among apricot varieties that demonstrate this ideal in flavor. Others that share the stage are the relatively new Bonny Royal, Anya, and Candy Cot, as well as the traditional Moorpark and Alameda-Hemskirke varieties. Inland varieties that rank a little lower on the high flavor scale but are very good include Castlebrite and Robada. David spoke about the sad fact that flavor is not the primary goal with commercial fruit production. Yet, he noted that high flavor is one of life's great pleasures. He said "there is something simple and elegant about superb fruit that transcends pretension".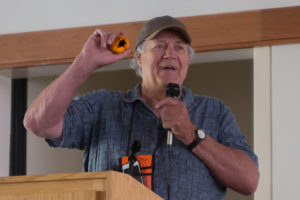 Andy Mariani spoke about the process of creating new stone fruit varieties. In his lifetime as an orchardist, Andy has experimented with crossbreeding in a search to produce apricots and other stone fruits that have high flavor. He described his work to develop the Red Sweet apricot, which has a Blenheim parent, and the Kittrin Cot, a cross between the super sweet Afghanistan and astringent Castlebrite apricots, resulting in a good-tasting apricot with a pretty blush. Andy's friend George Bonacich, created the Bonny Royal apricot, which resulted from a cross of the Royal Blenheim with a Middle Eastern variety that yields excellent flavor and a "sweet nut" (non poisonous) kernel.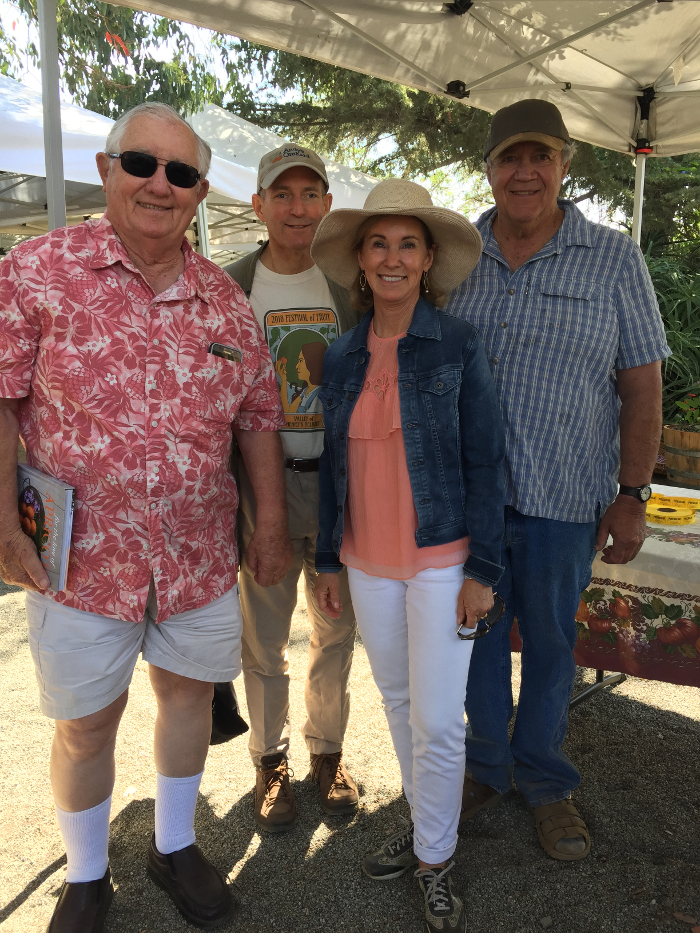 As I had hoped, my author book talks turned out to be fun and interesting two-way conversations about California's apricot heritage and recipes that showcase the fruit. Many interesting suggestions for growing, preserving, cooking, and celebrating apricots were shared by attendees! Here are a few of the ideas that arose from my presentations.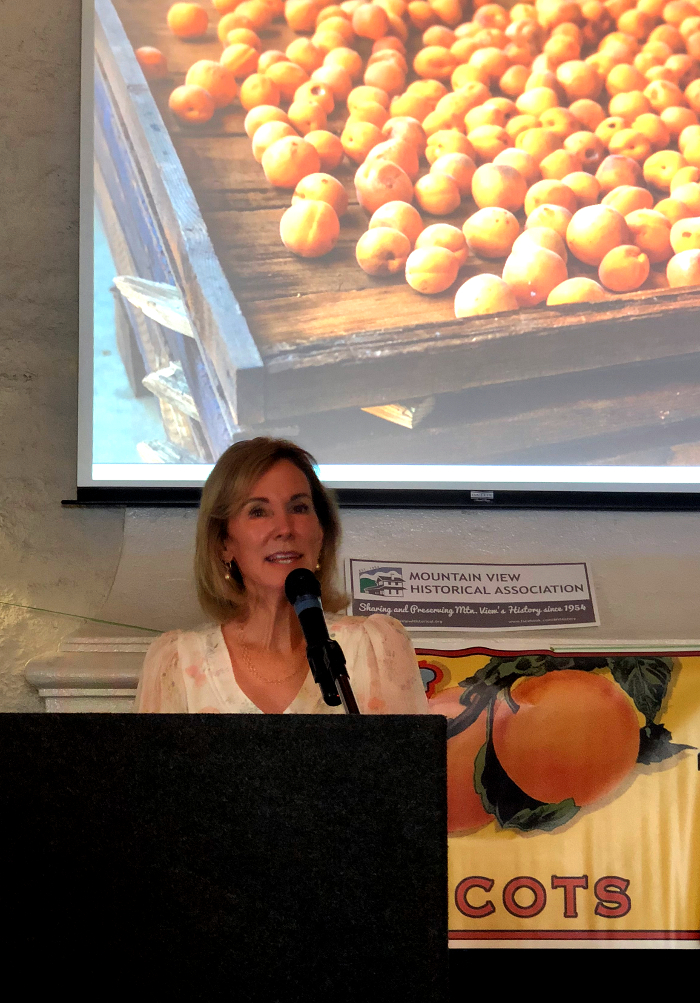 Nick Perry, Vice President of the Mountain View Historical Association (and fellow City Planner), invited me to speak at their summer event. MVHA meetings are held at the City's historic Adobe Building that the MVHA helped to preserve in downtown Mountain View. Board members graciously prepared an apricot tasting menu from recipes in my cookbook, which made the afternoon event very festive. After my talk, several people pointed out that Mountain View contains one remaining commercial apricot orchard owned by the Francia family. Although it is no longer actively maintained, the nine acres of apricot trees still produce fruit. The long, rectangular orchard is situated between commercial  buildings along El Camino Real and the City of Mountain View's Corporation yard.
To me, this orchard presents an ideal opportunity for Mountain View to join its sister cities (Los Altos, Saratoga, Sunnyvale, and San Jose) to establish a Heritage Orchard! City Council and Planning Commission members who attended my talk, engaged in a conversation about the importance of preserving Mountain View's rich orchard heritage and the opportunity to grow local, great tasting fruit to benefit the community. I am hopeful that the seeds of preservation will grow with local and regional support! For the present, the chance to preserve and renew an orchard landscape, and feed the next generation of apricot lovers remains open.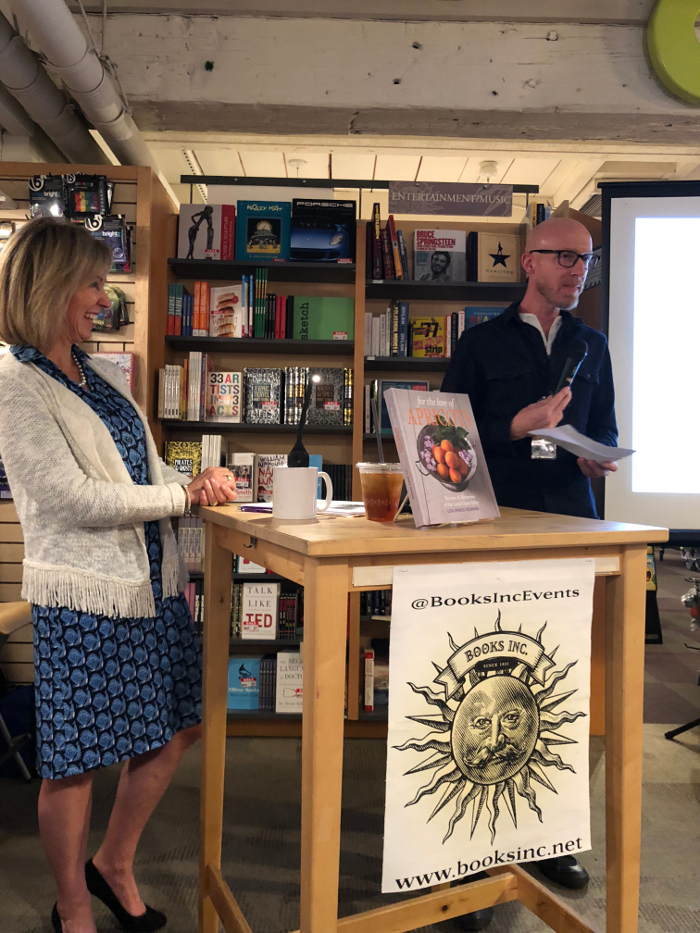 Beginning in June, Books Inc, Palo Alto turned my new cookbook into a summer culinary best seller! The talented staff lent their hearts to promoting this local author and shared their love of apricots along the way. I stopped in early in the summer and was delighted to discover that a staff member had baked the Apricot Coffee Cake recipe that morning and provided a glowing write-up about how much the staff enjoyed it! Dori Jaroslow, bookstore manager, invited me to give a book talk that attracted a diverse group of older and younger, local and foreign guests.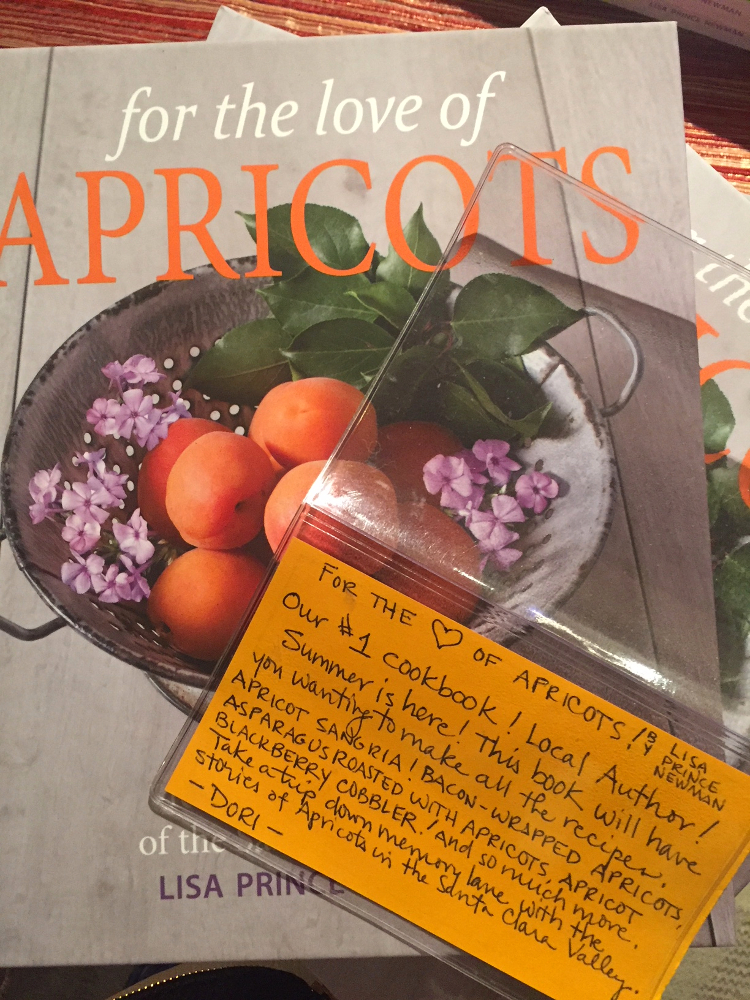 After the talk, a local man described Village Harvest, a nonprofit program that serves the greater San Francisco Bay Area. Volunteers pick ripe, unwanted fruit from backyards and small remnant orchards that are tucked into the urban landscape, and "share the abundance to build a healthier community for all". I am excited to volunteer during next summer's harvest and discover these orchards!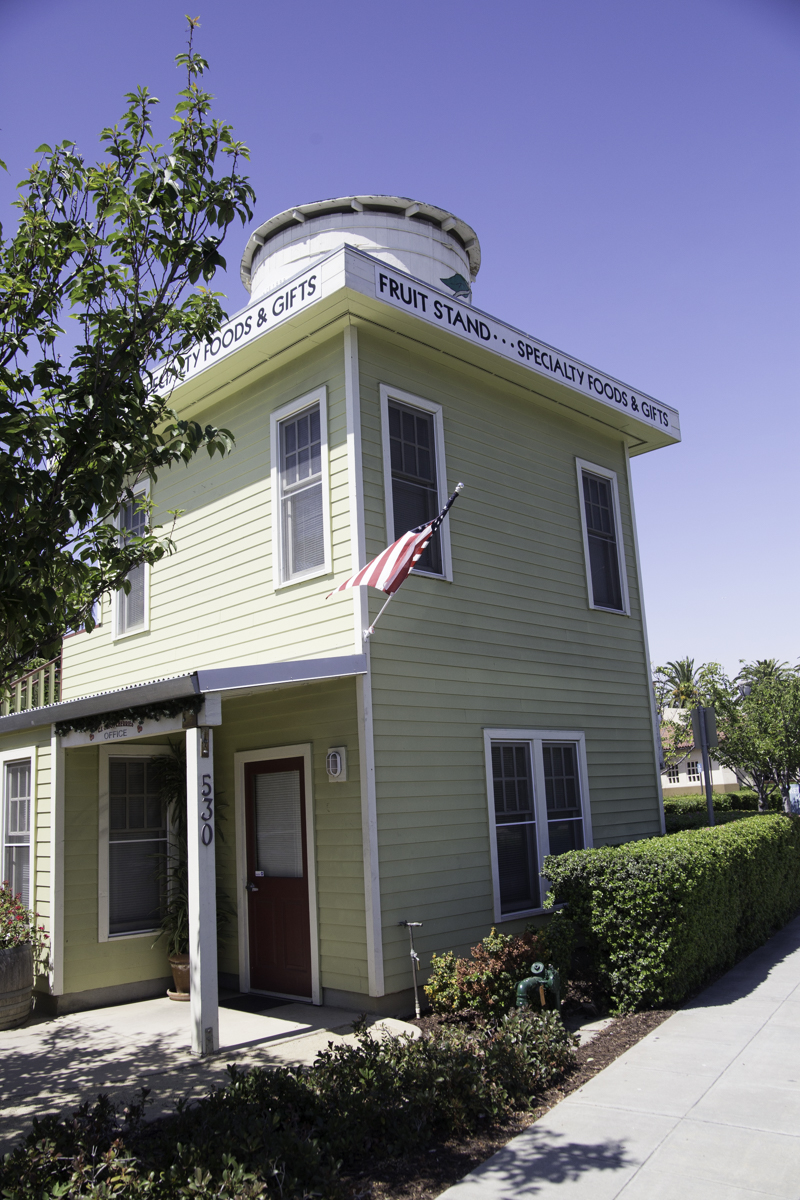 Summer's apricot joy was mixed with heartache too. In early September, Deborah Olson announced that she would be closing the family's C.J. Olson's Cherries fruit stand; the last piece of their famous foothold in Sunnyvale since 1899. In her own words, Deborah wrote to her friends and customers: "By no means is this an end of an era for our family, as we intend to continue getting our feet wet with the wholesale side of the business".
Nevertheless, the news sent a shock wave through the Santa Clara Valley, where generations of residents have known that Olson's carried the best fruit the region has to offer. In every form – fresh, dried, preserved, and chocolate-covered – local stone fruits of all kind were sold at their peak, along with baked pies, books, and other culinary delights.
Charlie Olson's sister (Deborah's aunt) Yvonne Jacobson's book Passing Farms; Enduring Values was always available for purchase there. First published in 1984 with a forward by Wallace Stegner, the book's rich portrait of the region's agricultural history told from the perspective of a farm family undergoing transition made an indelible impression on me. I often gave the book as a gift to friends and family. Deborah was  enthusiastic about my cookbook from concept to fruition (sorry) and did a wonderful job promoting book sales at her store. I am so grateful for her kind support!
Another heartbreak this season was the sudden, though well-reasoned, retirement of George Bonacich, after a lifetime in the fruit orchard business. The creator of the Bonny Royal apricot, a sensational contribution to the search for "high flavor", George leased his Patterson orchard to a farm group who had a different market vision. After the apricot harvest, they replaced his beloved apricots with almond trees. Whether this is a significant trend remains to be seen but it appears that apricots are waning in the Apricot Capital of the World. George is pursuing new paths in retirement, including sharing California apricot varieties with the Agricultural Ministry of Croatia, his home country. I am also grateful to have visited George's Patterson ranch, tasted his many fabulous apricot varieties, and hope to follow his steps to Croatia next summer. My own Bonny Royal tree, planted last year, is thriving and hopefully will yield well in the future for my family to enjoy.
Inevitably, the seasons turned from summer to fall. Succulent, fresh apricots are replaced by chewy, intensely flavored dried apricots, sweet apricot jam, and other preserves; the bounty of this year's harvest to enjoy throughout the year. Fall recipes that I hope you will enjoy from the cookbook include this wonderful Apricot Nut Bread. Wishing you joyful baking this Fall!
I hope you will follow my new Facebook page — For the Love of Apricots — and join me at an upcoming event!