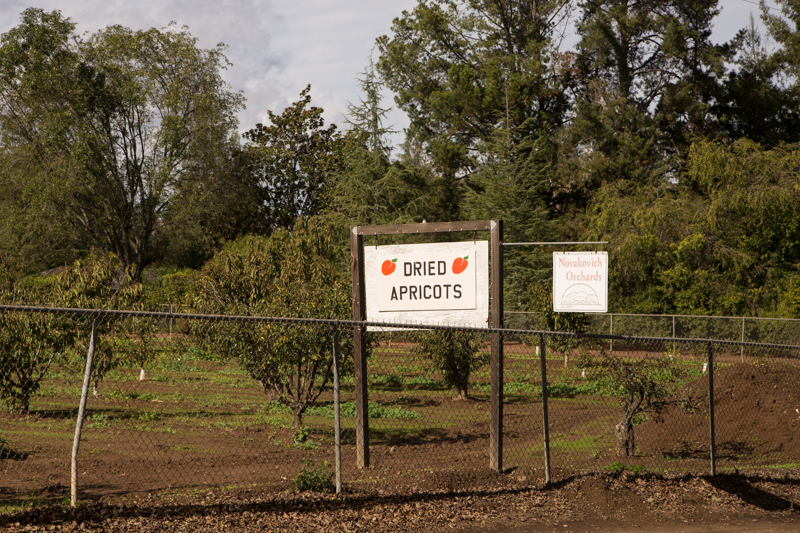 One of the main ingredients that led me to the idea of creating a cookbook devoted to Apricots was my re-discovery of Novakovich Orchards in my home town, Saratoga. Having moved away after college, I would occasionally stop in, if the gates were open, to buy some dried or fresh apricots or both, depending upon the time of year. But it wasn't until I got involved helping to plan a high school reunion that I had the opportunity to spend more time there and deepen my appreciation of the farm and family who have operated it since the 1920's.
Entering the long, narrow driveway that leads through the orchard property is like a time portal to my childhood, when Saratoga was dotted with orchards bearing apricot, prune, cherry and walnut trees. At the front of the 11-acre property, mature cherry trees line the driveway along with the occasional French prune tree. I grew up about 1/2 mile away, surrounded by a  remnant French prune orchard, so my visits to Novakovich Orchards are as close as I can get to "going home".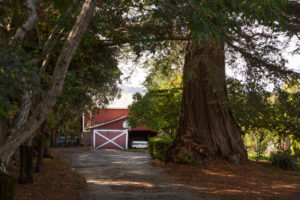 The driveway passes a stately Redwood tree and forms a circle that is framed by the cheerful yellow-and-white Victorian family home, a weathered red shed where their farm products are sold, and a red and white painted barn. The orchard rows that extend beyond this farm enclave are where the apricot trees grow.
If you take a walk there, the fruit trees frame a lovely view of the Saratoga hills and you'll find that the property extends just far enough to engage you in the smells, colors, and sounds emanating from the orchard trees.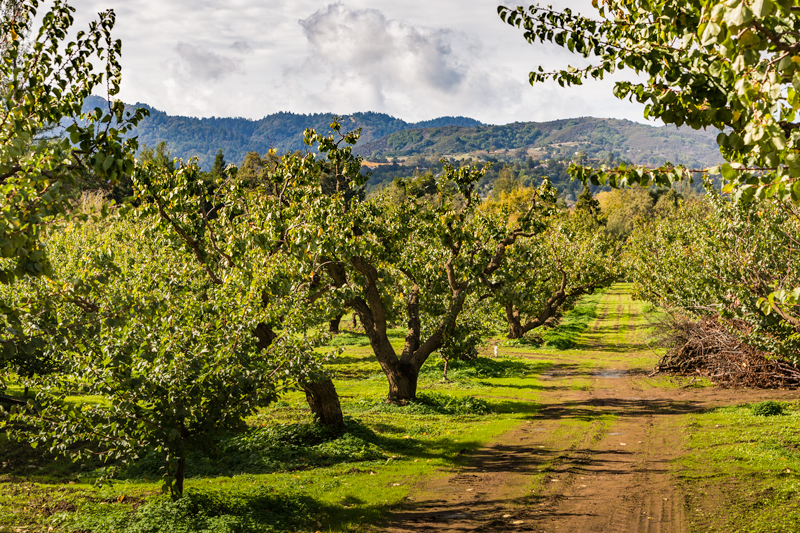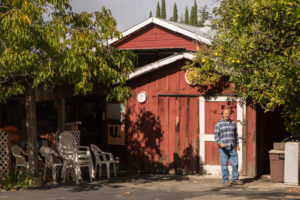 When you arrive, if no one is tending the farm shop, there is a bell to press and before too long, one of the family will emerge from working in the barn, orchard or house to help you. Leah Novakovich, her three sons and two grandchildren are warm, easy-going people; happy to chat with you about the weather, the orchard crops or news about town.
During your visit, you might hear the rooster crow, see chickens roaming around or spot their handsome Golden Retriever, Toby, taking a nap. Time slows down as you enter their world, which doesn't seem to have changed all that much since the family began farming here nearly 100 years ago. Today, it's a blend of the 2nd, 3rd and 4th generations of this family that operate the farm. I marvel that they have held steadfastly to this orchard life and, despite a changing world and climate, continue to follow the seasons, work together, and produce top quality fruit. The Novakovich's are among a small number of orchard farm families in the Santa Clara Valley and region that continue this tradition, and the last in Saratoga.
Over a couple of years and many visits, I've chatted with Leah about my love of apricots and idea to create a cookbook. She would smile encouragingly but not say too much in response. I asked her several times about her favorite apricot recipes and whether she might share one or two, to which she would get a twinkle in her eye and tell me she had a delicious apricot pie recipe. Intrigued, I asked her to describe it, and invariably she'd say "Well, you take your sweet roll dough recipe (like we all have one) and cook up some dried apricots, then fold the dough over…", which made me all the more curious! To me, an apricot pie was made with fresh apricots mixed with sugar and a little flour, maybe spiced with some cinnamon or lemon peel, and baked in a pie pan with two pie crusts. This was something different and versatile, using dried apricots.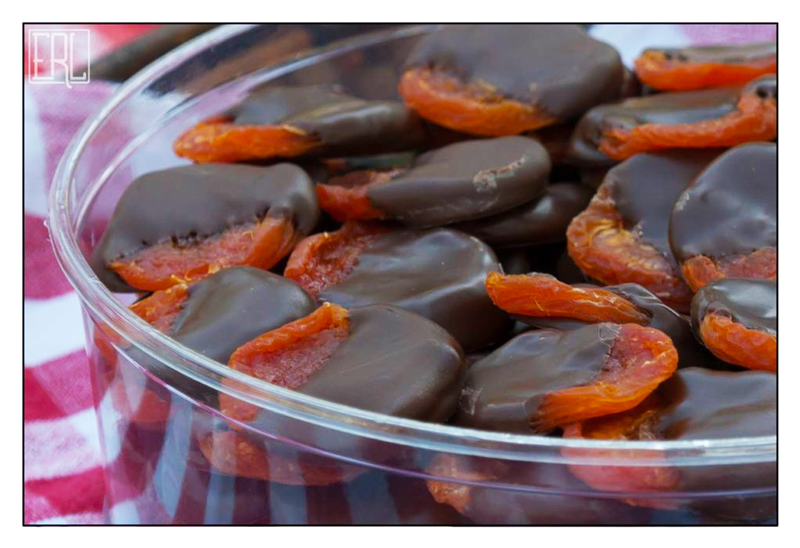 In the course of these visits, while planning the details of our high school reunion, I made sure to place a large order of the Novakovich's outstanding chocolate-dipped apricots that I love to give as gifts to friends and family. I thought it would be a happy food memory for my classmates and indeed, everyone enjoyed them during the reunion weekend — 10 pounds quickly disappeared! The reunion was such a success that we decided to invite everyone back the following year for a significant class birthday party.
I was determined to learn more from Leah during visits to the orchard the following year and asked her again about her pie recipe and whether we could make it together. The time was finally right and Leah invited me over to her house to bake her apricot pie recipe. She also gave her blessing for our class to hold a birthday barbeque picnic in the orchard — a very special treat!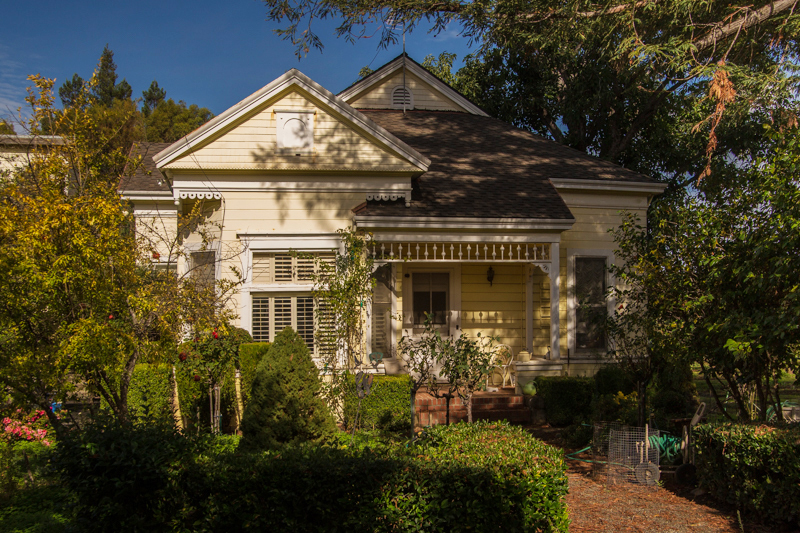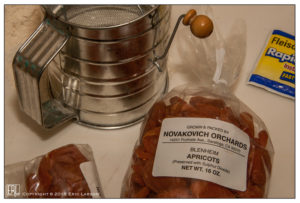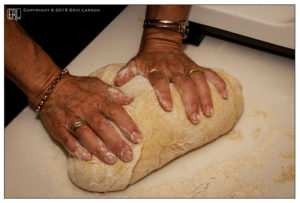 The weekend before the event, I arrived in the morning at Leah's country kitchen and found her well into preparations. She had already made the yeast dough in her mixer and while it was rising, was getting ready to make the apricot sauce filling. I read through her recipe and offered to fill the pies after she rolled them out.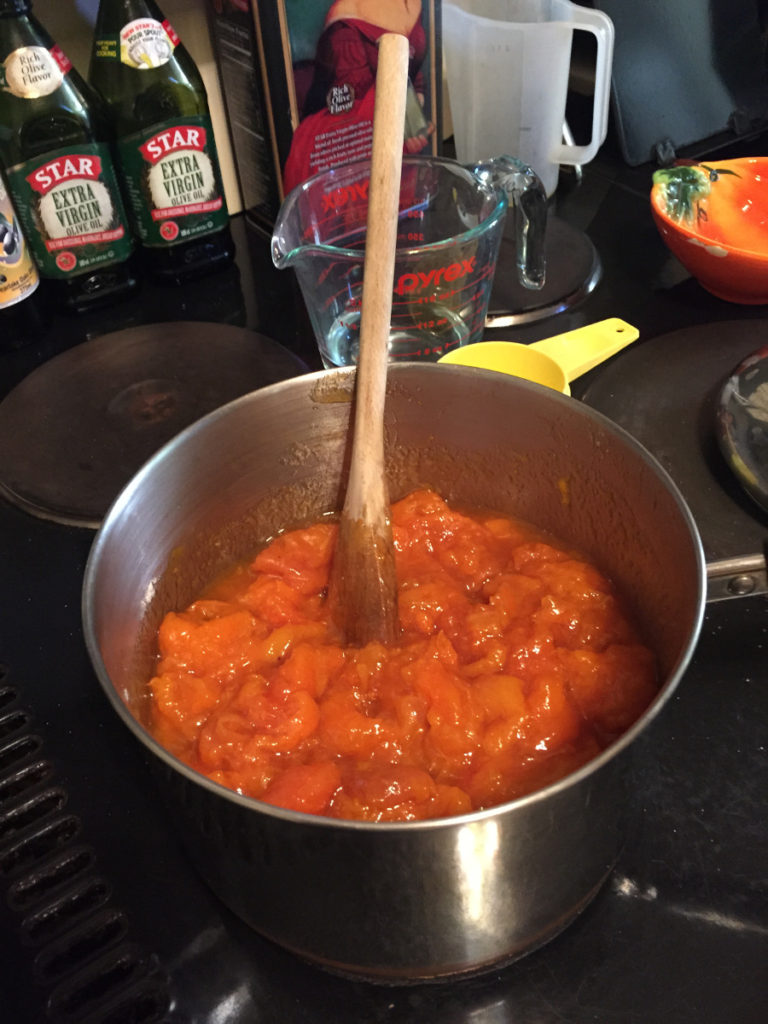 The apricot sauce smelled heavenly as it simmered on her vintage gas stove. Once the dough had risen to double its size, Leah began to shape individual balls and roll them out on a floured surface, while I added the filling and sprinkled flavorings of cinnamon, sugar and butter on top. Then we simply folded the pies in half, crimped the edges and set them on a greased pan to rise again for a brief time.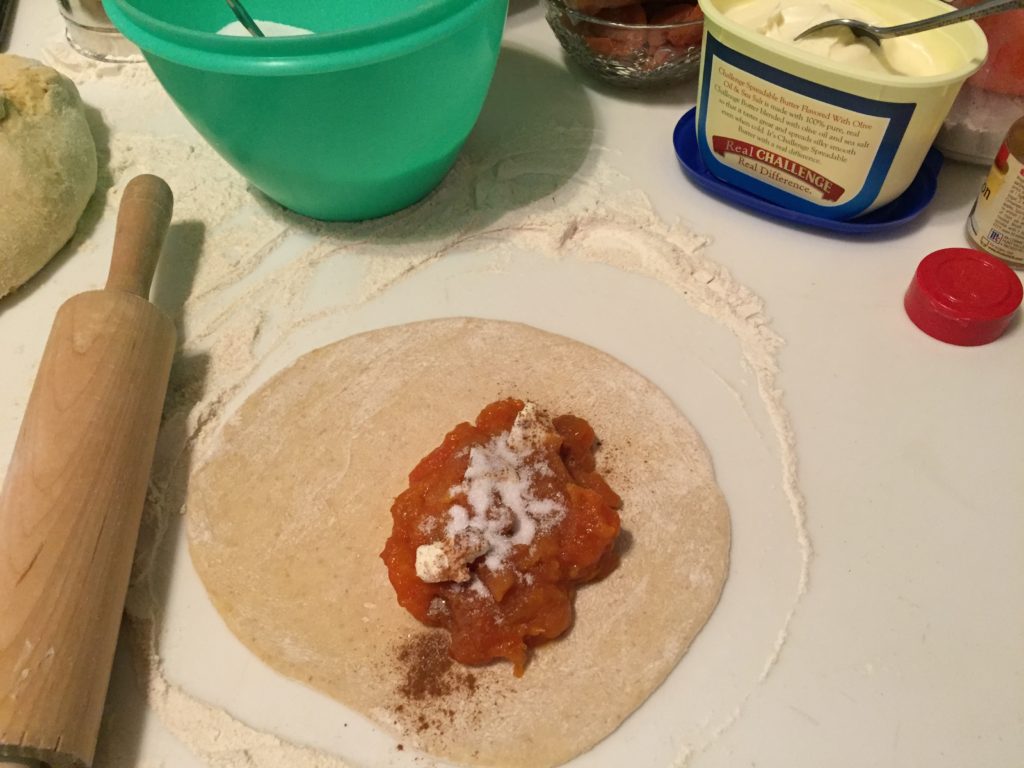 Leah had doubled the recipe, given the large crowd expected for our class barbeque picnic, so we filled many cookie sheets and her oven several times before the job was done. We took a break in her parlor while pies were baking and talked about her farm life and family history. Leah was a trooper and when the job was done, we shared a delicious, warm and sweet/tart pie together. She kept a plateful for her family and the rest went into the freezer for the upcoming event.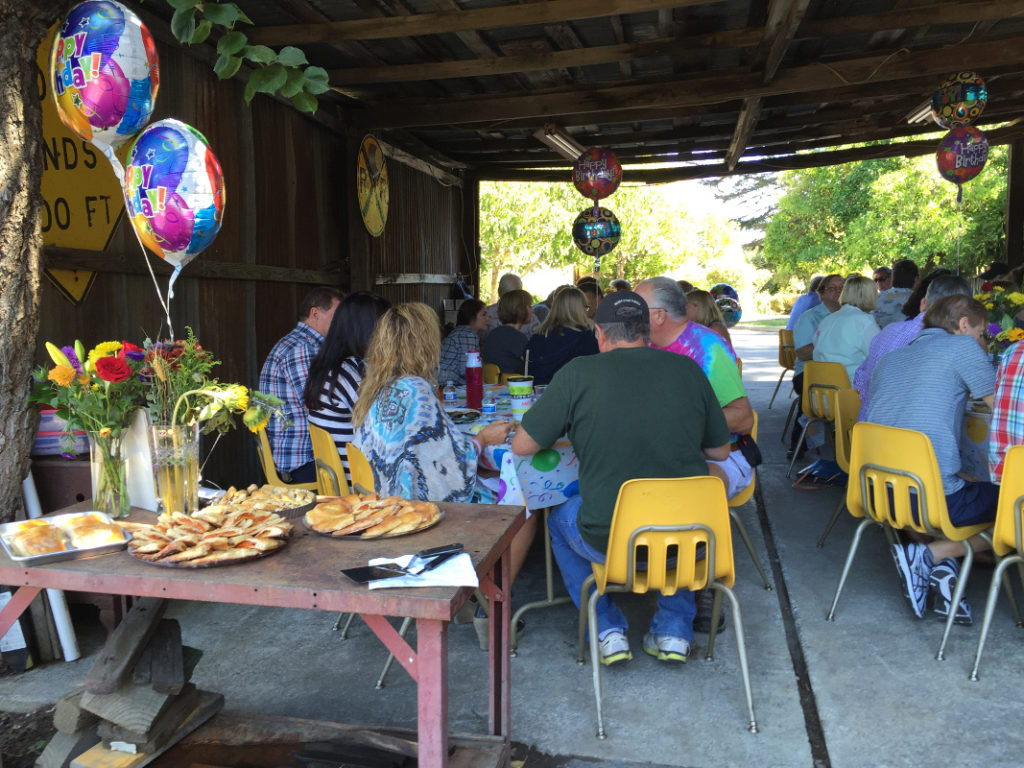 Here we are feasting in the shed where, on hot June days, the fresh apricots arrive by the bucket to be cut and laid out to dry on large wooden trays. Many people planned, organized and cooked for the birthday barbeque and over 60 of our classmates gathered to enjoy a warm Fall afternoon together, relaxing at the Novakovich's Orchards, reconnecting with one another and our past.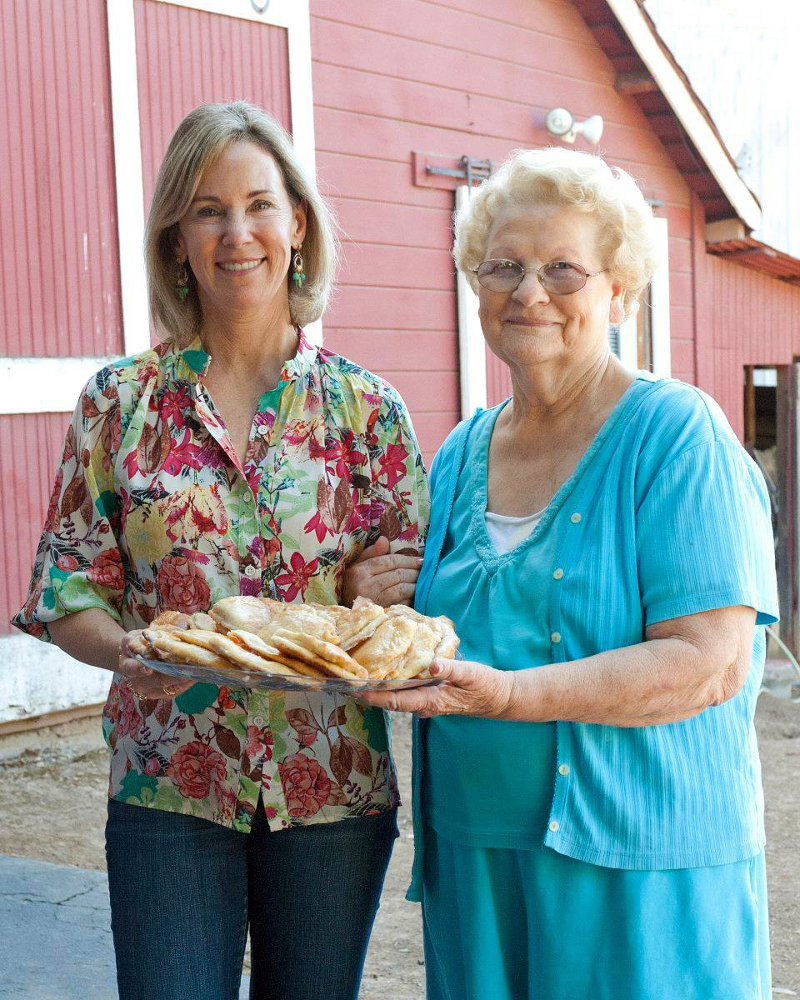 [recipe print="true"]
---
Leah's Apricot Pies

Leah Novakovich has been making these apricot pies since she was a girl, a recipe passed down from her mother. This recipe is fun to make, especially with helping hands as it involves several steps — none of which are difficult. The result is a tender, delicious and very portable hand pie that is great to serve at a party or a picnic. The baked pies can be frozen and stored in plastic ziplock bags for a few weeks to a month, then thawed at room temperature with great results.

---
| | | |
| --- | --- | --- |
| Yield: Makes 8 large or 16 small hand pies | Prep Time: 1-1/2 hours active time | Cook Time: 15-30 minutes |
Ingredients:

For the Sweet Roll Dough

1 package active dry yeast

1/4 cup warm water

1 cup milk, scalded

1/4 cup unsalted butter
(Leah uses olive oil)

1 teaspoon salt

3-1/2 cups sifted all purpose flour
(Leah prefers this combination for added flavor: 2-3/4 cups all purpose flour + 1/2 cup whole wheat flour + 1/4 cup wheat germ)

1 egg

For the Apricot Sauce

1-1/2 cups (10 oz) dried apricots (Blenheim preferred)

1/2 cup sugar (or to taste)

For the Frosting

3 cups powdered sugar, sifted

1/2 cup milk

1 teaspoon vanilla extract

1/3 cup unsalted butter

Directions:

Make the Dough

Soften yeast in the warm water (110 degrees)

Combine the scalded milk, sugar, butter, and salt; cool to lukewarm

Add 1-1/2 cups flour and beat well in a standup mixer with a dough hook or beat by hand with a wooden spoon

Gradually add remaining flour to form a soft dough, beating well; on a floured surface, knead the dough gently until it is no longer sticky

Grease a medium bowl and turn the dough over to grease the surface

Cover the bowl in plastic wrap and let the dough rise until doubled in size in a warm place for 1.5 to 2 hours

Make the Apricot Sauce

While the dough is rising, make the apricot sauce. Place the dried apricots in a medium saucepan with water to cover. Simmer gently, stirring often until very soft, approximately 30 minutes; adding water if needed to prevent sticking

Stir in the sugar and simmer for another 10 minutes, stirring occasionally, then let cool to room temperature

Form the Hand Pies

Divide the dough into 16 small balls for individual pies or 8 larger ones and roll each into smooth balls

On a floured surface, roll each ball into a circle, 1/4-inch thick (similar to a pie shell)

Place approximately 2 -3 rounded tablespoons of apricot sauce on half of the pie dough, leaving a 1/2-inch border of dough

Dust the pie filling with 1/2 teaspoon cinnamon, 1 teaspoon sugar and dot with 1 teaspoon butter

Fold the pie in half and crimp the edge decoratively with your fingers or a fork

Place on a greased baking sheet and bake at 400 degrees in the center of the oven for approximately 10-12 minutes, until golden brown

Make the Frosting

Warm the milk, vanilla extract and butter in a saucepan over medium-low heat

Stir in the powdered sugar and cook briefly until frosting is thick enough to coat a spoon

With a pastry brush, gently brush icing over each hot pie and let cool on a rack
[/recipe]
---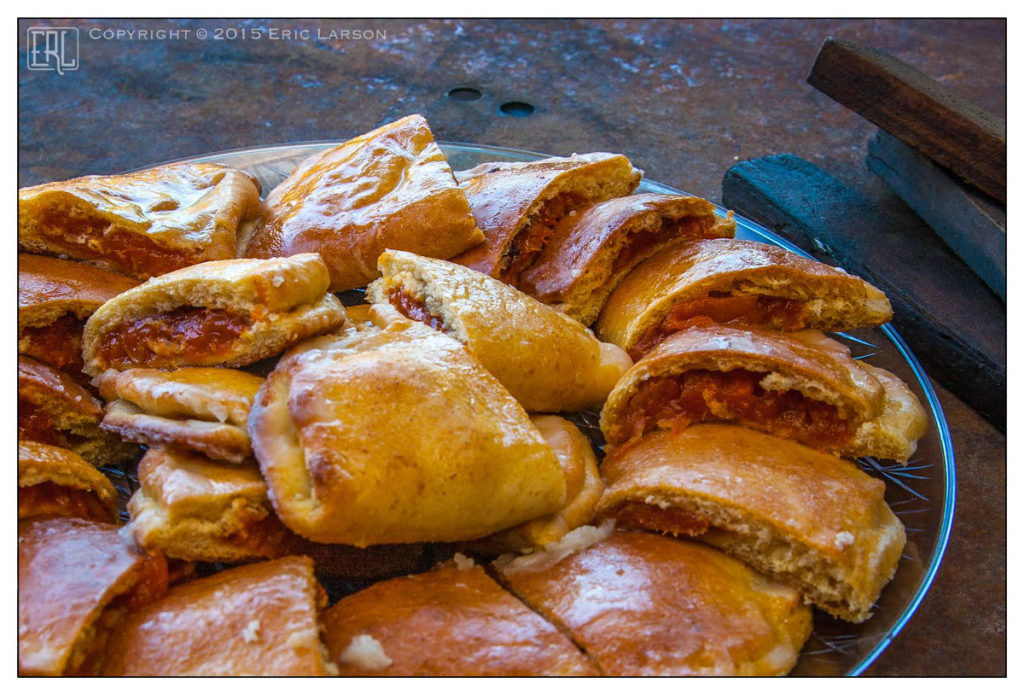 Follow my blog
---