The day after Thanksgiving, I received a Christmas card from a woman I do not know. Pretty and petite, I quickly realized the card was an apricot love letter sent from an enthusiastic reader and gifter of my cookbook, For the Love of Apricots.
"I truly LOVE apricots. For those of us who grew up with beautiful orchards, it is something we will not forget…Thank you so much for documenting the history, resources, etc. in your Beautiful Book."
Apricot Love…what a wonderful start to my holiday!

Apricot lovers highly anticipate the summer's short fresh apricot season — a time when you can eat, bake, and preserve the gorgeous, tangy fresh fruit in a happy frenzy. Orchardists have long practiced the sustainable method of drying apricots in the abundant California sunshine, allowing much of their crop to be stored, sold, and enjoyed throughout the year.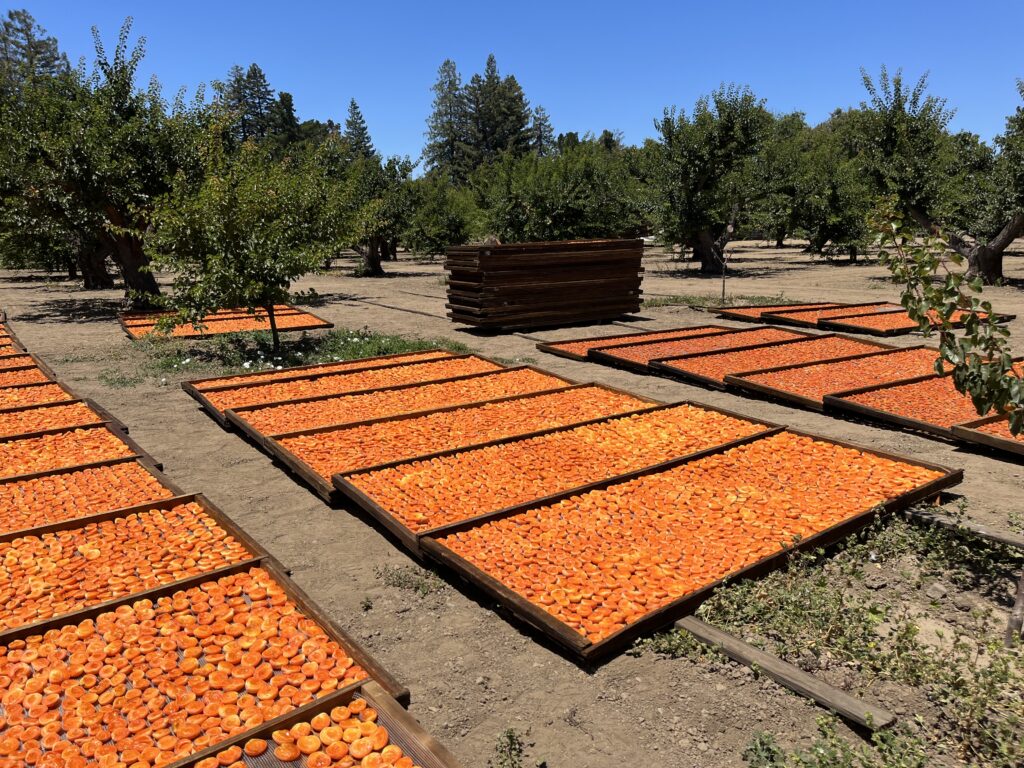 One of the great joys of apricots is that when dried, their flavor and health benefits intensify. This tradition of drying apricots led farm families to create holiday treats ~ transforming the virtues of simple dried apricots into all sorts of extraordinary confections, suitable for celebrations. Here are some of our local heritage farmers busily setting the stage for our holiday enjoyment of California apricots.
As we all anticipate the joys of the holiday season, I am inspired to feature some of the apricot delights and experiences that I love and are available for you to explore in person at farm shops or by mail order. I encourage you to enjoy and share the specialty fruits of this season with your family and friends. I never miss the chance to do both — adding these unique treats to the many homemade apricot gifts I prepare each year.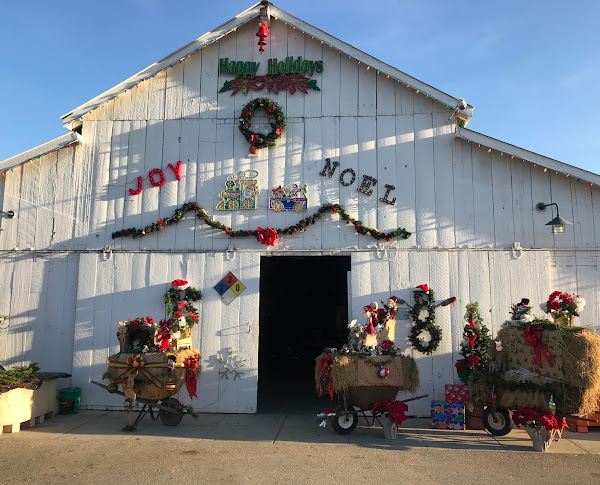 Sunnyvale Heritage Orchard
Charlie Olson is the elder statesman of orchard farming in the Santa Clara Valley, where he manages the largest of the City-owned Heritage Orchards, the 13-acre Sunnyvale Heritage Orchard planted with Blenheim apricots and Bing Cherries. For over four decades, Charlie has tended this remnant of the once vast fabric of family orchards and farms that formed the Valley of Heart's Delight. The Olson family's farm tradition dates to 1899 when Charlie's grandfather planted an orchard of apricot and cherry trees in Sunnyvale.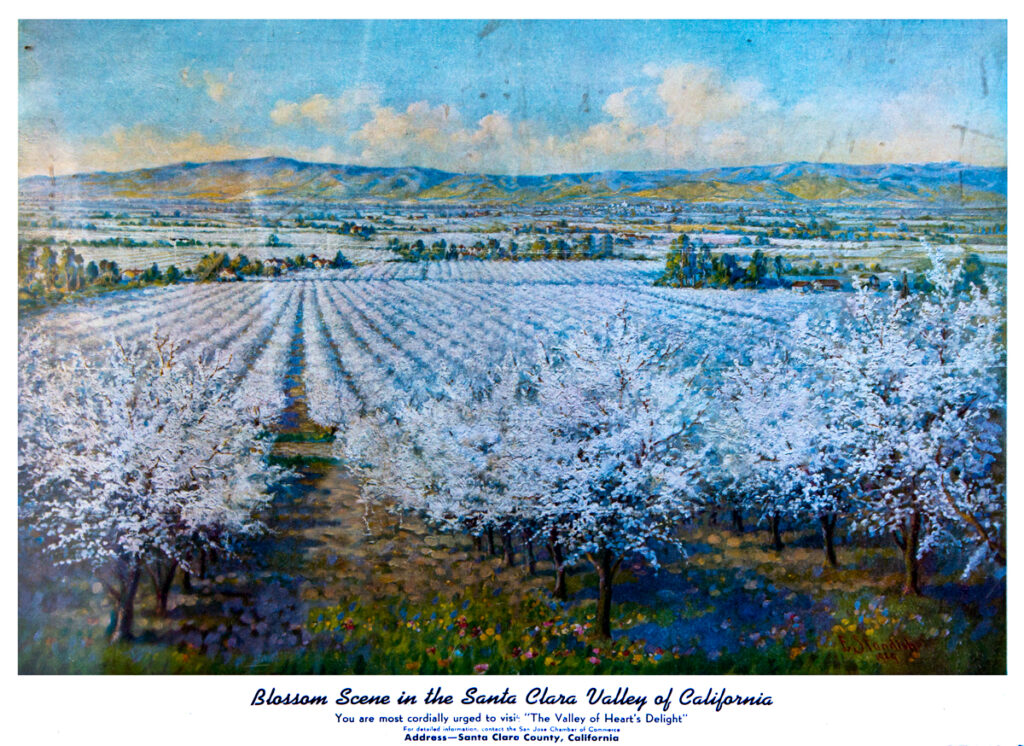 Today, the neighboring orchards that once stretched across the Santa Clara Valley are gone, yet Charlie still rises early each day to care for the Heritage Orchard. In doing so, Charlie and the remaining heritage farmers in the region provide important generational knowledge, culture, and environmental sustainability through their farming traditions. Shopping local is something we can do during the holidays and year round at farm shops and farmers markets to keep these traditions alive.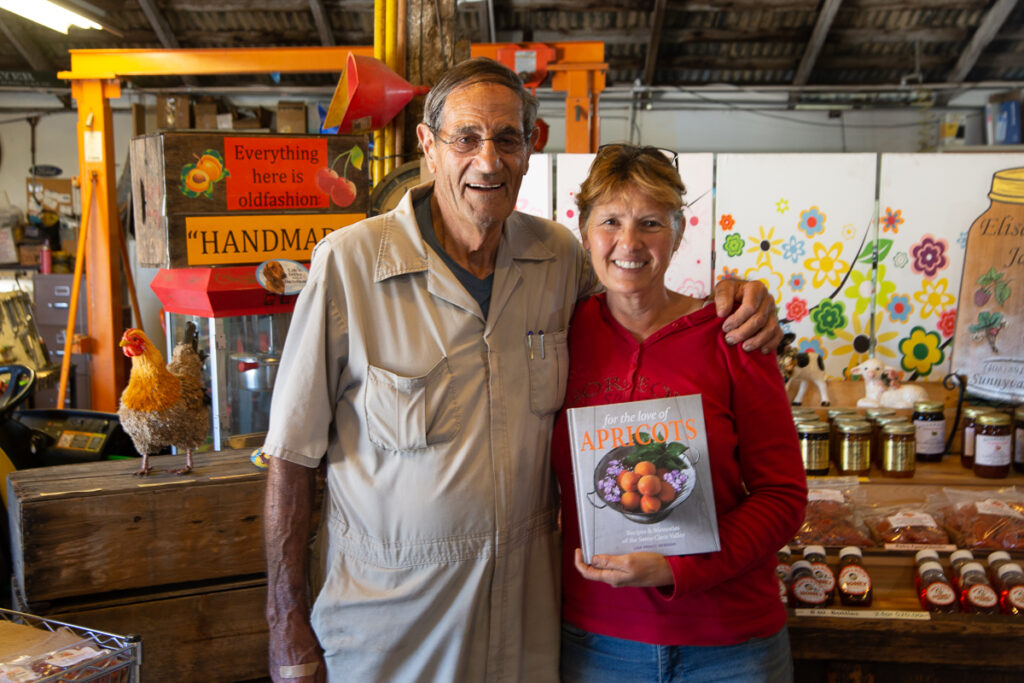 Elisabeth Maurer has worked with Charlie Olson for over 25 years both out in the orchard and inside the Orchard Barn farm shop. For the holidays, Elisabeth, who hails from Switzerland, fills the barn with a colorful range of irresistible apricot and cherry products that she makes from the orchard's fruit. When you visit the Olson's Barn, you will be enchanted by Elisabeth's Swiss style of décor and her winning way with chocolates confections, fruit preserves and other delights, including beautiful orchard photographs. Farm shop hours are Mon-Sat, from 9am – 5pm.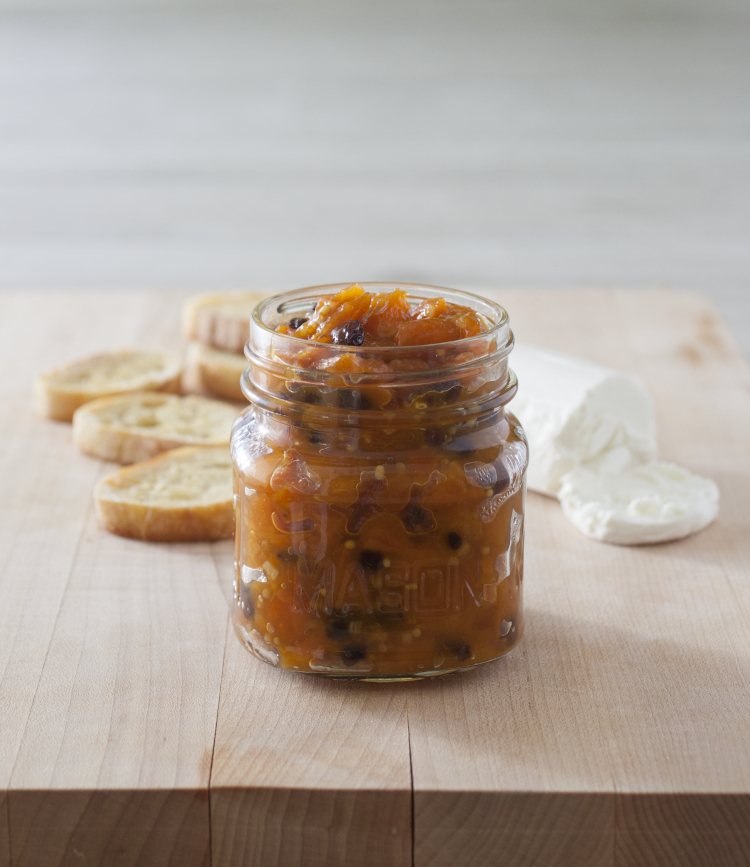 On Sunday, December 11th, I will visit the Olson's Barn to sign my cookbook from 1:00 to 3:00 pm. Please stop by and say hello! I'll be sharing tastes of my recipe for Dried Apricot Chutney on Crostini — a tangy treat that is quick to prepare for a beautiful holiday appetizer or a unique hostess gift. You'll find my Dried Apricot Chutney recipe below ~ it's my holiday gift to you!

Andy's Orchard, Morgan Hill
Andy's Orchard farm shop is bursting with holiday gift options including a huge range of dried fruit, preserves, and candies that showcase the extraordinary variety of stone fruits Andy cultivates. On his 25-acre farm, Andy's orchards include 35 different species of apricots along with all the other stone fruits that you can imagine.
On Sunday, December 11th from 10:00 AM to noon, I will visit Andy's Farm shop to sign my cookbook. I plan to do some of my holiday shopping at Andy's farm shop and would love to see you there! Holiday Farm shop hours are Mon-Fri, 10am – 6pm and weekends 10am – 4pm.
Andy jokes that he is the last "dirt farmer" left among his extensive and famous Mariani family. I am so grateful that he continues the family's multi-generation tradition of growing the great stone fruits of the Santa Clara Valley and cultivating the best tasting varieties!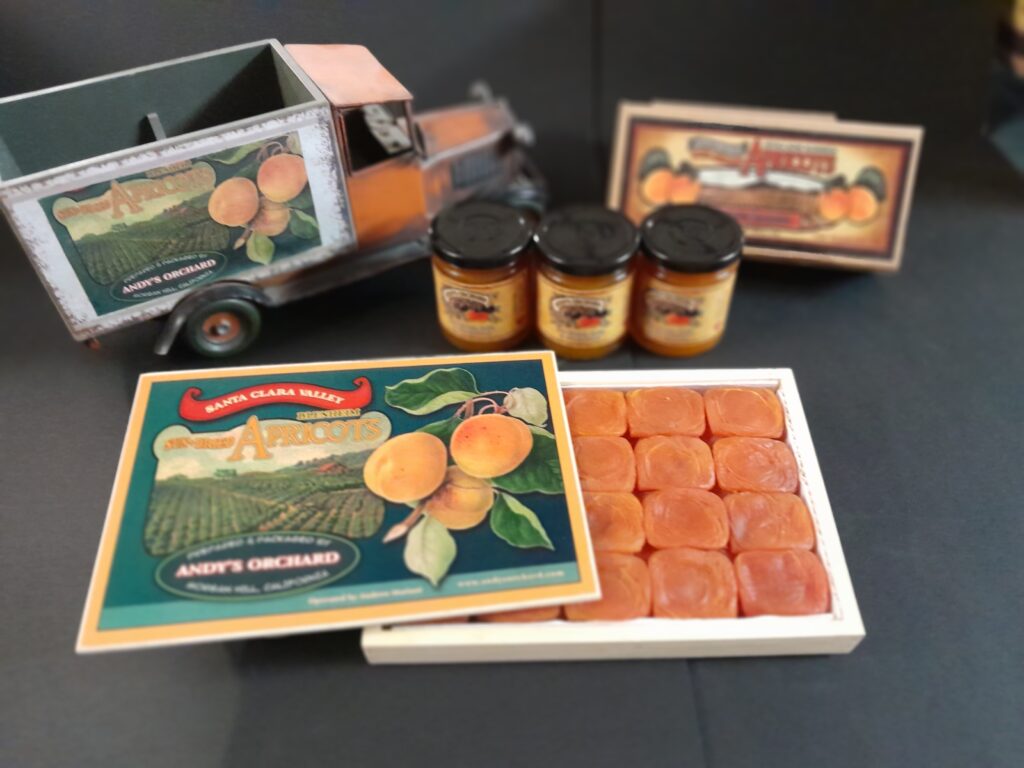 Andy will share his expertise and family history at a talk entitled "Past and Extant Farms in the Santa Clara Valley" sponsored by the Saratoga Historical Foundation at 7:00 pm on January 28, 2023. Always charming and informative, plan to listen to Andy's talk to learn more about the Valley of Heart's Delight's past and the future of our favorite locally farmed fruits. This is a Zoom meeting, and you can click to join the Zoom meeting (Meeting ID: 819 8944 2077, Passcode: 175559).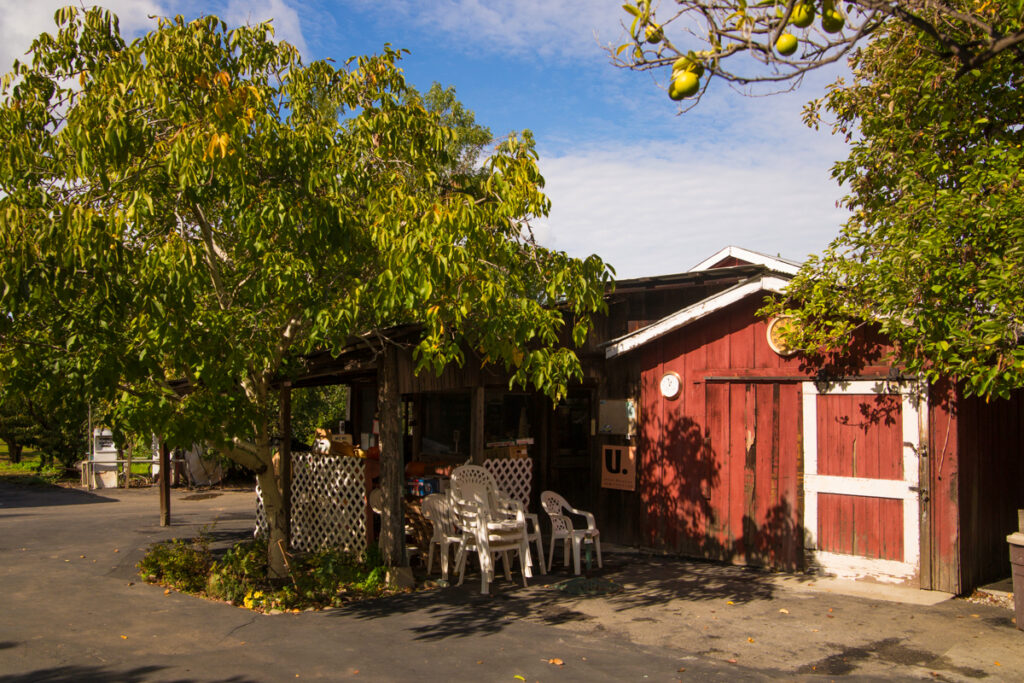 Novakovich Orchards
For nearly 125 years, the Novakovich family have cultivated Blenheim apricots, Bing and other cherry varieties, plums, peaches, and pomegranates on their beautiful 11-acre farm, located right in the heart of Saratoga. Novakovich Orchards' dried fruits (Blenheim apricots, peaches, pears and French prunes), preserves, nuts, and local honey are staples to enjoy throughout the year.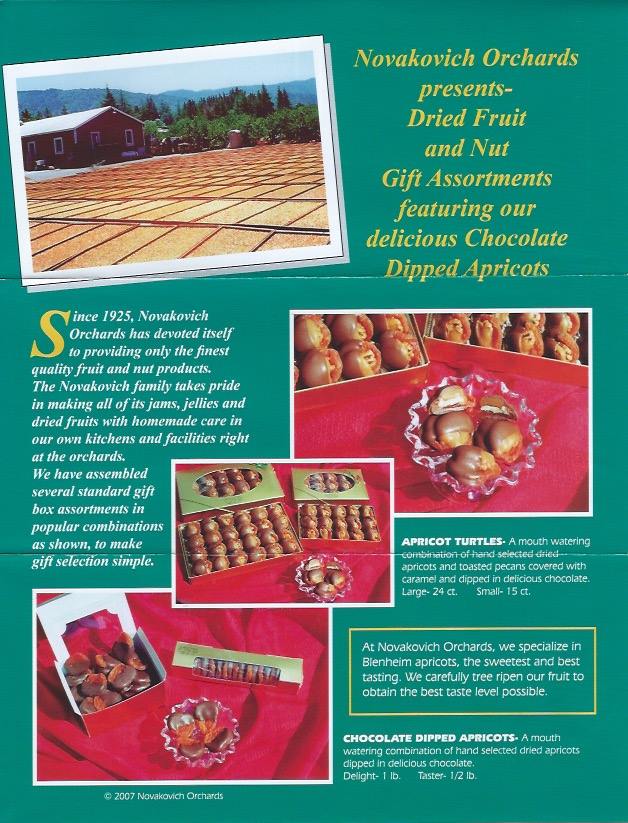 For the holiday season, Novakovich Orchards prepares and packages their farm products along with some exceptional holiday treats — Chocolate Dipped Apricots and Apricot Turtles — in a wide range of gift boxes that they ship across the country and beyond. These apricot delights and healthful, delicious tastes from the heart of the Valley of Heart's Delight are not to be missed. They are a mainstay of my holiday shopping ~ nothing like a gourmet gift from my hometown Saratoga!
Holiday Farm shop hours are Mon-Fri from 10am – 5:30pm and Sun. 10am – 5:30pm; closed Saturdays.
---
There are many other local farms and resources that are listed on the For the Love of Apricots website and in my Cookbook, including:
J&P Cosentino Family Farm, San Jose: Established in the Valley of Heart's Delight in 1945 and nurtured by five generations of the family, the Cosentino family grows fruit year-round including more than thirty types of peaches and a diverse array of apricots, plums, prunes, nectarines, apples, figs, bush berries, persimmons, grapes, and more. Watch for their holiday popups and enjoy a fun shopping experience at the farm! Farm shop hours are: Mon – Sun, 9 am – 5 pm
ApricotKing, Hollister: While ApricotKing doesn't have a farm shop, you'll enjoy meeting owners Patti and Gary Gonzales at Farmer's Markets throughout the South Bay. I recently picked up some of their jumbo slip pit dried apricots, and oh my, they were double delicious! ApricotKing has been a family owned business in Hollister since 1926, where they grow only Blenheim apricots and walnuts on their 120-acre ranch. Look for ApricotKing farm fresh products this holiday season at:
Campbell Farmer's Market, every Sunday, 9 am – 1 pm
Palo Alto Farmer's Market, every Sunday, 9 am – 1 pm
Santa Cruz Community Farmer's Market, every Wednesday, 12:30 – 5 pm
Saratoga Farmer's Market, every Saturday, 9 am – 1 pm
B&R Farms, Hollister: B & R Farms, is a fourth-generation family-operated business owned by Jim Rossi and his wife Mari. The operation was started by Jim's grandparents, Frank and Mary, who purchased a plot of land in Hollister in 1929. What began as an orchard of many prunes, walnuts, and just a few acres of apricots, grew into an orchard of over 40 acres of Blenheim apricots. A love for the Blenheim apricot naturally passed from generation to generation. Farm shop hours are: Mon – Fri, 9 am – 5 pm
Fairhaven Orchards, Hollister: Family owned and operated for over 75 years by the Rajkovich family who proudly continue a heritage of producing California's finest fresh and dried fruit. Believe it or not, their farm shop was started as a fruit stand to keep the kids busy. Their family farm traditions have been passed down from generation to generation where working in the barn, sorting cherries and lining apricot trays as "farm kids" was their summer school. Farm shop hours are: Mon – Sat, 10 am – 5 pm
---
Dried Apricot Chutney
My mother's weeknight dinners were often an adventure to a foreign land. One of my favorites was Indian curry, served with a colorful array of condiments on a lazy Susan. Being allowed to customize my own plate with nuts, coconut, apricots, and raisins was exciting, although I had to grow into an appreciation for the chutney sauce. Chutneys traditionally blend fruits with a range of spices, vinegar, and sugar. Dried apricots give this chutney a golden color and add sweetness to this well-spiced recipe. It is a versatile condiment that adds a pungent accent to a grilled pork chop or colorful zest to an appetizer like the Goat Cheese Crostini.
Makes 2 cups
Method
1 tablespoon olive oil
1 tablespoon finely chopped fresh ginger
1 garlic clove, finely chopped
1 teaspoon yellow mustard seeds, lightly crushed
1/8 teaspoon crushed hot pepper flakes
1 cup water
1 1/4 cups (8 ounces) finely chopped dried apricots
1/4 cup dried currants
1/4 cup cider vinegar
1/4 cup brown sugar
3/4 teaspoon fine sea salt
In a medium saucepan, heat the oil over medium heat. Add the ginger and garlic and cook, stirring, until barely golden, about 1 minute.

Stir in the mustard seeds and pepper flakes, and cook until fragrant, about 30 seconds.

Stir in the water, dried apricots, currants, vinegar, brown sugar, and salt.

Bring the mixture to a boil, stirring constantly.

Reduce heat to low and cook, partially covered and stirring occasionally, until almost all the liquid is absorbed but the chutney is still moist, about 20 minutes.

Add a little more water if the mixture becomes too dry.

Cool to room temperature. Use at once, or cover and refrigerate up to 3 weeks
For the Love of Apricots cookbook
Wishing you peace and joy this Holiday season!
~LISA~
Insert Recipe