Summer is here and with it comes the highly anticipated arrival of the Blenheim apricot in early July! There is a passionate following for this delectable fruit in the Bay Area and beyond. These days, finding Blenheim apricots is a bit like truffle hunting in Italy. The Blenheim has the power to enchant adults and children alike with its gorgeous color, honeyed perfume, and perfectly balanced sweet/tart flavor. Jams, nectar, syrup, pies, and pastry reach perfection with this variety of apricot, which is uniquely adapted to the Bay Area's moderate coastal climate.
The Blenheim apricot and its heirloom cousins, the Moorpark and Alameda-Hemskirke, shared international fame with the French Prune for nearly 100 years, when the Santa Clara Valley was known as the Valley of Heart's Delight. Back then, orchards spread across the Valley in every direction. In springtime, visitors from around the Bay Area, across California, and even distant parts of the world, came to see the blossom spectacle celebrated at the Saratoga Blossom Festival, which ran from 1900 to 1942.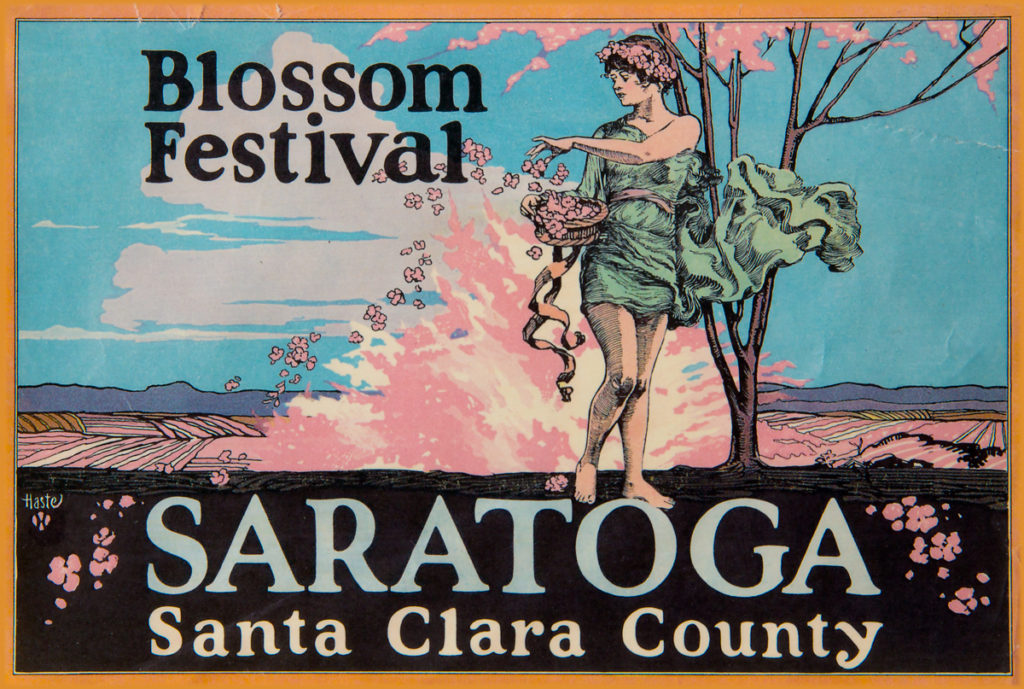 These varieties made up the entire apricot marketplace, which meant that their short season, approximately 3-4 weeks, sent the region into a frenzy of picking, drying, preserving, jam making, and baking. Traditions passed down through generations can be seen with the jars of homemade apricot jam that still fill the shelves at local County Fairs!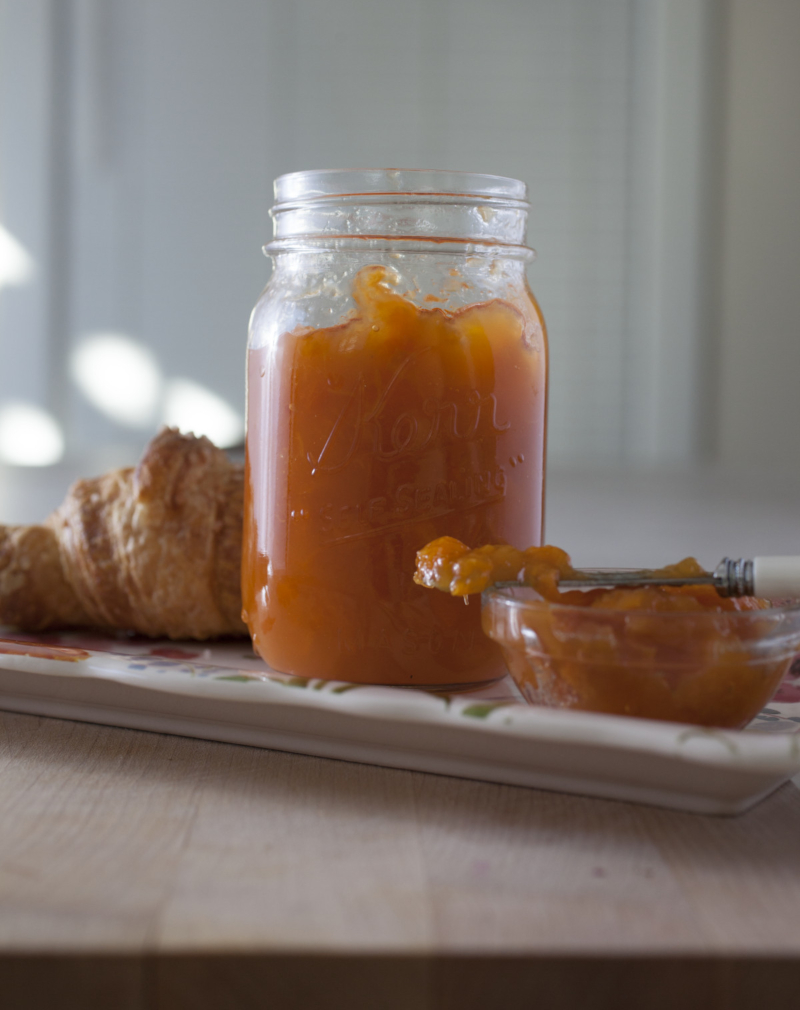 In the post-war decades, as urban sprawl swept over the Santa Clara Valley, new apricot varieties such as the Patterson and Tilton were developed to grow in the Central Valley's more extreme heat. Over time, Washington State expanded its apricot production and contributed a number of other varieties. Many of these apricots ripen earlier and later than the Blenheim. Today, you can find apricots in the market from May to August. But a taste test will show that the peak of flavor comes right at midsummer with the Santa Clara Valley Blenheim! Fortunately, much of the crop is dried so their bright, tangy flavor can be enjoyed throughout the year in a wide variety of dishes, both sweet and savory.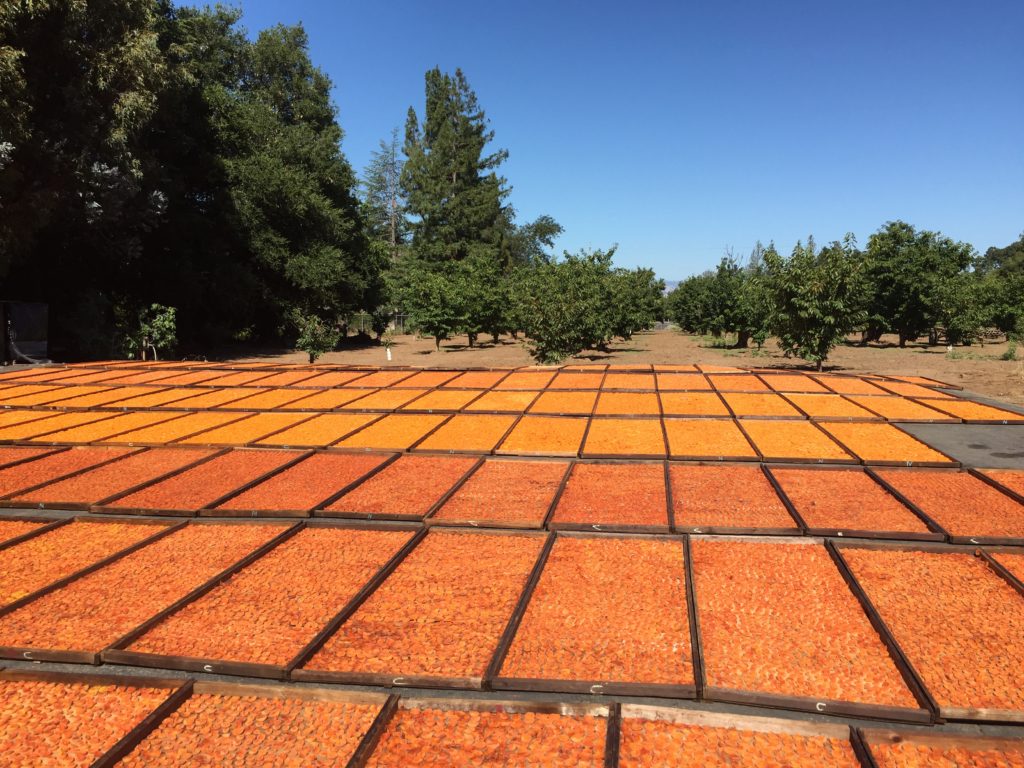 It is no surprise to Bay Area residents that new farmland is not being created. On the contrary, the number of orchard acres in Santa Clara and San Benito Counties, particularly those planted in apricots, is diminishing each year. The farm families who continue to produce this extraordinary fruit are becoming as rare as the Blenheim variety itself.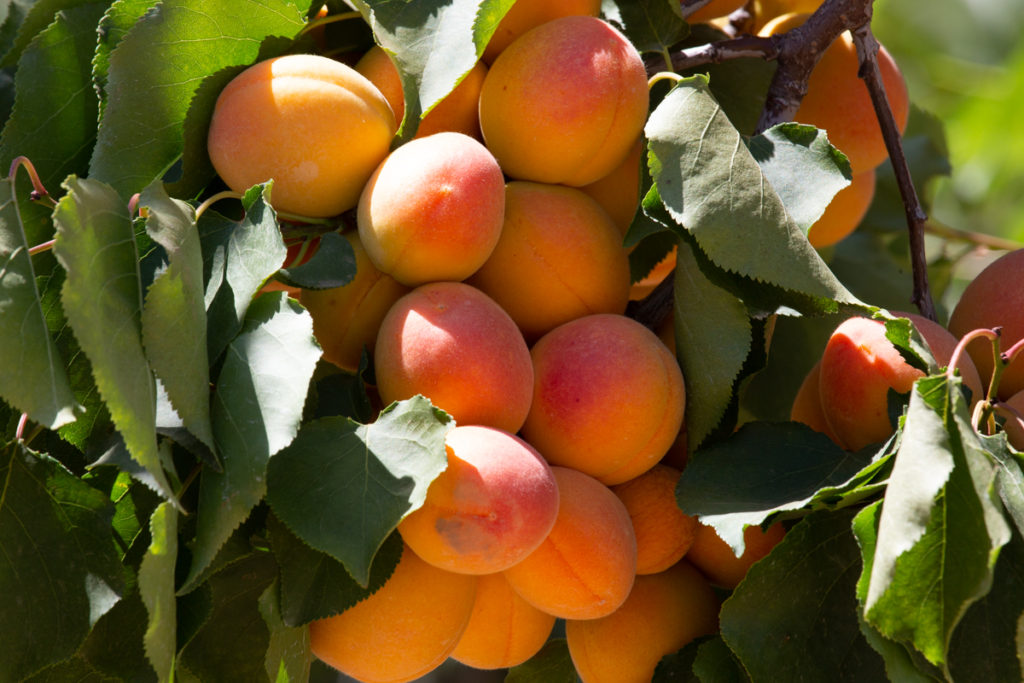 Look for Blenheim apricots at the farm shops listed below, your local farmers market, and better grocery stores. Plan to attend special events when the fruit is at its peak to support the local orchardists who continue to produce this world-class fruit!
Apricot Blackberry Kuchen comes together in a few minutes and makes a colorful show of these peak of summer fruits. You'll find this recipe among more than 60 other sweet and savory recipes using apricots in all forms (fresh, dried, preserved, & liqueurs) in For the Love of Apricots: Recipes and Memories of the Santa Clara Valley, available at fortheloveofapricots.com as well as select farm shops, history museums, and independent bookstores.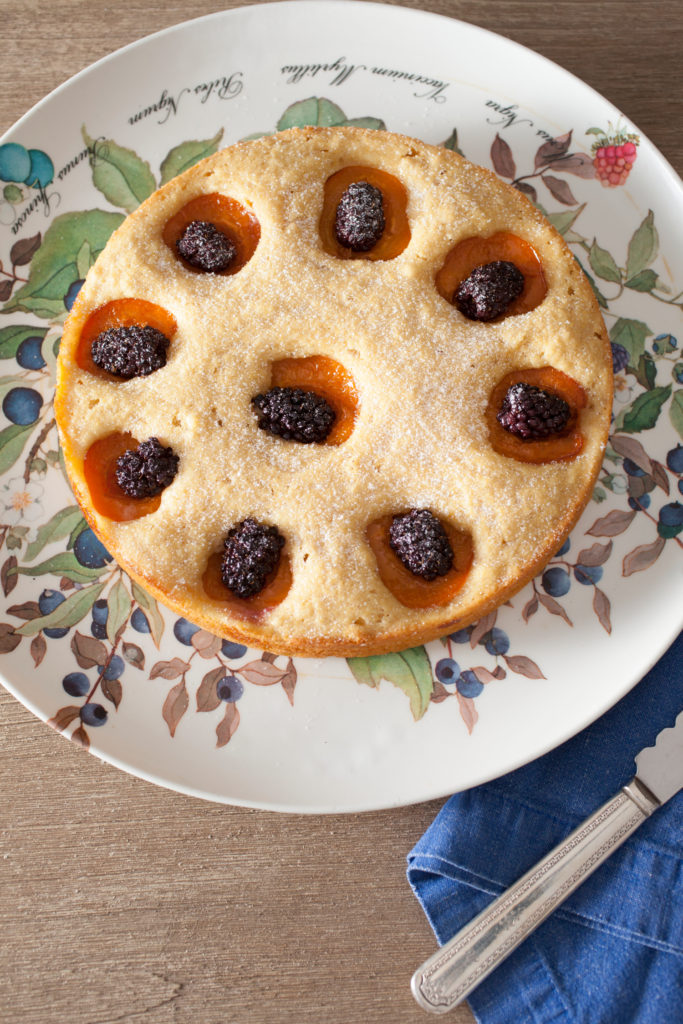 Apricot Blackberry Kuchen
Cornmeal gives this Austrian coffee cake a slightly sandy texture. Fresh apricots and blackberries share the limelight in a delicious morning or mid-afternoon snacking cake.
MAKES 8 SERVINGS
1 tablespoon (1/2 ounce) butter, to grease the baking dish
1/2 cup all-purpose flour
1/2 cup yellow cornmeal
1 1/2 teaspoons baking powder
1 large egg
1/4 cup packed brown sugar
1/2 cup buttermilk
2 tablespoons (1/4 stick) unsalted butter, melted
5 fresh, ripe apricots, halved and pitted
10 large blackberries
2 tablespoons sugar
Preheat the oven to 350°F, and position a rack in the lower third of the oven. Grease an 8-inch round cake pan.
In a large bowl, stir together the flour, cornmeal, and baking powder.
In a small bowl, beat together the egg, brown sugar, buttermilk, and melted butter until blended. Add to the flour mixture, stirring until evenly moistened.
Scrape the batter into the prepared pan. Press the apricot halves, cut side up, decoratively into the batter. Place a blackberry in the center of each apricot half.
Bake until the cake feels firm when pressed gently and a knife inserted into the center comes out clean, 30 to 35 minutes. Transfer to a wire rack and let cool 15 minutes.
Before serving, loosen the edge of the cake from the cake pan with a small, sharp knife and invert the cake onto a plate. Place the serving platter over the cake bottom and gently invert the cake onto the platter. Sprinkle with sugar and serve warm or at room temperature.
Local Orchards, Farmshops, and Upcoming Events:
Novakovich Orchards, 14251 Fruitvale Avenue, Saratoga (408) 741-5144. Open everyday except Saturday.
Sunnyvale Heritage Orchard, 570 E Remington Dr, Sunnyvale (408) 749-0220. Purchase apricots and cherries in season.
Andy's Orchard Country Store and Farm Tours and Tasting Events, 1615 Half Road, Morgan Hill (408) 782-7600.
B & R Farms and Farmshop,  U-Pick Event on July 13!
5280 Fairview Rd, Hollister (831) 637-9168.
Fairhaven Orchards and Farmshop, 1448 Bolsa Road, Hollister (831) 637-4221.
ApricotKing Orchards, 890 Westside Road, Hollister (831) 801-5275. Find their apricots and products at local farmers markets.
Lisa will be signing books at:
B & R Farms, Second Blenheim Apricot U-PICK Event, July 20th  from 8am to 4pm, 5280 Fairview Road Hollister, CA 95023 (831) 637-9168
Books Inc.,  August 1st at 6:30pm, 1875 S Bascom Ave #600, Campbell.