2018 is a bountiful year for apricots and I could not be happier! On a recent visit to Novakovich Orchard, Matt Novakovich and I talked about the conditions this winter and spring that produced the largest apricot crop in several years. Although winter came late (not until March rains fell), there were sufficient cold hours and no significant freezes for the buds to set. The mild spring weather allowed the blossoms to thrive. Under these conditions, the fruit ripened gradually, and the local Blenheim apricot harvest started later than it has in the past few years, beginning just after Father's Day and extending into the first half of July.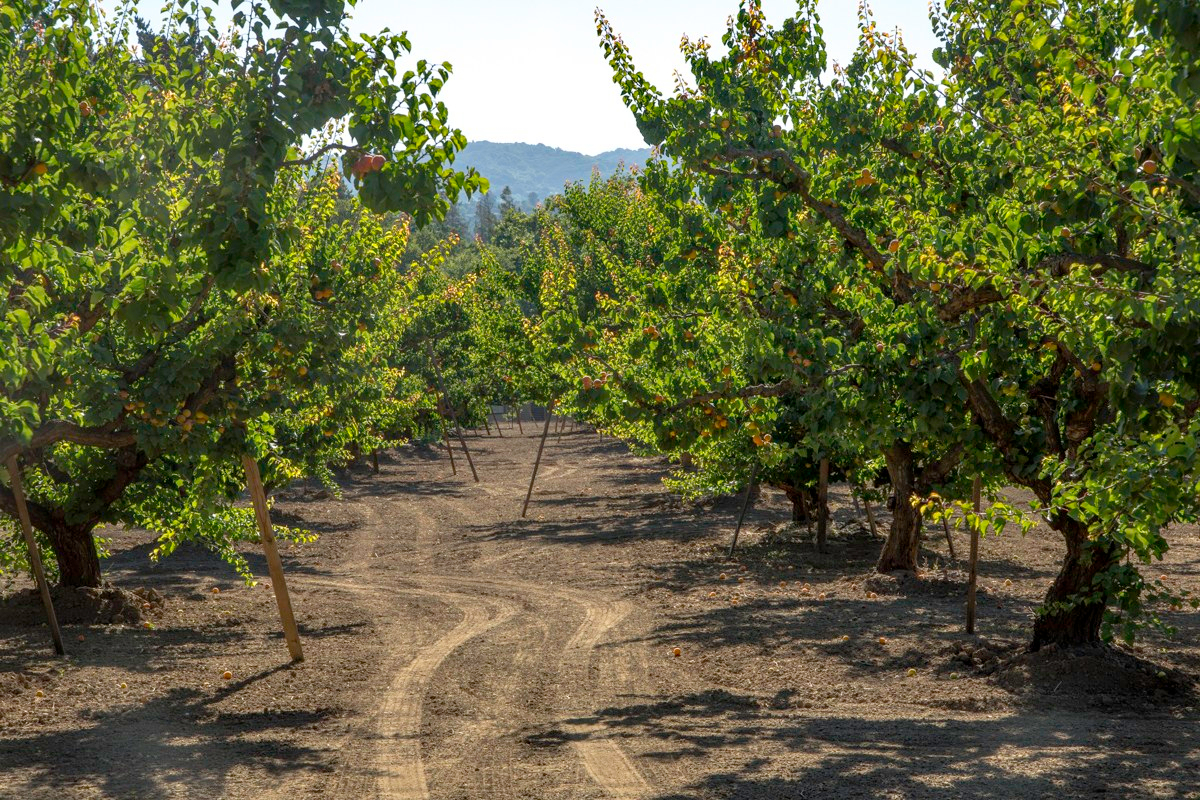 I am always full of anticipation for the summer apricot crop. This one is a special thrill for me as it coincides with the arrival of my cookbook/memoir: For the Love of Apricots: Recipes and Memories of the Santa Clara Valley, in a year of apricot abundance. Here are some of the highlights from the season.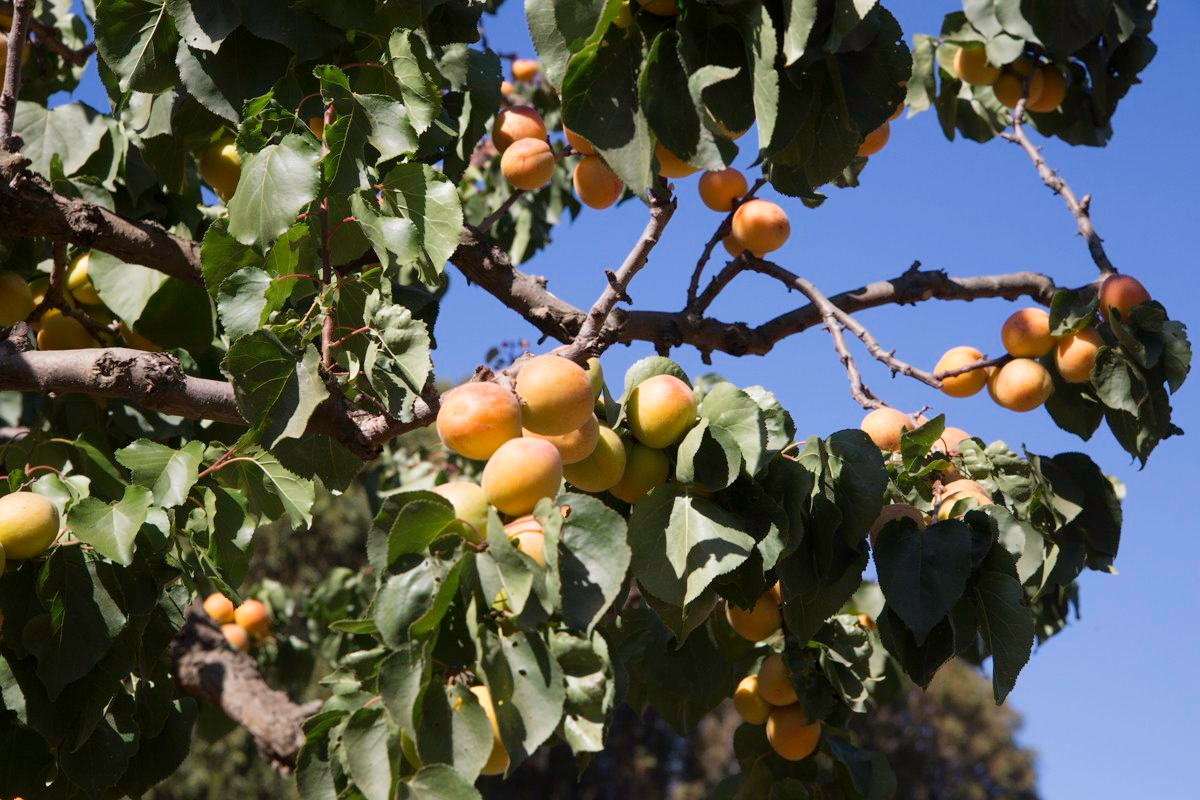 The cookbook arrived on June 1, allowing some time to get the word out before the apricot harvest. My apricot team quickly shifted gears from photography, editing, design, and production to what I call "guerilla marketing" (i.e., publicity on a shoestring budget). We sent a press release to a long list of regional news media, magazines, bookstores, farms, and food blogs. With some determined leg work, media interest picked up, independent bookstores stocked their shelves, and sales started to take off.
Nothing prepared me for the joy of holding my new cookbook and pulling it off my kitchen shelf to cook from it! Seeing my cookbook in the farm stands of the enduring farmers who continue to cultivate apricots in the Bay Area, many of whom I now call friends, has been heartwarming. Finding my cookbook on display in favorite local bookstores is another thrill that I did not imagine during the years of its preparation.
Apricot festivals and book signing events got underway in June. Each one has given me the chance to meet wonderful people, young and older, who love apricots. Their memories of the breathtaking beauty of the Santa Clara Valley in blossom time remains strong to this day, decades after the Valley of Heart's Delight was renamed Silicon Valley. Taste memories of feasting on apricots picked ripe from the tree, summer jobs picking and cutting cots right in their yard or at a nearby orchard, the frenzied time of baking pies and tarts, and preserving jams, syrups, and chutneys, are highlights of many conversations.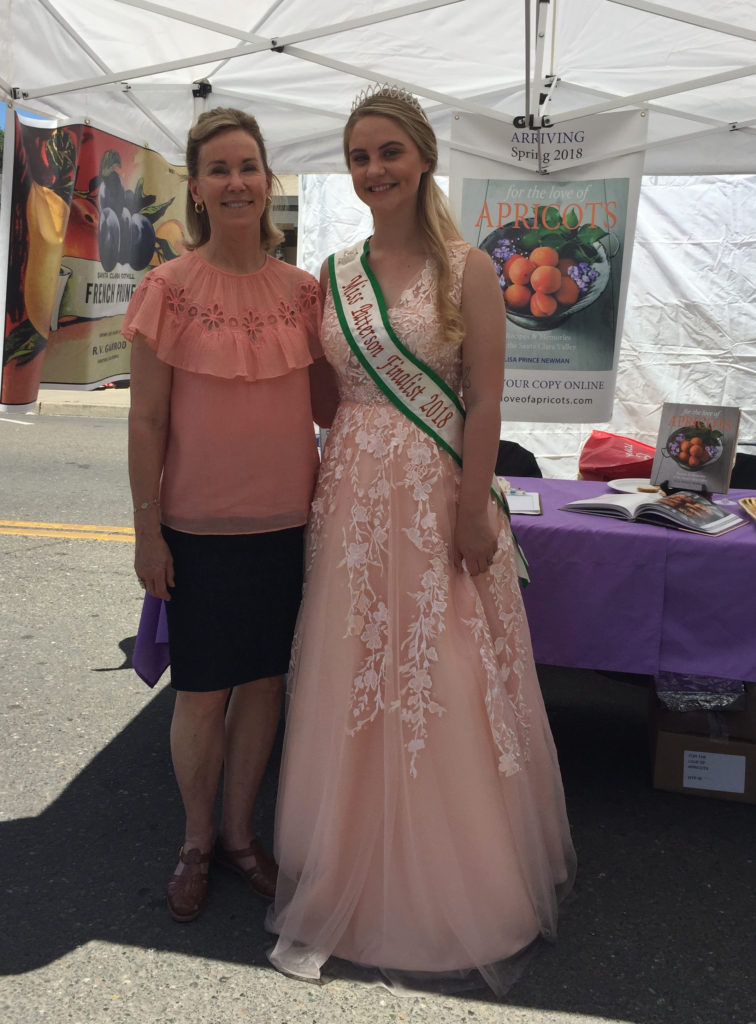 On June 2, we set up a booth at the Patterson Apricot Fiesta, my first festival to showcase the cookbook. Last year, I visited the Fiesta to learn firsthand why Patterson has called itself the "Apricot Capital of the World" for the past 40 years. Passersby included several Apricot Princess and other folks who had made a pilgrimage there to purchase early fresh apricots (Patterson's, Robata, and Golden Sweet varieties), jams, and other specialty products like Apricot Wine.
It was my good fortune that the Saratoga Blossom Festival was rescheduled from March (blossom time) to June this year. This has only happened twice in the Festival's more than 40 year history, which allowed me to share my cookbook with Valley residents who enjoyed the Festival's local history theme on a hot summer day. Antique cars, historic maps and photographs of the Valley of Heart's Delight, local historical characters, and a petting zoo added to the fun. I could not resist having my photo taken with "Reverend Sunshine Williams," the founder of the Blossom Festival in 1900. Interest in the cookbook was nearly as high as the temperature that day and, despite the heat, we sold over 50 books.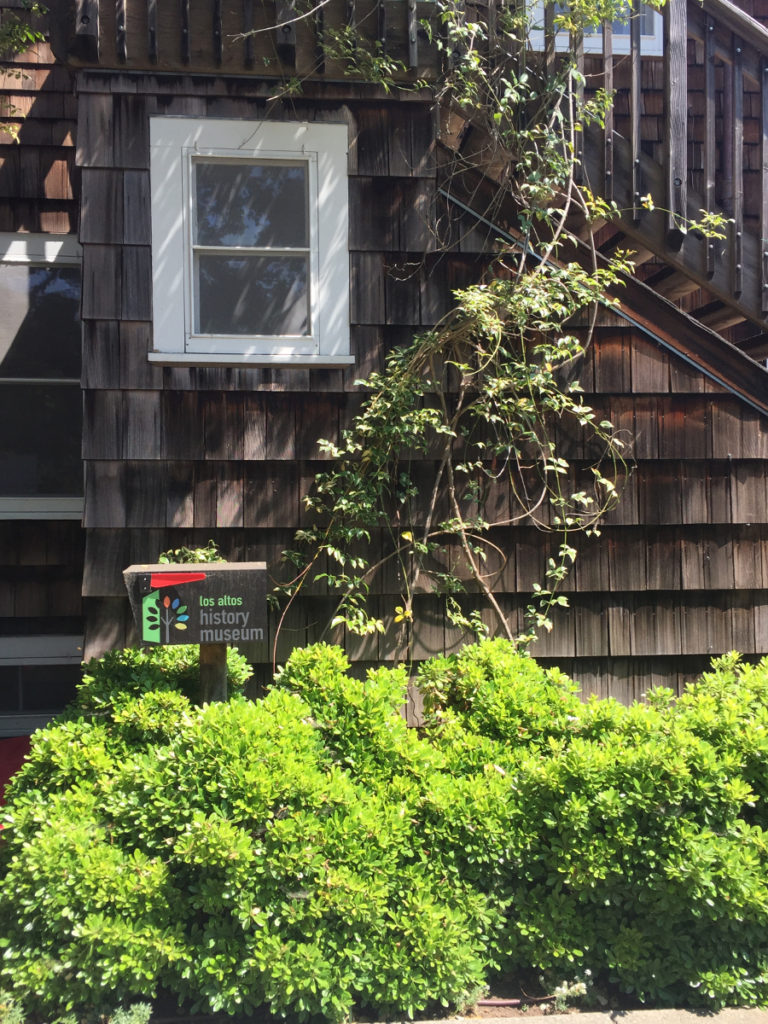 The first Los Altos Apricot STEM Fair, organized by the Los Altos History Museum, was held on June 24. It was a family-oriented, hands-on educational event that included recipe tastings for all attendees. The cooks and bakers of Los Altos put their best apricot recipes to the test. I was delighted to be included in the program as a Celebrity Judge. My co-judges were true local celebrities including Jean Mordo, Mayor of Los Altos, and Philip Doetsch, City Orchardist, who tends the Los Altos Heritage Orchard that surrounds the Civic Center property. Fortunately, we were unanimous in our selection of the first-place winner in the preserves and appetizers category, an Apricot Brie Tartlet.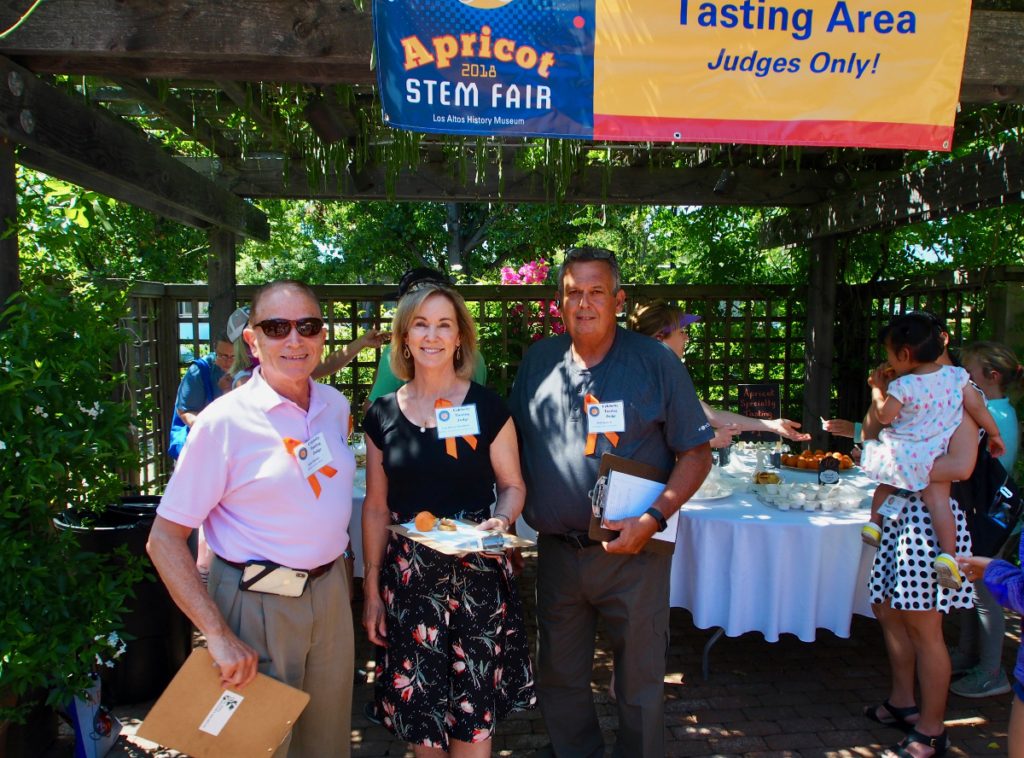 After the tasting event, I signed cookbooks in the gift shop and enjoyed listening to local residents' memories of the orchard era. I was delighted that the Mayor and City Orchardist each bought a cookbook. Mayor Mordo has supported recent work to replant aging apricot trees, an important investment in the Heritage Orchard's future productivity.
Philip Doetsch grew up on a Los Gatos ranch that produced apricots, French prunes, and walnuts. His grandparents settled there in the 1920s, near the present-day Vasona Park. Of the 30 acres in production, 75% were planted in apricots. Philip's father grew up on the ranch and took over farming from his parents after college. During Philip's childhood in the 1960s, he explained that "as industry started to grow and surrounding orchards to shrink, my dad began to take care of those surviving fields because their owners either went off to get regular jobs or had grown too old to care for them themselves". Eventually, Philip's father managed 240 acres, mostly apricot orchards. The family's cutting shed held about 30 cutters for drying cots. What a beautiful apricot perfume that size enterprise would emit!
At each of these festivals and several other book signing events sponsored by local orchards, including Novakovich Orchards, Andy's Orchard, C.J. Olson Cherries, I have listened and learned more about people's passion for great tasting apricot varieties, the region's orchard history, and the orchards that continue to provide world-class apricots in our region.
Another unexpected pleasure of publishing the cookbook is the "apricot love letters" that readers send to me. Here are a few excerpts that show the deep passion many of us have for this fruit:
"I just received the copy of your cookbook that you sent, and it is so beautiful! What a labor of love and work of art! I so appreciate the years you spent learning about our local apricot orchards and their caretakers, and your passion to share what you have learned with us through your blog, along with all of the recipes that you have gathered and made your own. I am eager to try them and feed them to my husband, since he is also a great lover of apricots". (Susan)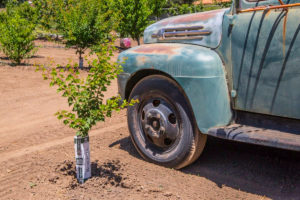 "Reading your article in Metro this week was like a breath of fresh air in this now stagnant valley. I was born here in Santa Clara in 1942 and have nothing but fond memories of living and growing up in the Santa Clara Valley (I cringe at the new title Silicon Valley) among all the beautiful orchards. They were our playground as kids experiencing wonderful adventures just like Tom Sawyer. This was a truly wonderful time and place to grow up in…Thank you for bringing back an important era in the history of the Santa Clara Valley." (Ramsay)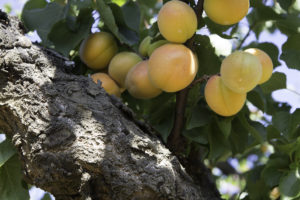 "I just received For the Love of Apricots and I really love the book! I've made three recipes in just a few days — the Apricot Dutch Baby, the Grilled and Curried Shrimp, and the Canapes. There were all delicious and the recipes were well-written and easy to make!… I want to make all the recipes and the story of the transformation of the Santa Clara Valley is really compelling… I so appreciate that you wrote this book and told the story. It is a treasure and I'm so happy to add it to my collection." (Karen)
I would love to hear your comments and memories, so please stay in touch. Enjoy this wonderful harvest season and don't forget the apricot pie on the 4th of July!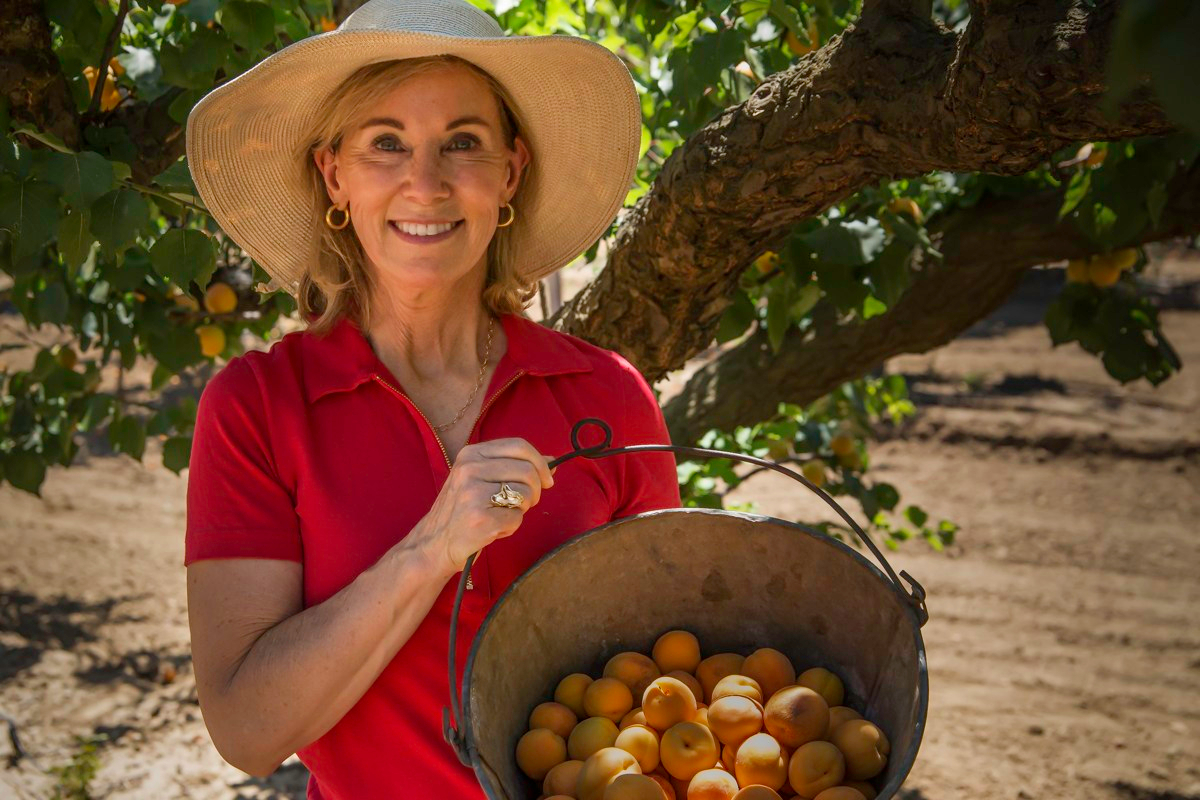 [recipe print="true"]
---
Apricot Brie Tartlets
Nomi Trapnell's recipe won first place in the Preserves and Appetizers category at the Los Altos STEM Fair. The Celebrity Judges agreed that the tartness of the apricots were a wonderful counterbalance to the rich pastry and brie cheese filling. Enjoy!

---
| | |
| --- | --- |
| Yield: Makes 15 tartlets | Prep Time: 30 minutes |
Ingredients:

For the Apricots:

1/2 cup Apricot brandy

1/3 cup granulated sugar

1/2 teaspoon vanilla extract

1/4 teaspoon lemon juice

8 small apricots cut in half and pit removed

For the Tartlets:

1 package Safeway Mini Phyllo Pastry Shells (15)

Approx. 6 ounces Brie cheese

Approx. 1/2 cup Apricot jam

Approx. 1/8 cup Pepper jelly

Approx. 1/3 cup crushed salty nuts

Directions:

Poach the apricots

In a pan large enough to hold the apricots halves in one layer, combine the brandy, sugar, vanilla, lemon juice and bring to a boil until sugar has melted.

Remove the pan from the heat and place the apricots in the hot liquid, cut side down. Leave them to poach in the residual heat until they are soft but still hold their shape (20-40 minutes depending on how ripe they are) flip them every 10 minutes. Set the apricots aside to cool.

Fill the pastry shells

Mix the apricot jam and pepper jelly.

Cut the Brie cheese into 15 pieces (approximately 1/2-inch by 1/2-inch)

Put jam/jelly mixture in bottom of each pastry shell.

Place a Brie square on top.

Place poached apricot on top, cut side up.

Sprinkle nuts on top of each apricot in filled shell.

Bake the pastry shells

Place the tarts in a cookie sheet. Preheat the oven.

Bake in 350 degree oven for 5 minutes.

Serve the tartlets while still warm.

Notes:
The Phyllo mini pastry shells are available in Safeway, 15 per box. (You can make your own pastry shells with puffed pastry but they will likely be larger and need more filling).
I used the Cashew Clusters from Costco and crushed them finely and added salt. You can use any crushed, salty nuts of your choice.
You may need to trim the poached apricots if they are too big to fit in the mini pastry shells.
Leftover poached apricots and juice are great on top of ice cream.
[/recipe]
Follow my blog
---