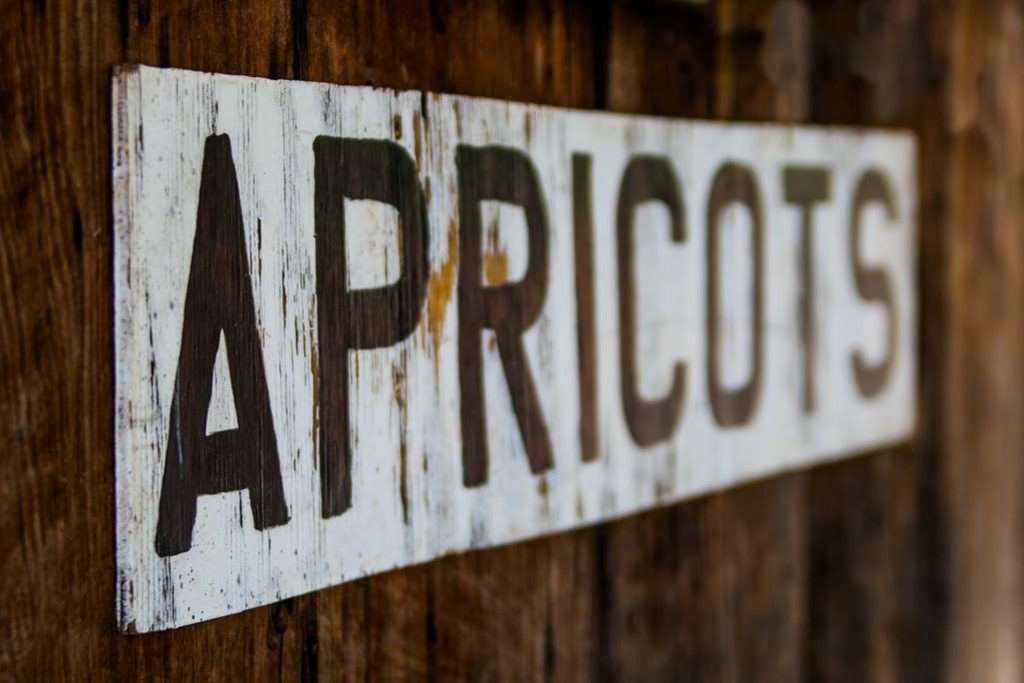 Not long after starting on this journey to create an Apricot Cookbook, I stopped by Novakovich Orchards to buy more of their Blenheim apricots before heading up the hill to attend a Mountain Winery concert. It was early July, getting toward the end of the local fresh Apricot season, and the weather was hot. I purchased a case of apricots, to use for making jam and pastries over the coming week, feeling fortunate to get some of the last fruit from their orchard. The Blenheim apricot season is so short, only about a month long, and once it has passed, hardly any other variety will do. Luckily, most of the crop is dried so Blenheim apricots are always in supply.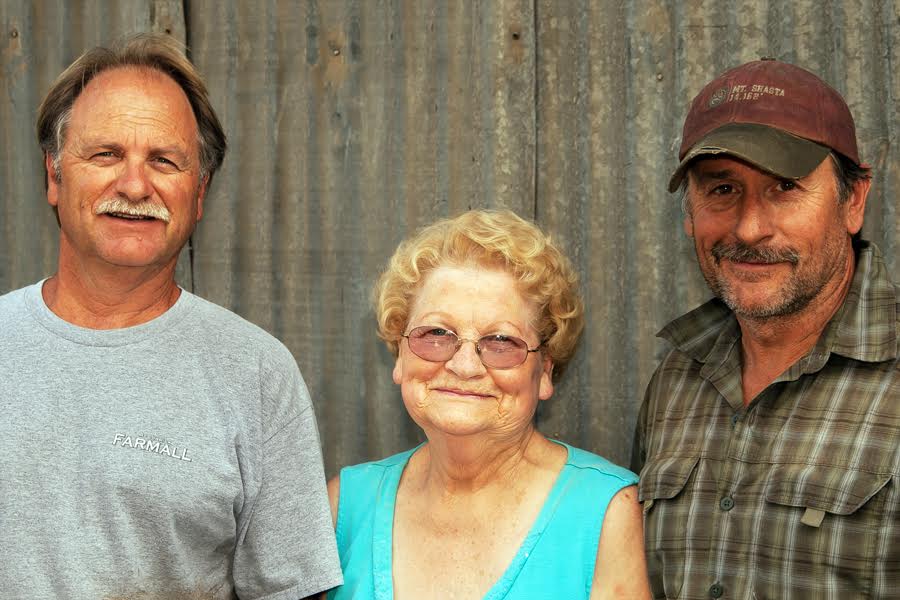 The Novakovich family purchased their orchard land on Fruitvale Avenue, in the heart of Saratoga, in 1925. Originally 22 acres in size, today the third generation, Matt, Dan and George and their mother Leah operate their 11-acre holding as well as the nearby City of Saratoga Heritage Orchard, where they grow apricots, cherries, prunes and plums.
While chatting with Matt and George at the farm stand, I noticed a stack of brochures titled "Country Crossroads" that lists farms in Santa Clara, Santa Cruz and San Benito counties, the crops they grow and includes a map. Scanning for apricots, I saw that there are several orchards that produce and sell fresh apricots in addition to the Novakovich family orchard. I was intrigued to visit them and invited my fledgling apricot team to join me.
I contacted four apricot orchard families and found out some basic information about their history and operations:
We decided to visit Andy's Orchards first, not realizing what a treat was in store. I called Andy Mariani, and found him to be warm and welcoming. Since the fresh apricot season was coming to an end and the heat was high, Andy encouraged us to come immediately. We rode on a tractor to tour his cluster of orchards and he invited us to taste the apricots right off the trees.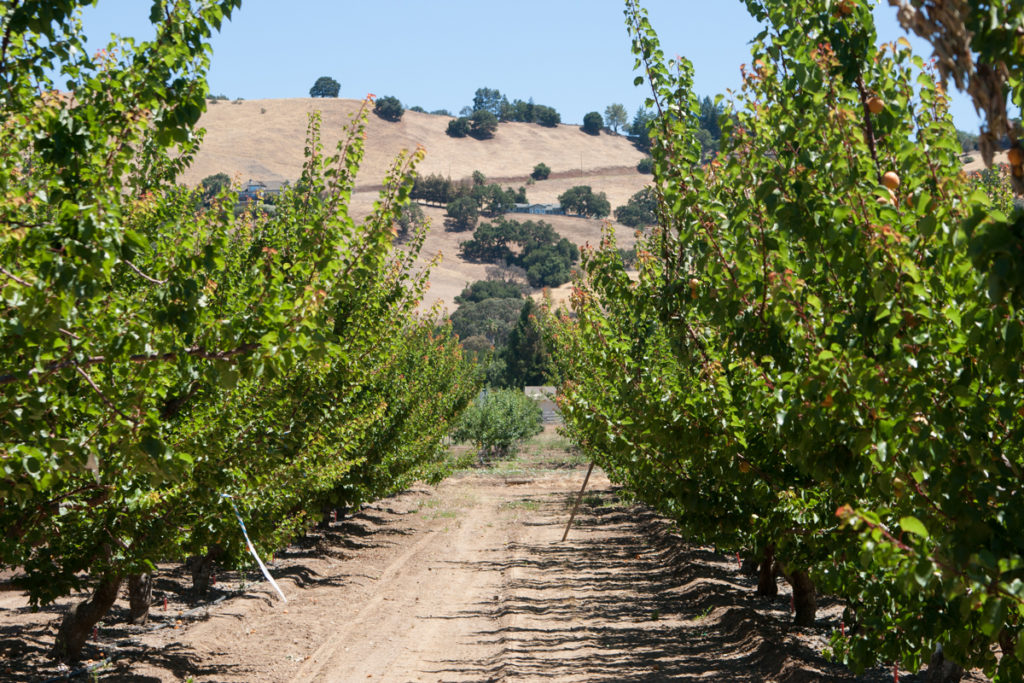 I grew up thinking that the excellent flavor of the Royal Blenheim apricot was the definition of "apricot", only to discover otherwise when I left Saratoga and shopped for apricots in grocery stores. Although half of his apricot orchards are planted with Blenheims, we were surprised to discover that Andy had so many other apricot varieties that were delicious too. Andy is a scientist farmer, working with UC Davis to develop new apricot varieties that provide extraordinary flavor. I'd never heard of nor seen these unique varieties in any market or farmers market: Bonny Royals, Candy Cots, Moorparks and Alameda-Hemkirke make up the other half of his apricot acreage and are sold at his large fruit stand, which we visited after our orchard tour.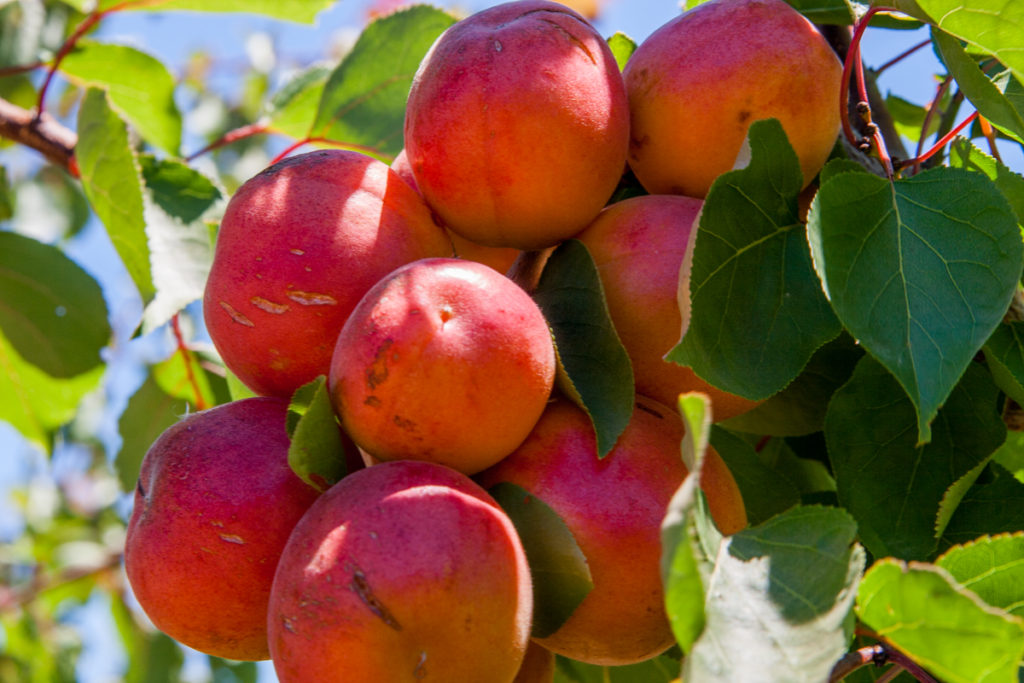 It was hard to choose the best among these delicious but rare varieties, although I thought the large, reddish Bonny Royal apricot was comparable to the Blenheim and purchased some to take home and share with my family. Andy's concern about their tendency to "crack", which might deter customers from purchasing them, doesn't phase me. The Bonny Royal's excellent flavor, juicy texture and intense color far outweigh any cosmetic imperfection.
Andy mentioned that he could graft a Bonny Royal tree for me, which I purchased this year to plant alongside my two Blenheim trees. Always experimenting, Andy recently shared his excitement about a new variety, the "White Knockout", a blond and delicious apricot that I am looking forward to tasting on my next visit.
Outside of his farm stand, Andy only sells his highly valued fruit at the Santa Monica Farmers Market, where top restaurants place orders in advance. The same is true locally, with the 3-Michelin star Manresa restaurant in Los Gatos being a regular customer as well as noted cookbook author, David Leibovitz.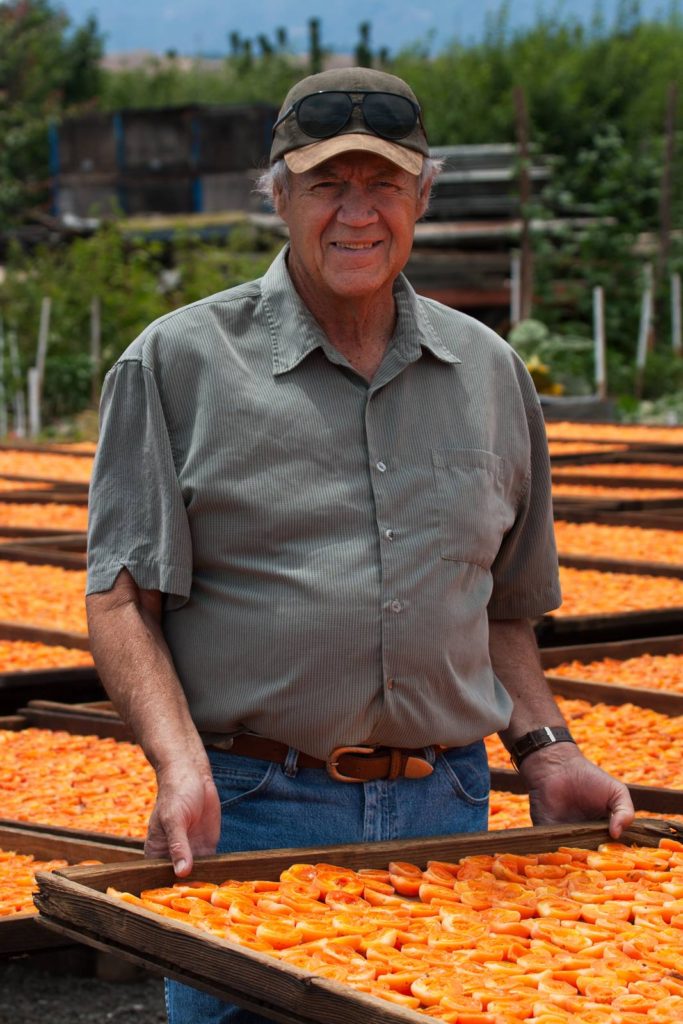 As the apricot industry has shifted away from the warm and sheltered Santa Clara Valley toward the Central Valley, where the weather is more extreme and agriculture has become industrialized, varieties like Tilton and Patterson have become commonplace. These apricots have good color, size and retain firmness, making them easy to ship, due to their longer shelf life. Unfortunately, these varieties have very little flavor and tend to have a dry texture, unlike the lovely, luscious Blenheim. The Blenheim variety also makes the best dried apricot due to their rich flavor, high moisture content and deep color. All good reasons to patiently wait for the small, fragile but extraordinary Royal Blenheim and consider planting a tree of your own!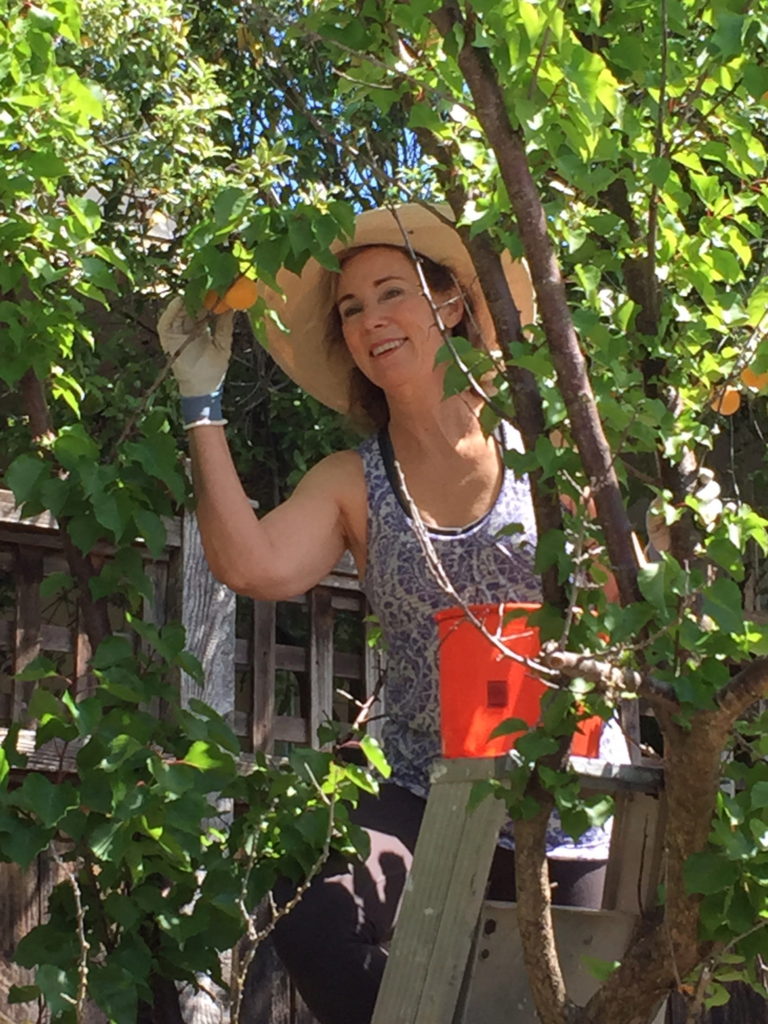 Yet, even some of the small family farm operators I've talked with at my farmers market, say they don't bother with the Blenheim variety because "it takes too much work". Climate change is another factor that local farmers worry may be reducing their yield over time. It is indeed a labor of love and the pride of carrying on a tradition of excellence that keeps these Santa Clara Valley orchardists continuing to cultivate the Blenheim and other specialty apricots.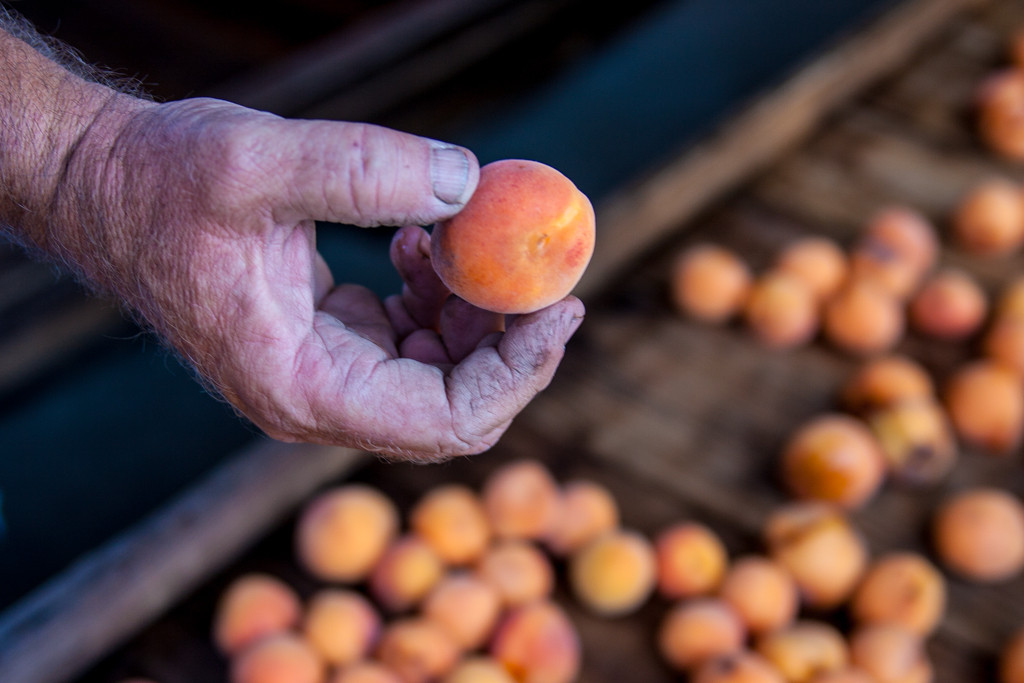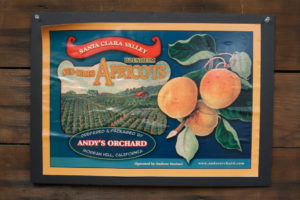 This year, the apricot season started very early, in late April, with fruit arriving from the San Joaquin Valley. The first varieties I tasted at our farmers market, Apache and Poppy, were tart and reasonably moist, so I bought some to make desserts where a subtle apricot flavor is sufficient. I'll wait to make jam, preserves and bake my favorite pies and tarts until the 3-4 week period when Blenheims are available, beginning in June.
This recipe for an Apricot Almond Cake is the first cake using fresh apricots in my repertoire and one I have returned to dozens of times. I have always enjoyed filling cakes with my homemade jams but that doesn't really count. It's a two-step process, as shown in the photos below, with a wonderful result that I know you will enjoy!
[recipe print="true"]
---
Apricot Almond Cake
---
This recipe comes together so quickly in a food processor that you can make this simple, elegant cake on a moments notice. The flavor combination of tart/sweet apricots and rich almonds is one of my favorites.

| | | |
| --- | --- | --- |
| Yield: 6 | Prep Time: 20 minutes | Cook Time: 45 minutes |
Ingredients:

10-12 Blenheim or other fresh, ripe apricots, halved

1/2 cup blanched whole or slivered almonds

1/4 cup flour

1 teaspoon baking powder

1-1/2 teaspoons vanilla

1/4 teaspoon almond extract

2 large eggs

3/4 cup sugar

5 tablespoons unsalted butter, melted

powdered sugar, sifted (optional)

Directions:

Preheat oven to 325 degrees. Generously butter a 9-inch round glass or ceramic baking dish

Place apricot halves cut side down in baking dish in concentric circles

In a food processor, chop the almonds with the flour and baking powder for about 1 minute until finely ground

Remove the almond mixture and place in a bowl. Put the eggs, sugar, vanilla and almond extracts in the food processor and mix for 1 minute

While the processor is running, add the melted butter and pulse for 10 seconds

Scrape down the sides of the bowl and add in the flour mixture. Pulse for a few seconds, just until the flour disappears

Pour the batter evenly over the apricots and bake for 40 to 45 minutes, until the cake is golden and has shrunk away from the edge of the pan. Remove from the oven and cool, then dust with sifted powdered sugar.
Adapted from the San Francisco Encore Cookbook
[/recipe]
---
Follow my blog
---