An 'ich for Apricots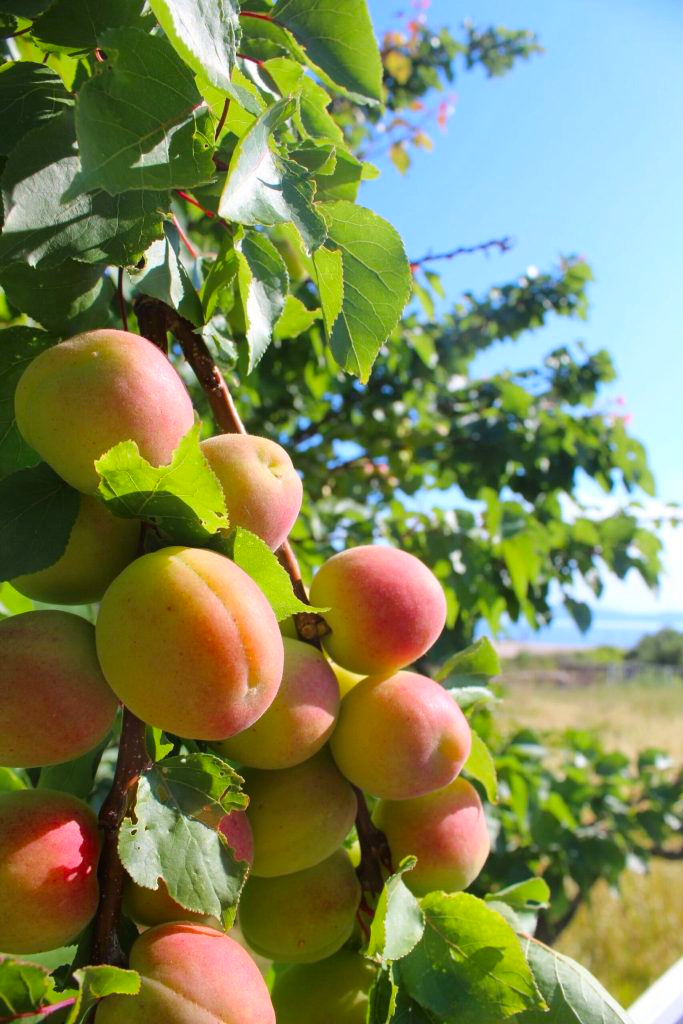 The Santa Clara Valley was filled with "ichs" during my childhood in Saratoga. Within the small city's 12 square miles, many orchard farm family names ended in "ich". I noticed the "ich" trend back then but didn't question it, despite my own family name being Prince, and from my mother's side, Gardiner. Our immigrant forebears were from Scotland, Ireland, and France. From the 1880s until the 1920s, they settled in Washington state and created livelihoods homesteading a dairy farm, working in the timber industry, and establishing confectionery stores (on both sides!). By the time our family arrived in the Santa Clara Valley, my father was a doctor ready to enter private practice. We were "gentleman farmers" living on an orchard property that provided us with an abundance of fruit, beauty, and joy. While we treasured our fruitful rural life in Saratoga, we were not part of the vast enterprise producing stone fruit and nut crops that were enjoyed around the world.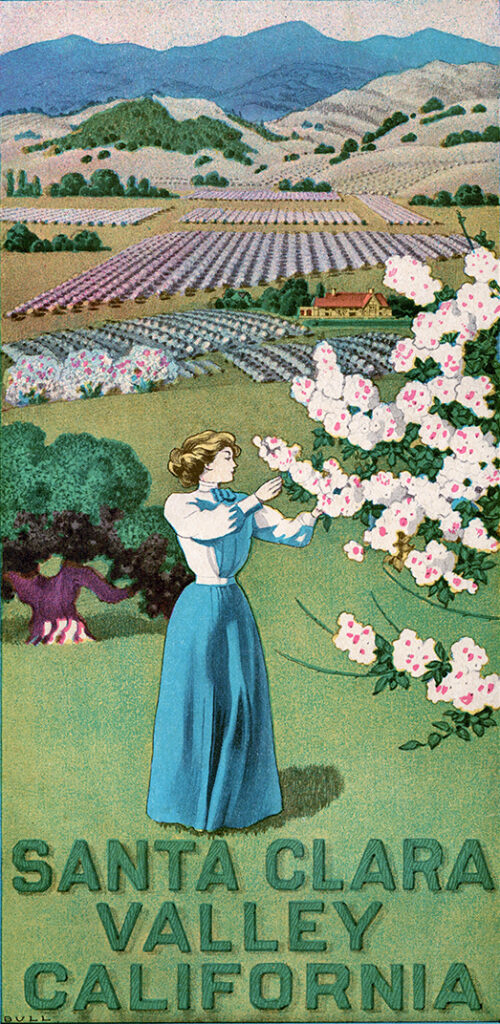 Yugoslavian immigrants to California (today called Croats and Serbs), most often with an "ich" ending to their surnames, and many other Southern Europeans, began to arrive in California with the Gold Rush. This immigration wave peaked in 1910 and extended until WWII. Yugoslavs gradually made up a substantial part of the Santa Clara Valley's agricultural fabric. Bronzich, Cristich, Kucich, Matovich, Miletich, Miljevich, Novakovich, Spaich, Stepovich, Yakich, Yelavich and Zicovich were all family farmers in Saratoga who grew French prunes, apricots, cherries, almonds, and walnuts within a few miles of our home. In the greater Santa Clara Valley, there were many other Croatian immigrant farmers, including the Mariani (formerly Mariani-Marianovich), Bonacich, and Mardesich families. These immigrant families helped shape the region's agricultural growth into what became known as The Valley of Heart's Delight.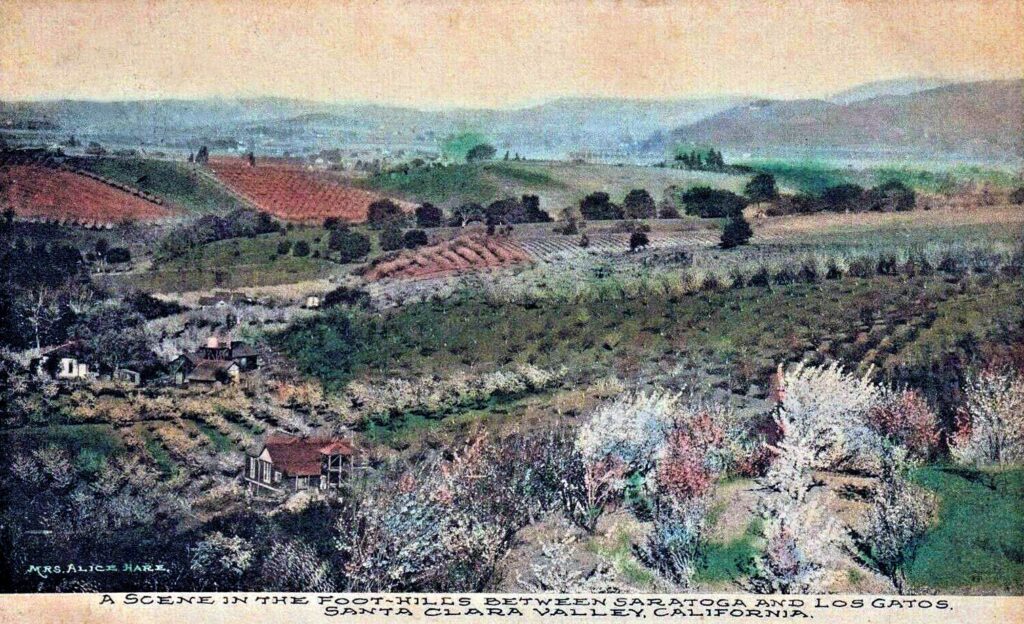 ---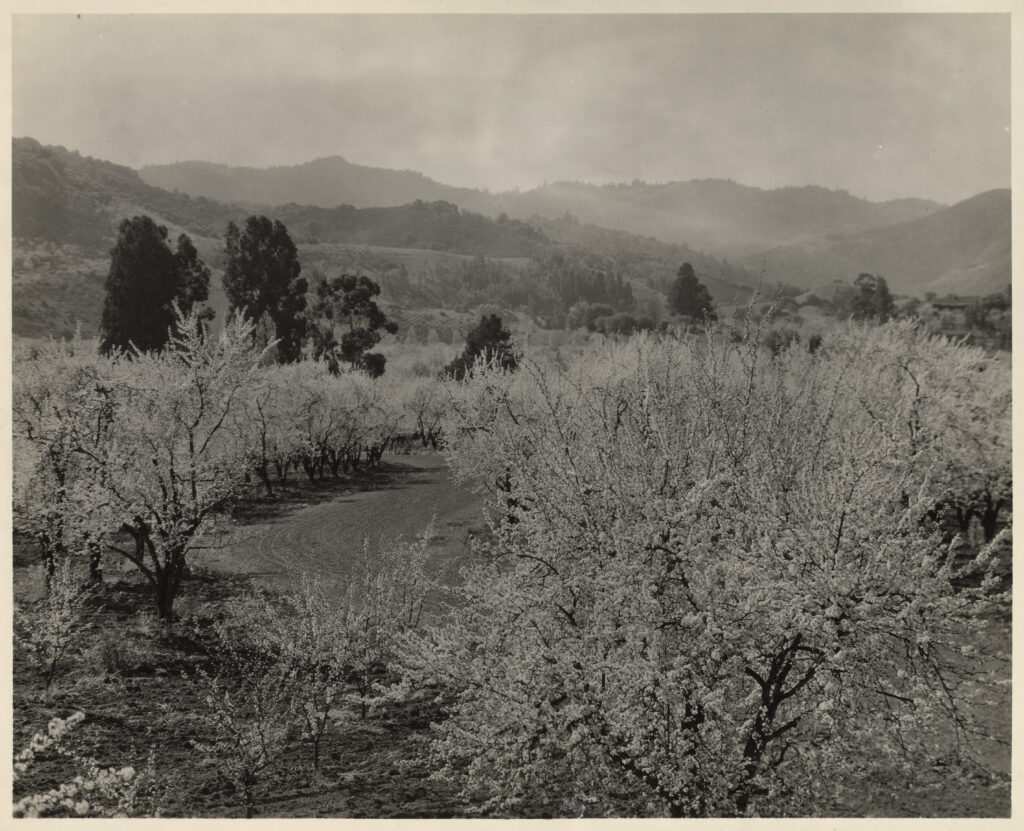 In 1849, early Croatian settlers in the American East and South left for the goldfields of California. They worked as goldminers, bartenders, saloon keepers, restaurant owners, fruit, liquor and fish suppliers. When mining collapsed, they purchased farmland and were among the pioneers who established vineyards and orchards. The Slavonian Benevolent American Society of Santa Clara County, organized in 1894, listed the Croatian family names, place of origin, and arrival date.
Jobs were plentiful in the fruit industry, whether as a grower, picker, dryer, canner or shipper. In just four decades after the Gold Rush, Santa Clara County had over 7,000 small family farms that ranged from ten to fifty acres in size. By the 1920's, Santa Clara Valley had more than 8 million fruit trees blossoming each spring with almonds, apricots, cherries, peaches, French prunes, and walnuts.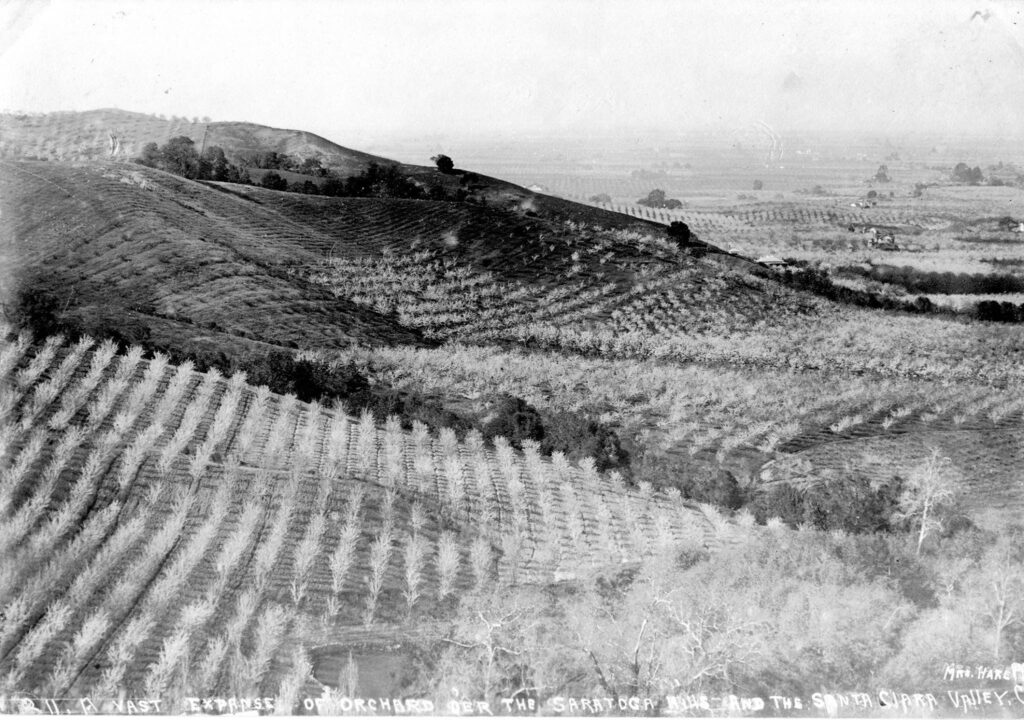 Matthew and Mary Novakovich immigrated to California from Serbian Yugoslavia in 1911, and purchased 11 orchard acres on Fruitvale Avenue in Saratoga in 1925 (the narrow red rectangle shown below). They cultivated Blenheim apricots and French prunes.
In time, their son George and his wife Leah took over the orchard ranch while George also served as the Fire Captain for the City of Saratoga. The Novakovich family eventually nearly doubled the size of their ranch and from 1975 onward, managed the 14-acre City of Saratoga's Heritage Orchard as well (the red shape shown at the top above). Their Queen Anne home, outbuildings, and orchard are listed historical resources in the City of Saratoga's Historic Resource Inventory.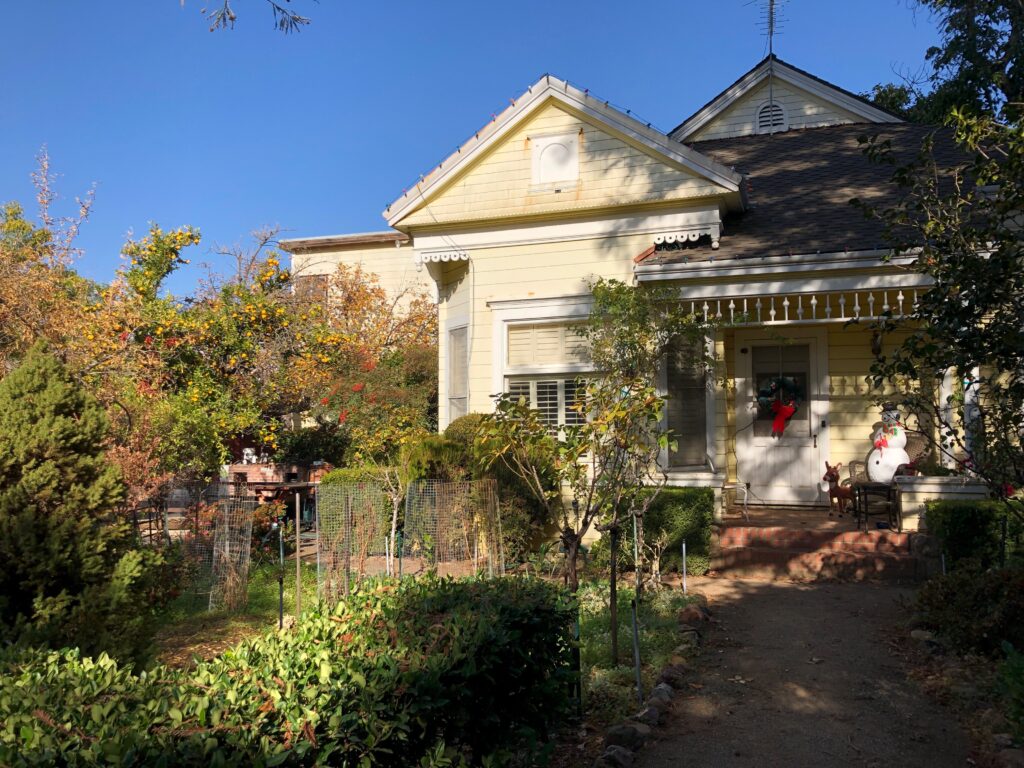 After WWII, the rise of urban development and decline of the Santa Clara Valley's orchard and canning industry nearly ended family farming within a few decades. In 1966, the State of California purchased 143 acres of orchard land through eminent domain to create West Valley Community College in Saratoga. Implementing this regional plan impacted many small orchard farms. The Novakovich family were forced to sell a large orchard to the State but held on to their original orchard acreage rather than sell the entire operation and relocate, as so many family farmers did during this era of rapid change.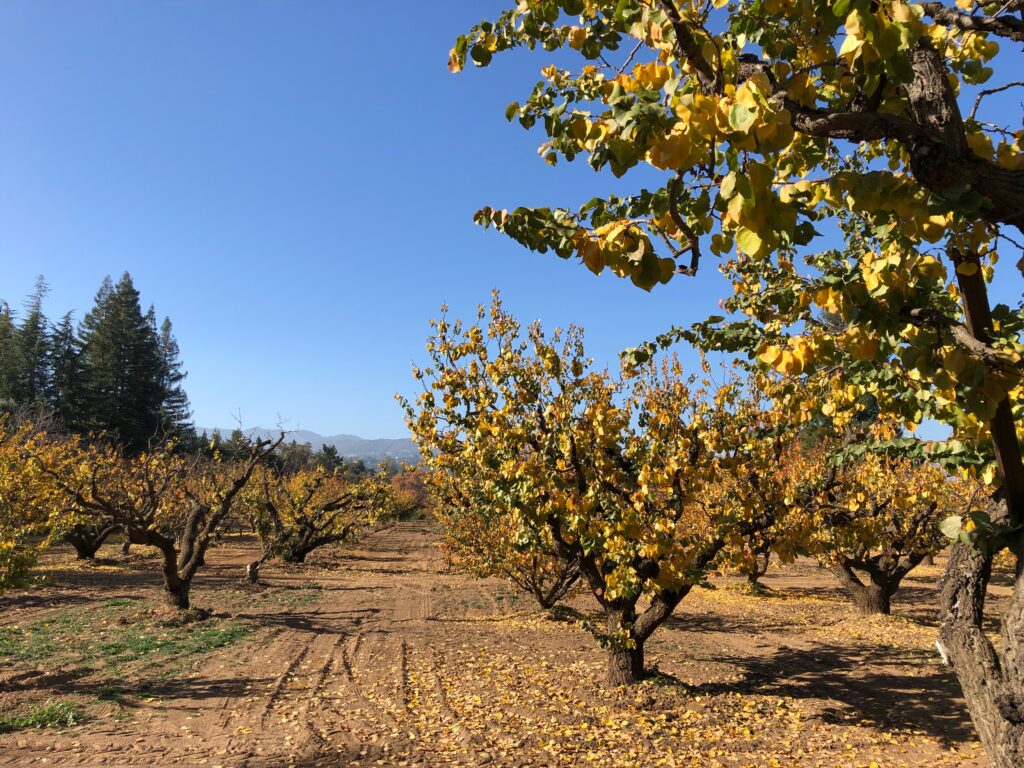 Today, George and Leah's three sons Matt, George, and Dan continue to manage the orchard business. At their farm shop, they sell Royal Blenheim apricots and French prunes year-round, both fresh and dried, other summer fruits in season including cherries, peaches, and plums as well as holiday confections to loyal customers in Saratoga and beyond.

One of California's best known producers of fresh, dried, and canned fruit to this day is the Mariani family. Despite their Italian surname, the family's origins are from the quaint and beautiful Croatian island of Vis. This branch of the Mariani clan lived in the seaport town of Komiza, located on the west side of this westernmost island in the Croatian archipelago. Vis Island and all of Dalmatia and Istria, the coastal stretch of today's Croatia, had a strong Venetian-Italian influence. Citizens often adopted Latin-Italian versions of their Slavic names out of convenience.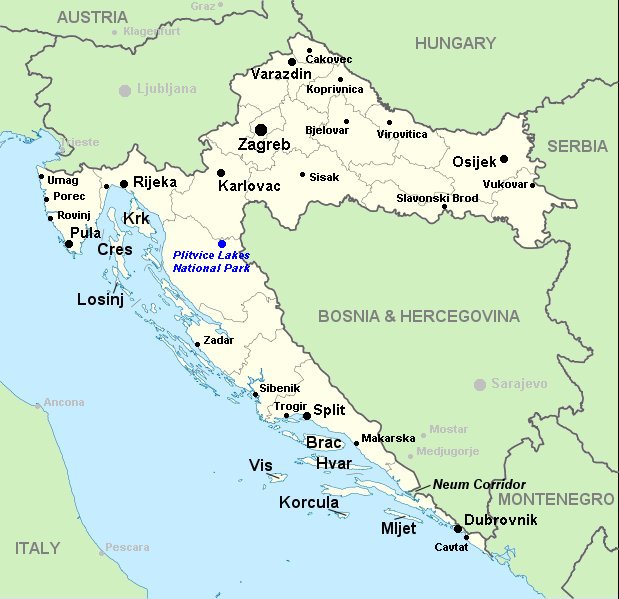 Andy Mariani describes his family's Croatian heritage and deep roots in the Santa Clara Valley on his website. Andy's father Joseph Mariani emigrated in the early 1930s from Vis, where he was a vineyard farmer. Joseph spent two years working on his uncle's apricot orchard and fishing along the West Coast; earning enough money to send for his wife Simila and two children to join him. With his savings, he was able to purchase a small orchard and home in Cupertino and devoted his life to growing apricots and French prunes. In 1957, Joseph purchased the Mariani orchard in Morgan Hill. Today, their son Andy, in partnership with his siblings, grows some of the finest fruit in a region known around the world for the quality of its agricultural products. Andy's cousins Mark and David Mariani have carried on the family enterprise in fruit and nut processing and land development. David has written an extensive tract about the Mariani family's heritage on the island of Vis.
As I got to know Andy Mariani while developing my cookbook For the Love of Apricots, I was surprised to learn about the Mariani's Slavic origins despite their Italian name. Andy introduced me to another prominent California apricot orchard producer and his close friend, George Bonacich. George's family roots were also in Komiza on Vis Island. In fact so many of the orchard "ichs", I have become acquainted with are either cousins or former neighbor farmers in Santa Clara County when it was carpeted with family farm orchards. The bonds among this orchard farming "diaspora" are still deep.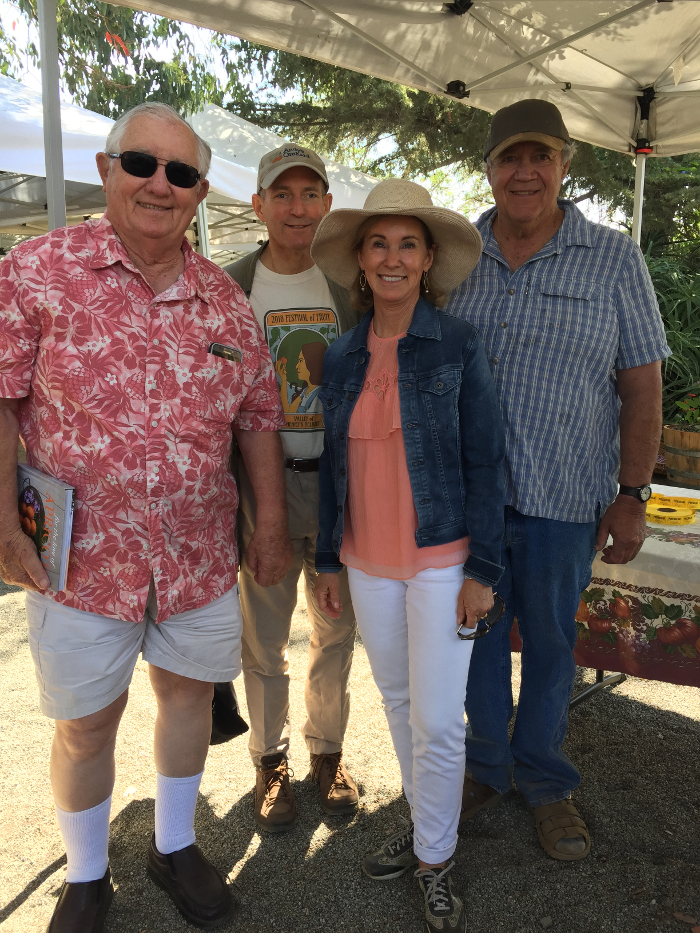 George Bonacich's parents arrived in the Santa Clara Valley from Croatia during the early 1900s. George's father Luka (Louis) Bonacich left Brac Island for San Jose in 1912; his mother Magdalena (Lena) Mardesich left Komiza, Vis Island for Cupertino in 1920. They met at Yugoslavian cultural events in the Santa Clara Valley, married, and settled in Sunnyvale where George was born. Their 5-acre parcel expanded to 50 acres by the 1930s where they grew apricots, French prunes, and cherries. George recalls that the Croatian immigrant families were centered in Cupertino and Sunnyvale, the Italians in Mountain View, and the Portuguese lived mainly in Santa Clara. These disparate immigrant families counted themselves as "neighbors" given their European origins, and became friends.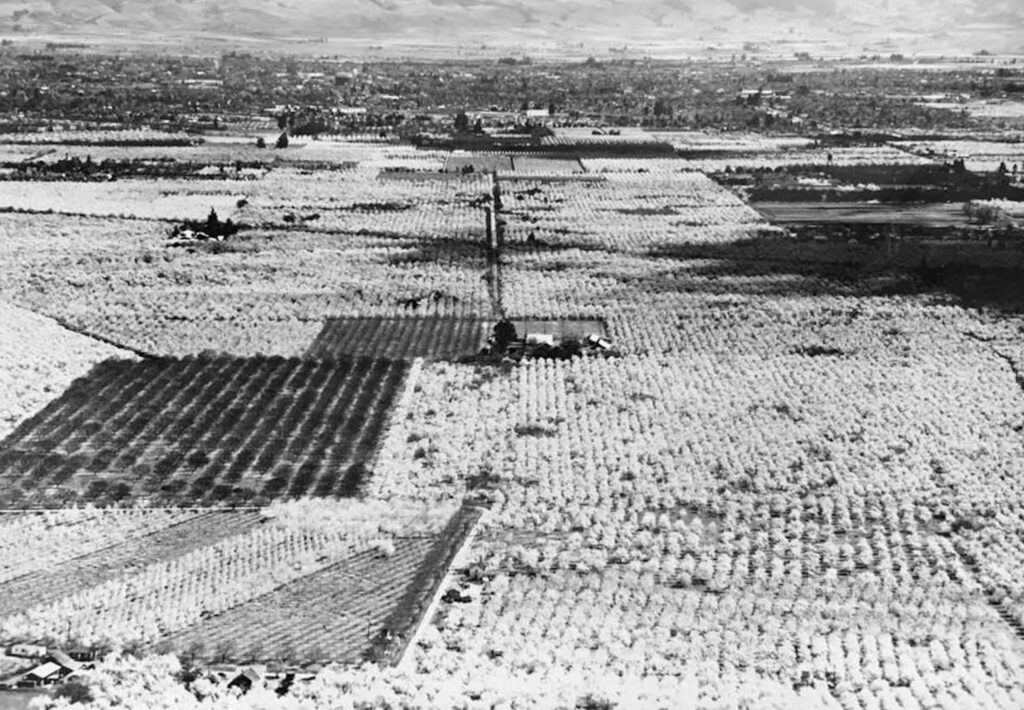 The urbanization of the Santa Clara Valley caused an outmigration of family farmers either to the south (Southern Santa Clara or San Benito Counties) or inland to the Central Valley. George, with a degree in Pomology from UC Davis, chose orchard ranching as his life pursuit. In 1969, George and Louis purchased 80 acres of land in Patterson. Over time, they expanded the ranch to 160 acres and gradually replaced the Tilton apricot variety, which was preferred for canning, with a range of new apricots varieties that were suited to fresh marketing as well as drying and canning. These varieties included the Patterson, Gold Bar, Gold Strike, Tom Cot, Royal Blenheim, and Bonny Cot. Like Andy, George tested many new apricot varieties on his ranch in collaboration with UC Davis and Zaiger Nurseries in Modesto, seeking new and improved apricot flavors.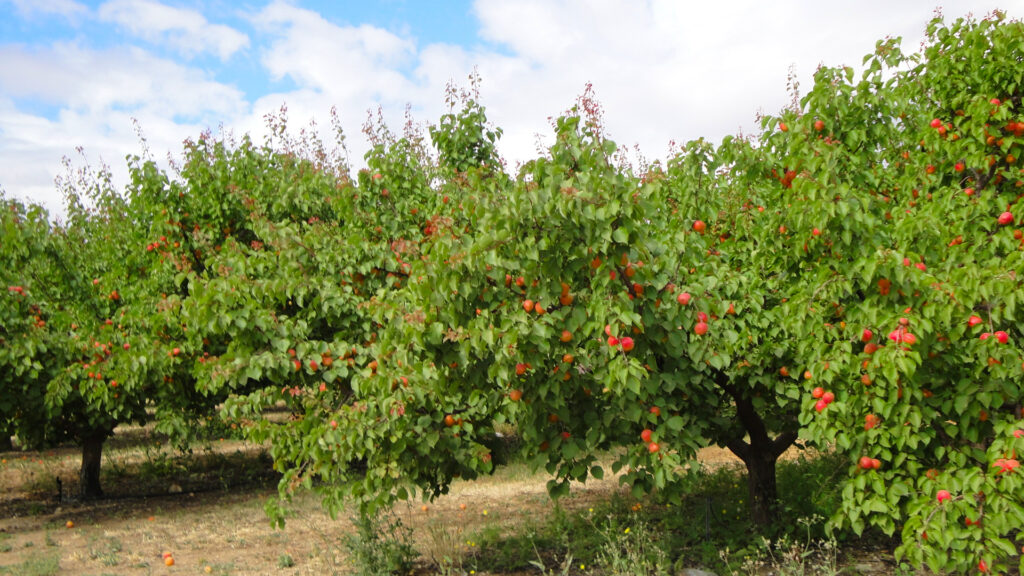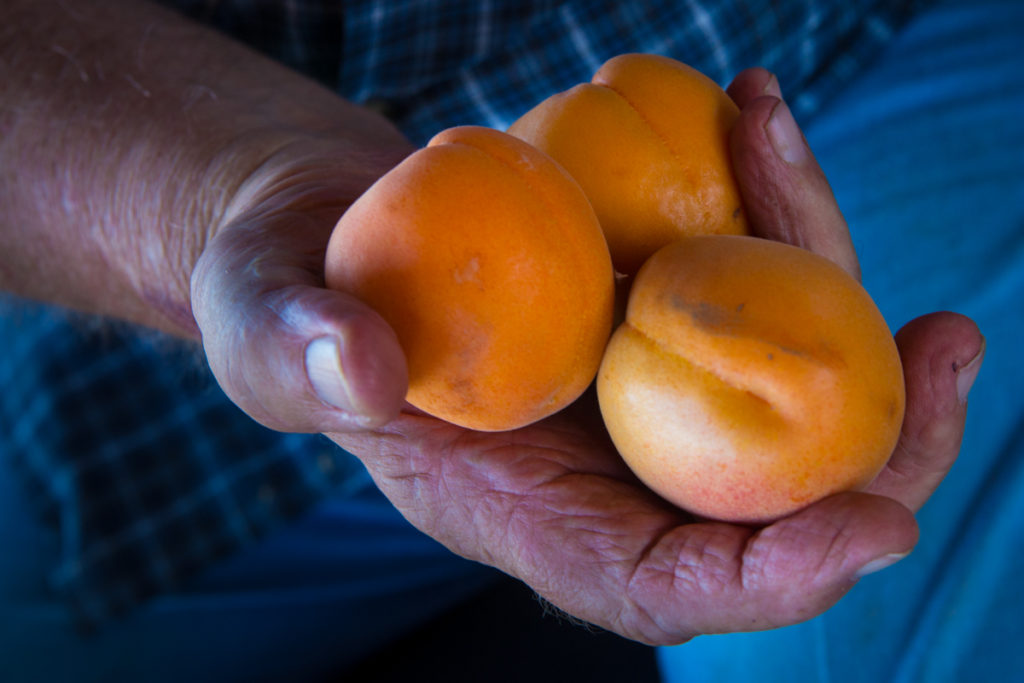 Beyond managing a large, successful orchard operation, George, who always was "sniffing for change", discovered the beautiful and mouthwatering Bonny Royal apricot on his ranch. It was an especially tasty "spontaneous mutation". For more than 15 years, George tested, planted, and shared the Bonny Royal variety with his orchardist peers. Today, it is gaining a cult following where it is grown commercially at Andy's Orchard in Morgan Hill and B&R Farms in Hollister as well as at a few hobby "orchards", including mine! The Bonny Royal has all the apricot virtues: flavorful and juicy, ships well for fresh marketing, and is a good drying apricot.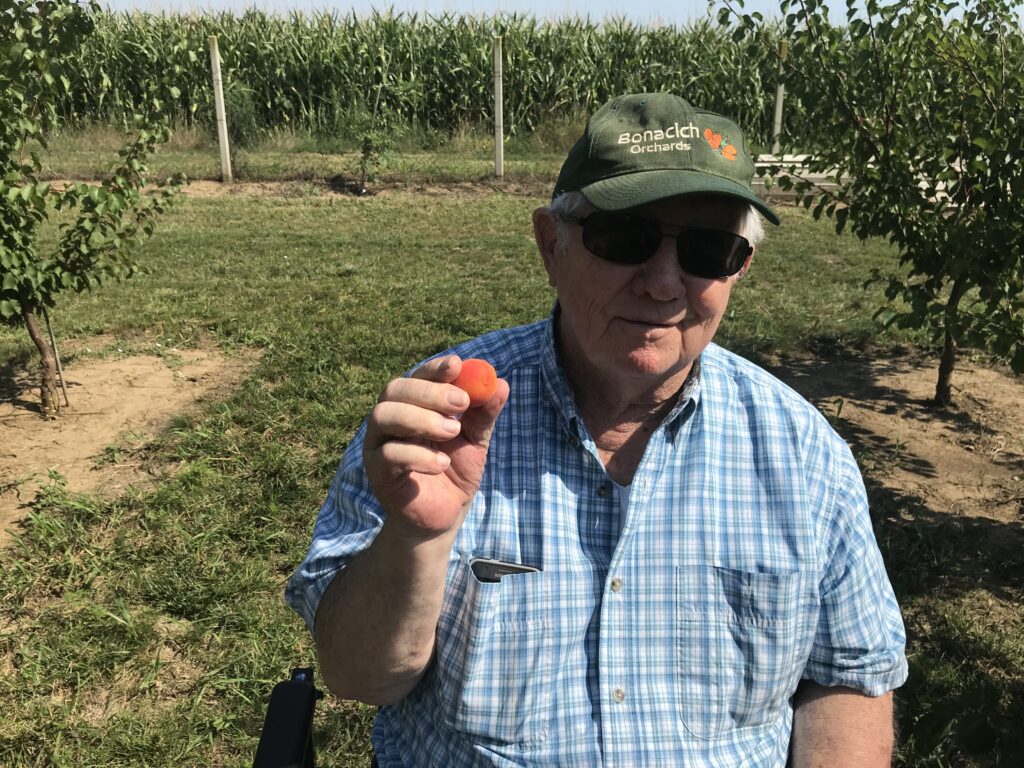 After retiring a few years ago, George began to visit his family's homeland, Croatia. One thing led to another and summer tourist trips took a detour to a productive relationship with the Croatian Agricultural Institute. As George tells it, his Croatian driver upon learning about his passenger's career as an apricot orchardist, mentioned he could introduce George to people at the Institute's research farm in Osijek, located east of Zagreb. A relationship developed with colleagues in the Fruit-Growing Department, which led to George becoming an exporter of California apricots back to Croatia. George worked with the Stanislaus County Agricultural Commissioner to gather grafting wood to bud Bonny Royal and Patterson apricot trees in the Croatian test orchard. Now, six years later, with the patience of a farmer, George has been able to taste the fruit of his life's labor back in the homeland — how sweet! George hopes that his gift of the Bonny Royal to his Croatian roots will in time benefit small growers who could cultivate and sell it direct to the public at farmers markets.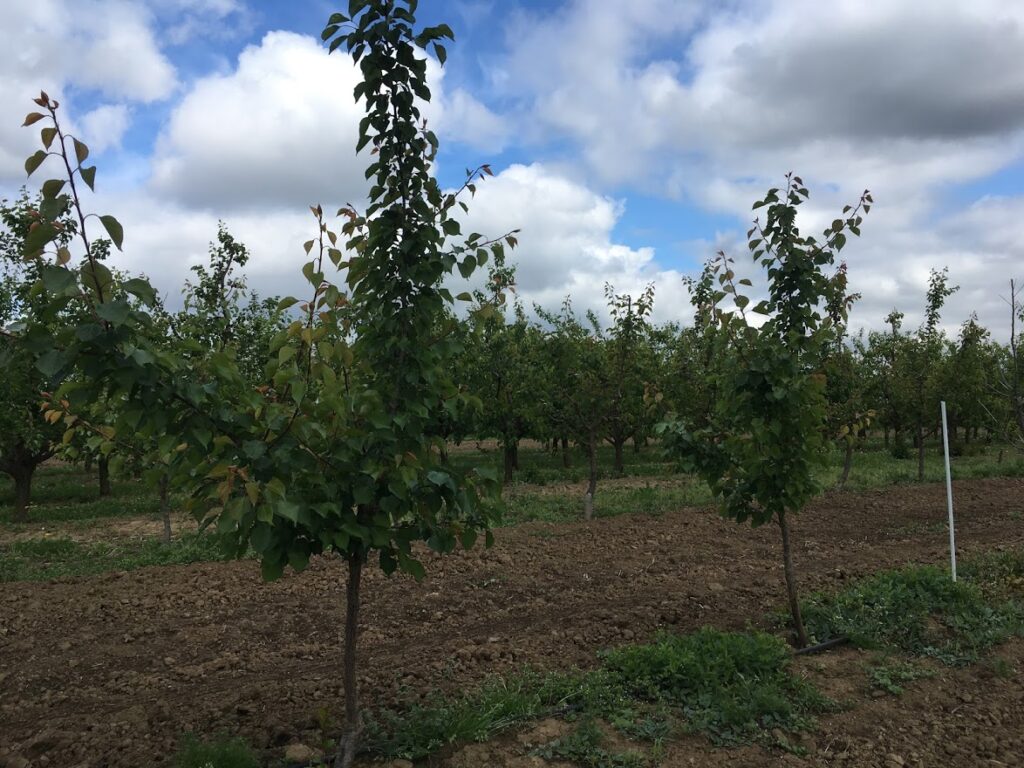 As I learned more from the Marianis and George Bonacich about their Croatian family histories, my interest in visiting the region grew. Andy Mariani mentioned to me that their family organized a large reunion on Vis Island in 2011 with the help of their cousin Josip Mariani who resides in their ancestral village of Komiza. On a whim in May 2019, I decided to meet my daughter and her boyfriend partway through their Asian/European travels in Croatia — for the love of apricots and some special time together!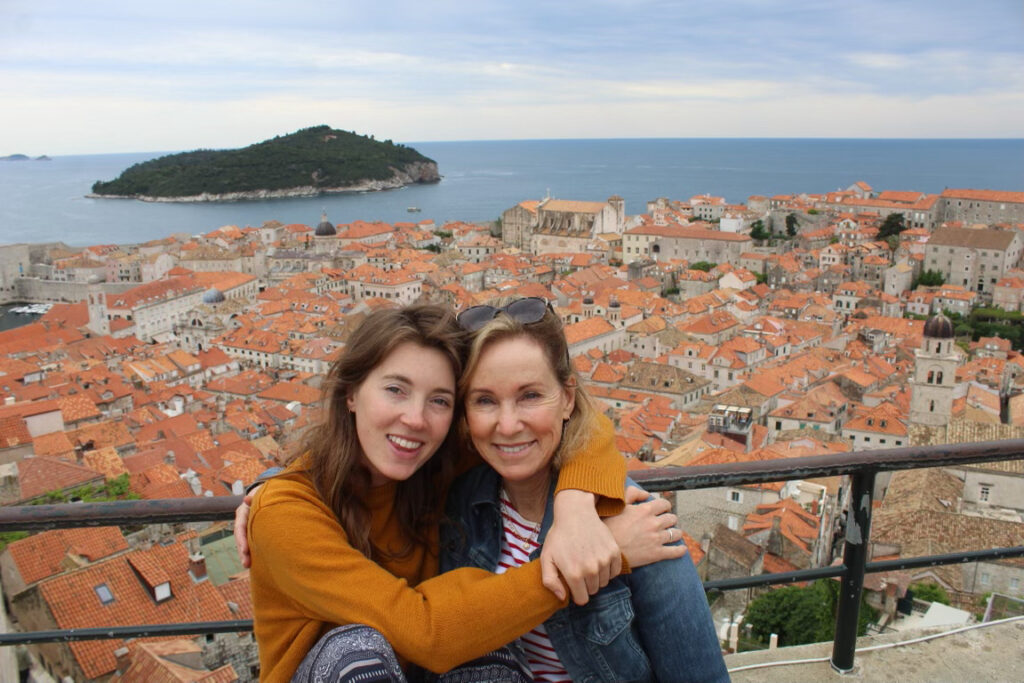 I arrived in Dubrovnik late at night and was met by my daughter Maria and boyfriend Andrew at the City's gates. We walked through the quiet, dimly lit streets, climbing stairs and following narrow paths to our accommodations. I was treated to an apricot tasting from their travels through Turkey and Croatia plus a delicious spread of local produce and wine! Starting with apricots, the fresh and dried fruit flavors were lively. Notably, the Turkish apricots tasted far better there, close to their homeland, than the pale, bland dried imports that compete with California apricots here in the States!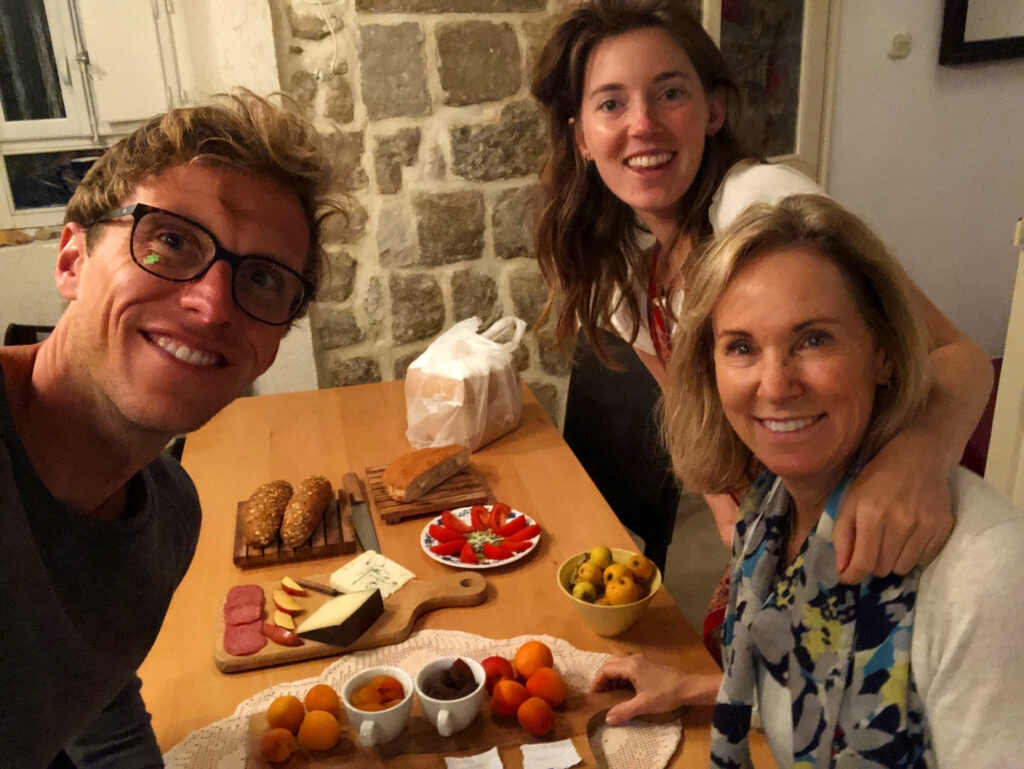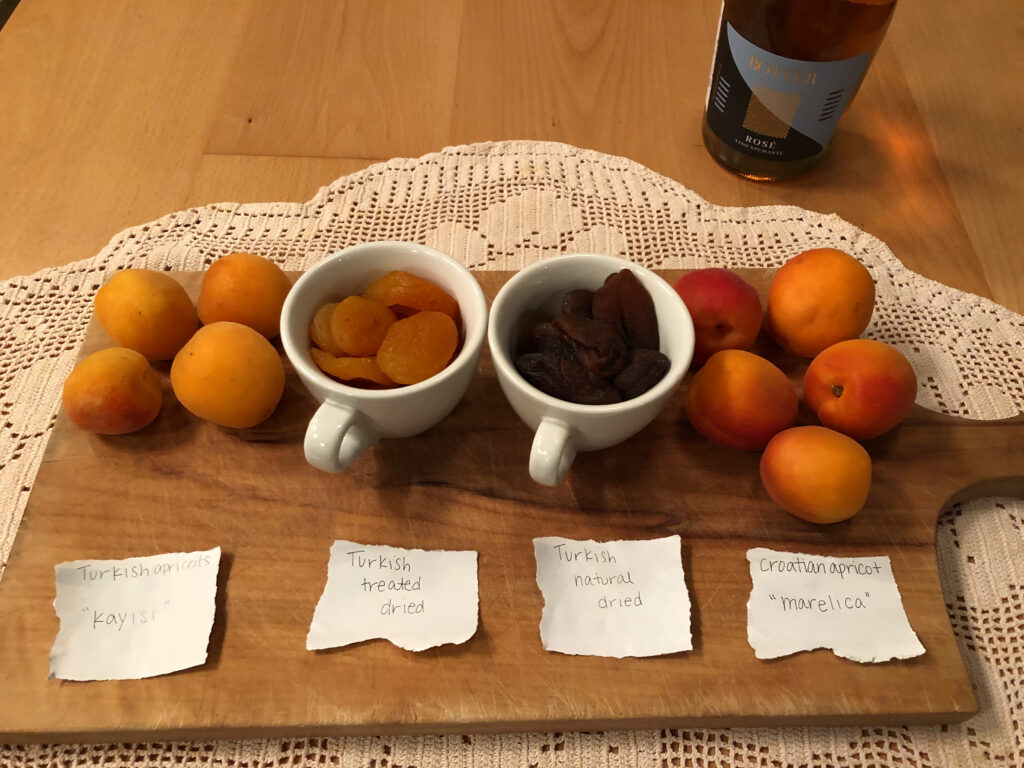 When I consulted with David and Andy Mariani about my Croatian itinerary, they suggested that, while off the beaten path, Vis Island would offer a rustic, genuine experience of Croatian culture. They also advised me not to have high expectations about apricots. Croatia is a land steeped in agricultural traditions where apricots are valued, however, wine grapes and olives are the predominant crops including on Vis Island. So, with a generous gift box of Andy Mariani's dried Blenheim apricots and a copy of my cookbook For the Love of Apricots, I set out to enjoy the beauty, history, and of course, apricots of Croatia, and to connect with the Mariani relations still living in Komiza.
Andy apologetically explained that the family home might be a little tricky to find. He offered an address that could not be found on google maps, explaining that it was on the main road and not far from the church. Without a word of Croatian in our vocabulary, we set off from the main town of Vis across the island with stops at a spectacular hike-or-boat-in only beach, wine tasting at a ridge top family winery, and a final stop in the historic harbor town of Komiza.
With some door knocking and patience, we found Josip Mariani at home and shared some of his homemade wine, Andy's apricots, my cookbook, and conversation about the Mariani's family history. Josip, who lived in California as a youth, returned to Vis where he served as the Harbor Master of Komiza. In 2011, Josip and his family hosted the Mariani family reunion which included 100 American relations visiting tiny Komiza for four days.
Several leisurely days spent on Vis Island allowed us time to discover local apricots, the delightful wines grown only on the island, fresh local fish, hikes and swims, and the ancient rhythms of life lived in harmony with the land and the sea.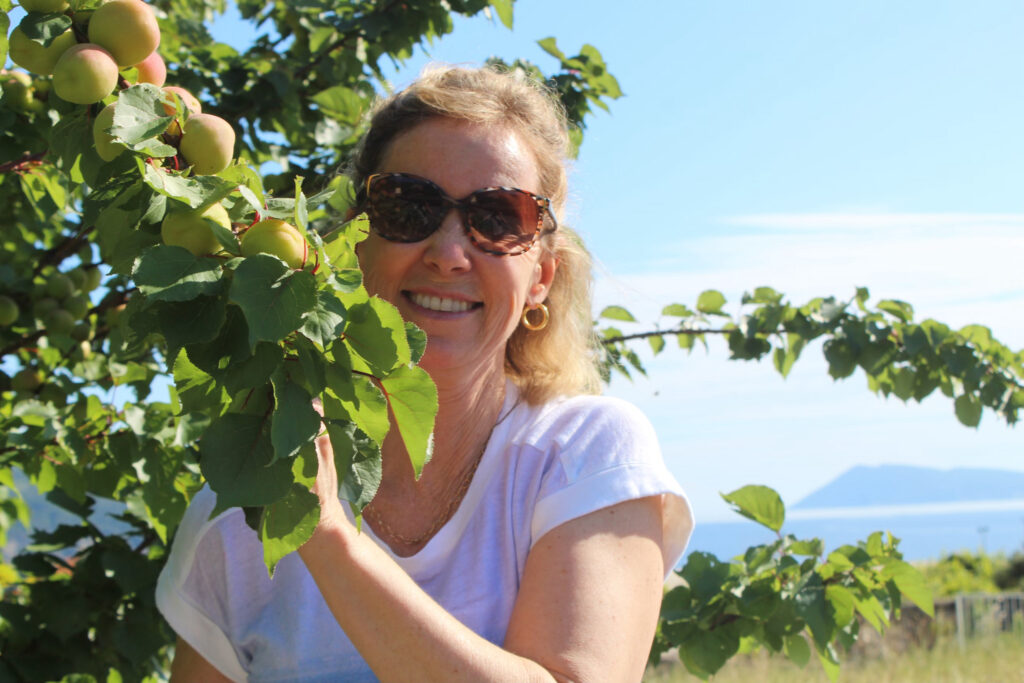 Flows of humans and their food and manufactured products around the world, what we now call the "global" economy, is not new. Yet, the story of returning "new world" varieties of apricots to the "old world" resonates in a special way. This small gift strengthens relationships, illuminates the past, and makes the world a little better; one apricot at a time!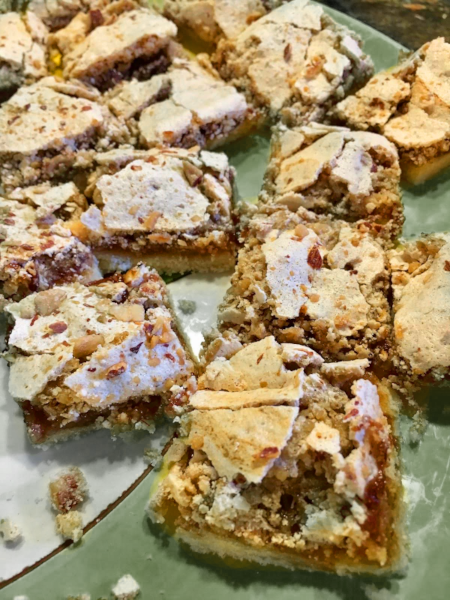 [recipe print="true"]
---
Yugoslavian Christmas Cookies
(Docci Bojai)

In the spirit of the holidays, here is a delightful cookie bar originating in Yugoslavia that combines favorite ingredients – apricots, walnuts, and chocolate – into a memorable treat for the holidays and year-round. Enjoy!
Ingredients:

For the base

2-1/4 cups all-purpose flour

3/4 cup chopped toasted walnuts

1/2 teaspoon ground cinnamon

1/4 teaspoon salt

1 cup butter, softened

3/4 cup granulated sugar

1 teaspoon vanilla extract

1 cup (or more to taste) Apricot Jam, preferably homemade

For the topping

4 egg whites at room temperature

1/4 teaspoon cream of tartar

1 cup granulated sugar

3/4 cup ground walnuts

2 ounces unsweetened chocolate, melted and cooled to room temperature

1/3 cup finely chopped walnuts

Directions:

Pre-heat oven to 350 F.

Grease a 15 x 10-inch jelly roll pan.

To prepare cookie base, combine flour, nuts, cinnamon and salt in a medium bowl; set aside.

In a large mixing bowl beat butter, sugar and vanilla until light and fluffy. Stir in flour mixture; blend well. Turn into prepared pan and smooth the surface. Evenly spread jam over dough; set aside.

To prepare topping, beat egg whites and cream of tartar in a large mixing bowl at medium speed until soft peaks form. Increase speed to medium-high; add sugar, 1 tablespoon at a time, until egg whites form very stiff glossy peaks. Gently fold in ground nuts and melted chocolate.

Spoon dollops of meringue over jam, spread evenly. Sprinkle meringue with chopped nuts.

Bake 5 minutes, remove pan from oven.

Using a very sharp or serrated knife, lightly score surface of meringue into 2-inch squares (8 x 5).

Continue baking 20 to 30 minutes or until meringue is firm to the touch.

Cool in pan on rack. Cut into squares. Store in airtight container at room temperature for up to 4 days.
Adapted from The Joy of Cookies by Sharon Tyler Herbst

[/recipe]