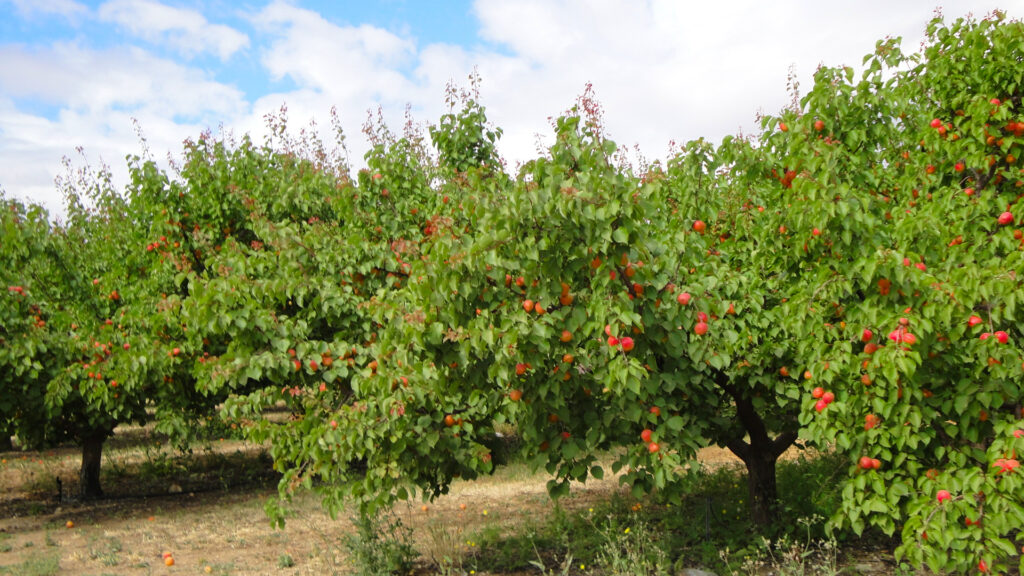 After last summer's splendid apricot season, I settled down to update my For the Love of Apricots cookbook and produce the 5th Anniversary Edition. In addition to anticipating arrival of the new books, it was a long wait for the 2023 apricot season through the history-making winter and the wet, cold spring that followed. The new cookbooks arrived in April and summer weather, at the end of June — just in time for the Blenheim apricot harvest.
Over the past few weeks, local orchardists have been sending out news letters asking apricot lovers to be patient due to the slow ripening of the fruit and lower yields expected this year. Finally, the wait is over and it is time to pick or buy the best-tasting apricots in California and get down to jam making, pie baking, and enjoying seasonal recipes like apricot salsa and sangria. Of course, sun-drying and also freezing some of this year's fresh apricot crop are important methods to preserve them so we can enjoy our favorite fruit through all the seasons ahead!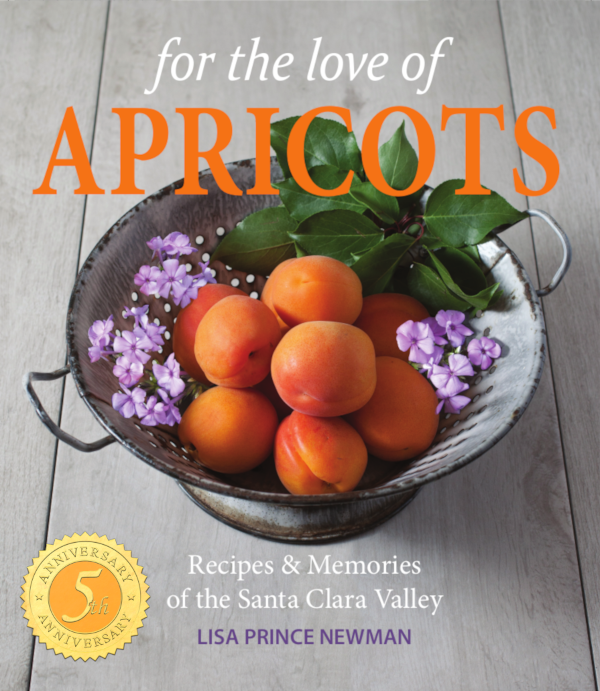 In April, I hit the road to meet with many of the Santa Clara and San Benito county orchard families I've gotten to know over the years to deliver copies of the new cookbook. The 5th Anniversary Edition includes a new resource section about apricot orchardists in the Brentwood area of Contra Costa County, so I drove there in May for the first time to introduce myself and the cookbook.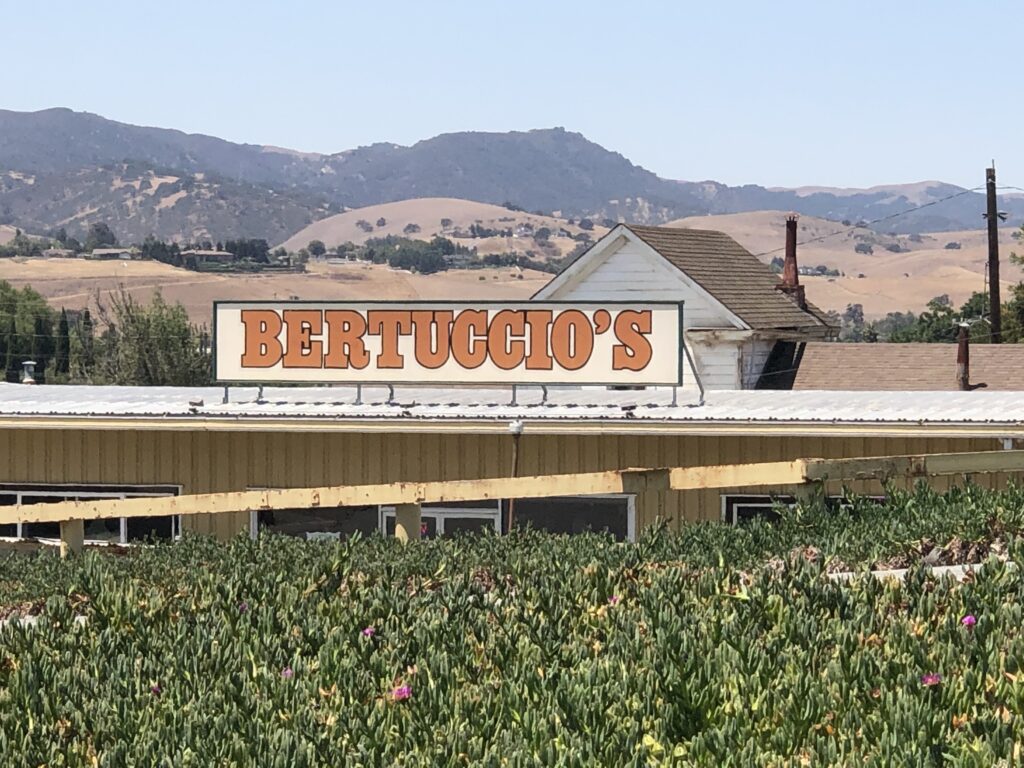 My first stop was Bertuccio's Market, located along Highway 25 in Hollister who have sold the cookbook for a few years. I met Emily Tonascia, the charming daughter and one of five-siblings who are the next-generation to manage the sprawling farm operation. The Tonascia family grow organic apricots and walnuts plus a variety of crops on more than 700 acres in and around Hollister. Their harvest and related food products are sold at Bertuccio's, an award-winning, year-round farm stand. Emily described the close relationship their family had with the former owners, the Bertuccio's, which led to a farming partnership and now full management of the farm. I really enjoyed meeting Emily, putting a face to the well-respected name, and sensing the thriving nature of their enterprise.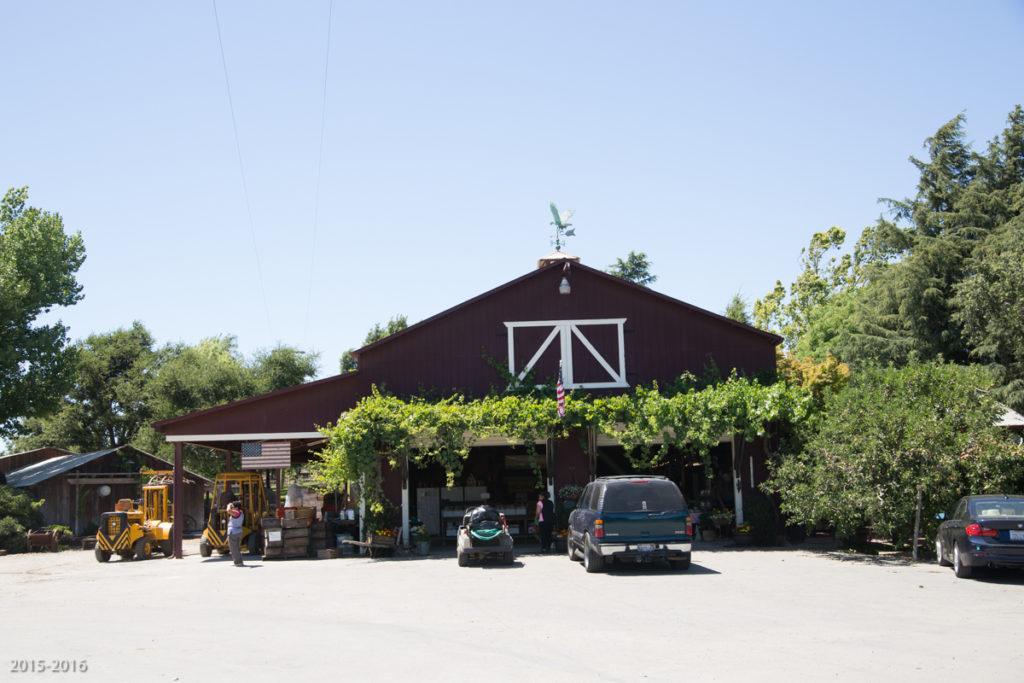 Heading northward, the next stop was beautiful Fairhaven Orchards, which had just re-opened their seasonal farm stand. George and Lucille Rajkovich's family have owned this 85-acre farm since 1958. They have raised up a robust next-generation of orchard operators: three daughters and their spouses, which has allowed the parents to take a step back from running the farm in recent years. When I arrived, daughter Marie was out on some errands so I had the opportunity to chat with Lucille and wave hello to George at their beautiful hilltop home that looks across the apricot and cherry trees toward the east foothills.
It was cherry blossom time and the apricots were small, green-orange in color, and peeking out from the fresh spring leaves. Lucille talked about the unusually wet spring impact on the apricot crop. She predicted that the crop would be lighter this year although the apricots were plentiful enough to keep their crew busy thinning the fruit to maximize their size at harvest time.
Sadly, this would be the last time I would see George. He passed away on June 5th, 2023.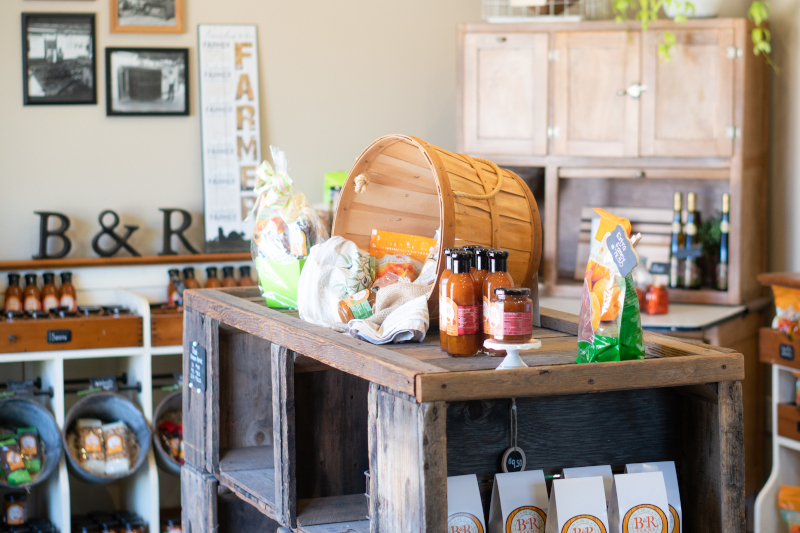 A little north of Fairhaven Orchards, I stopped in at B & R Farms located on Fairview Road in Hollister. The owners, Mari and Jim Rossi, gave me a warm greeting inside their inviting farm stand As we caught up on the unusual winter/spring weather and apricot harvest prospects, Mari offered me a taste of their refreshing apricot freeze. The Rossi's have a large farming operation that includes more than 50 acres of Blenheim and Bonny Royal apricots.
The Rossi's neck of the woods endured a dramatic flood in March as large storms caused the local creek culvert to overflow across the road and onto their orchard property. They managed to mop up afterward without much damage to fruit trees or structures. Jim said that the late rains had caused a hit-and-miss pattern of blossoms throughout the orchard. The result was that some trees were barren while others were full of young fruit. They were putting together dates for their popular U-Pick events as we said goodbye. Check for early July dates for these special events on the B & R website. You can always stop by their farm stand to enjoy a myriad apricot products and other special events throughout the year.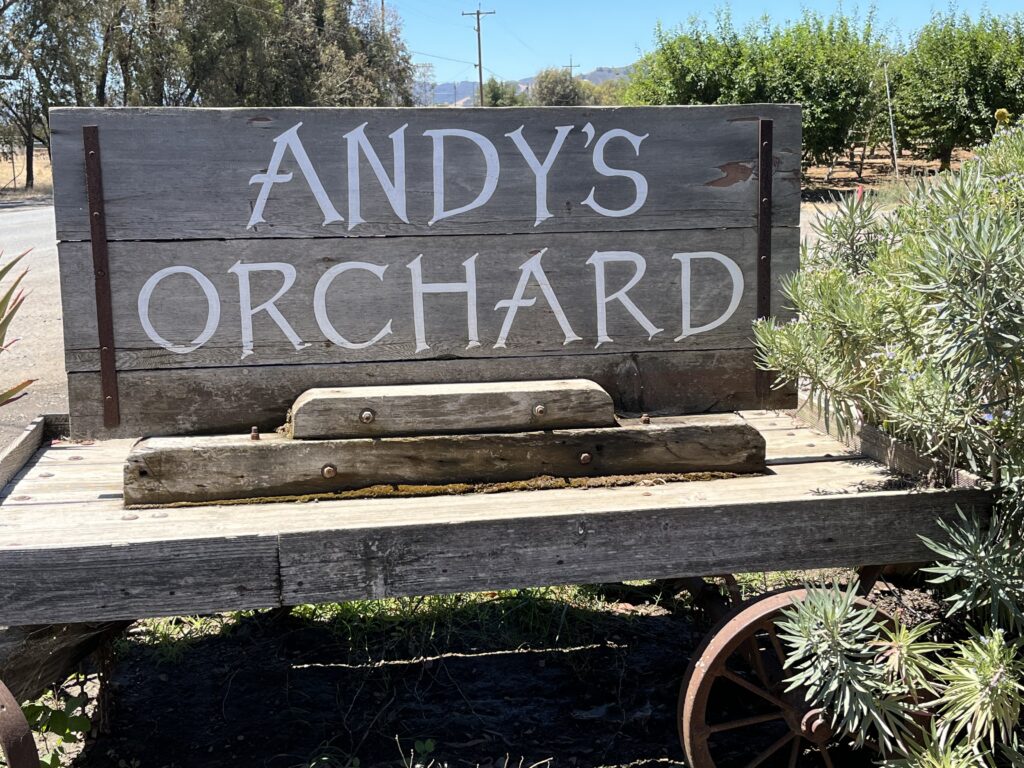 The next stop along the road trip was Andy's Orchard, located in northern Morgan Hill. There's always so much to discuss with Andy and this time we talked while touring his orchards in a vintage ATV. It was a fun and bumpy ride that allowed a close-up view of a similar "hit and miss" pattern of fruit set among the apricot trees, while the cherry trees were abundantly full of fruit. Mother Nature was very fickle this year!
Andy Mariani grows a huge variety of stone fruits that ripen throughout the entire summer. Apricots are of course my singular favorite (and I believe Andy's too). Andy has a broad perspective of the region's fruit history and we often talk about the generation that has been "lost to the love of apricots" due to the historic loss of Santa Clara Valley's extraordinary fruit orchard landscape and the dominance of Central Valley apricot varieties that feature good color and shelf life but lack great flavor. Andy's mission has been to rekindle the love of apricots through the many great tasting varieties he grows.
At Andy's summer Orchard Farm Tour and Tasting Events, you can taste your way through the famously delicious traditional apricot varieties: Blenheim, Moorpark, and Alameda-Hemskirke, as well as so many other notable "new" ones. As we drove around looking over the orchard rows, Andy pointed out many varieties. Some were familiar to me: Bonny Royal, White Knockout, Candycot and Nicole; while others were unfamiliar: Yelena and Yuliya's. And this is a short list of the apricot varieties Andy grows!
I'll be attending Andy's July 8th Farm Tour and Tasting Event when apricot varieties will be at their peak. Sign up in advance on the Andy's Orchard website to participate and come say hello!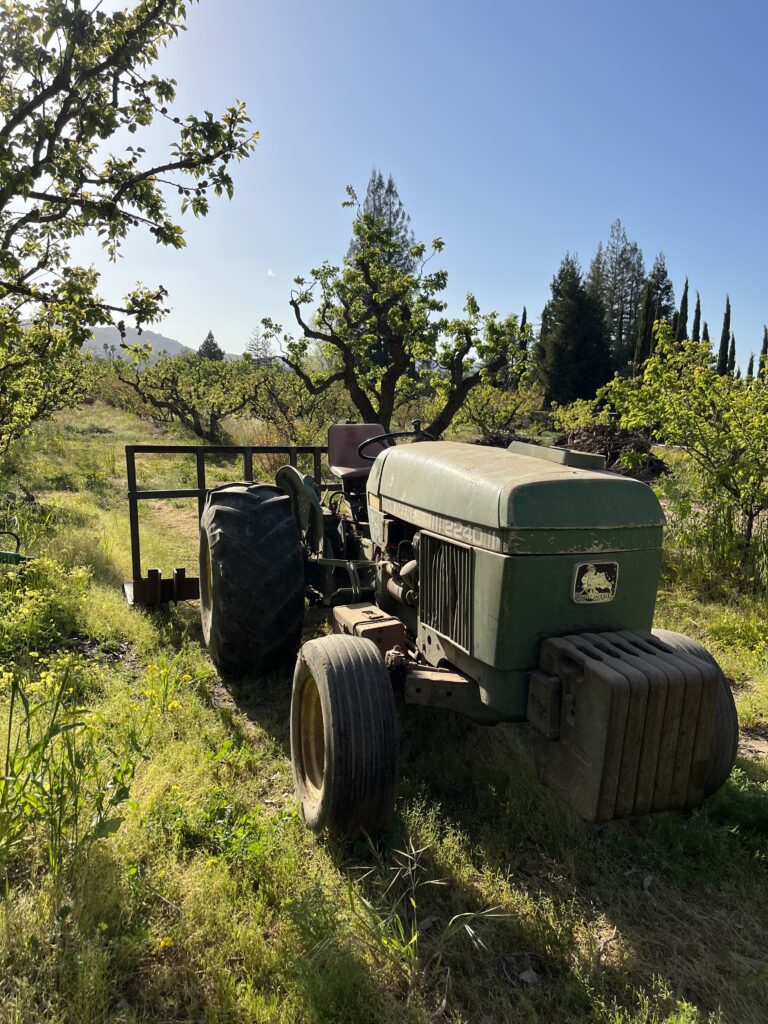 The last stop on my southern Spring farm tour was in my hometown, Saratoga, at Novakovich Orchards. As with all the other orchards I visited, the apricot blossoms had transformed into small green fruits with a lovely blush. Novakovich Orchards grows primarily Blenheim apricots and several varieties of cherries including Bing, Tartarian, and Rainier. It was cherry blossom time and the trees were clouded with gorgeous white blooms with the promise of an excellent cherry fruit set. I chatted with Matt Novakovich about the Blenheim apricot prospects and he was reasonably optimistic there will be a good crop despite the impact of heavy spring rains and wind during blossom time. This year cherries and apricots will be available in the Novakovich Orchards farm stand in early July – a joyous occasion!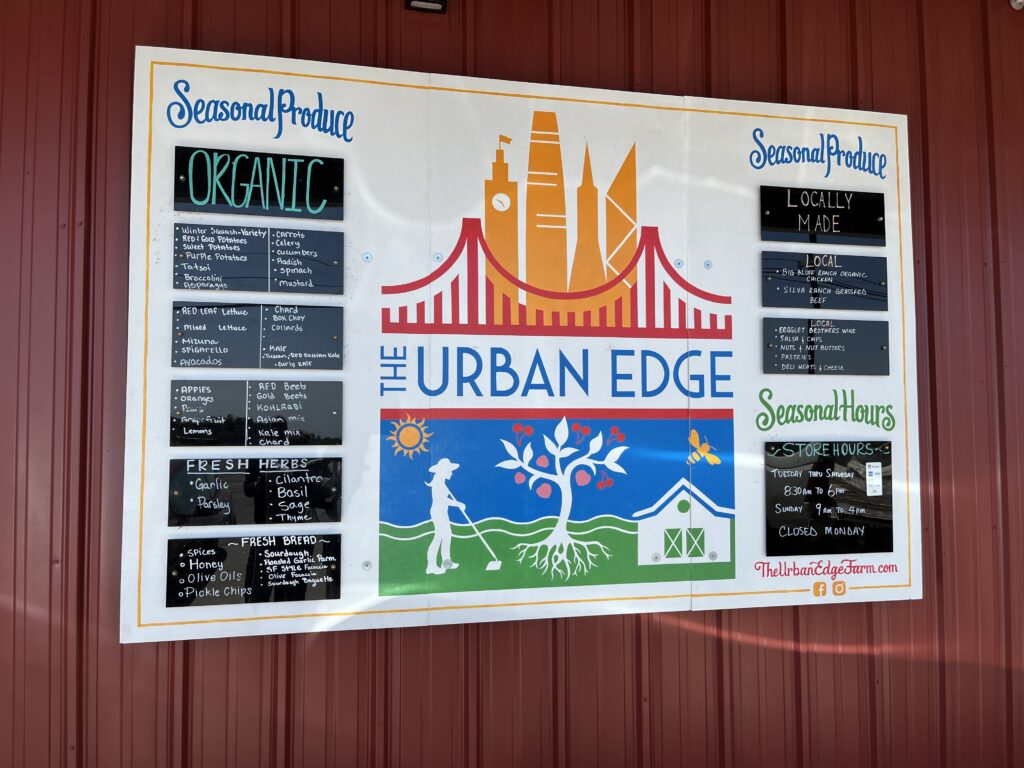 Following this jaunt through the agricultural South Bay Area, I contacted several East Bay/Brentwood area orchardists that have farms stands and made plans for a visit in May. My first stop was the fairly new orchard and farm stand enterprise of the Cecchini family called The Urban Edge Farm. Bob and Barbara Cecchini purchased the ranch as a "hobby" after operating another ranch for 30 years. The impetus for this visit was Barbara, the family matriarch and powerhouse, who reached out to me about selling my cookbook at her farm stand.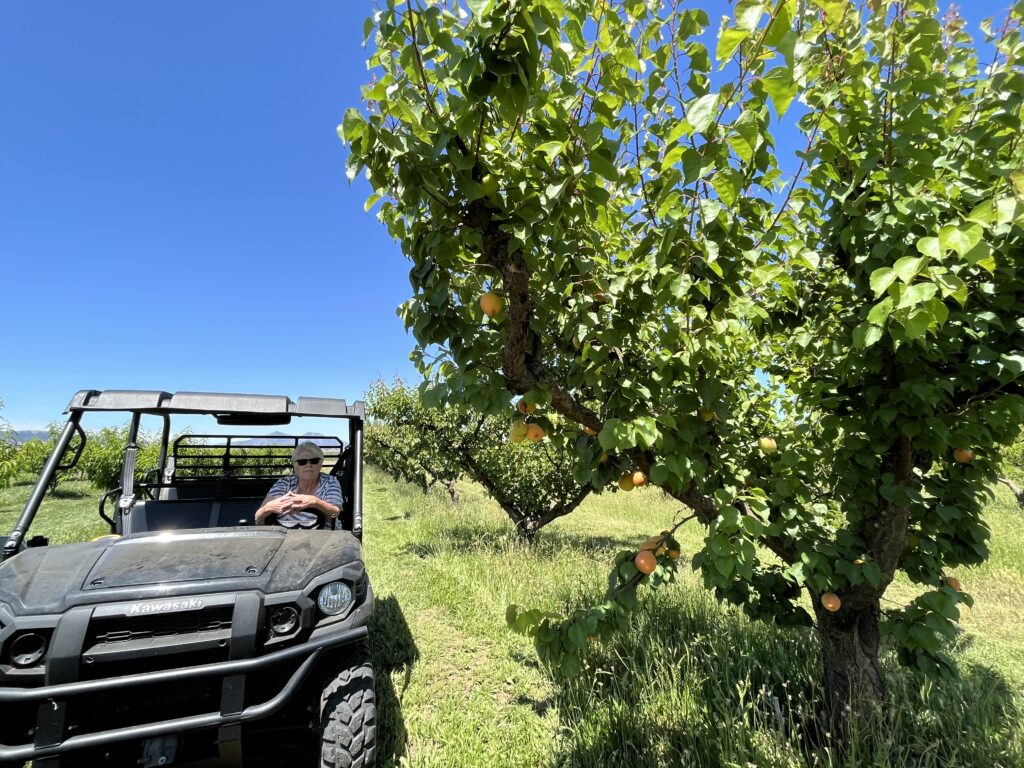 After introducing me to her daughter Allison who was assisting customers, and her adorable granddaughter who was busy eating fresh cherries, Barbara took me on a wonderful tour of their 16 acres of fruit trees on the 34-acre ranch. Since purchasing the property, the family has been steadily revitalizing and expanding the existing orchards. They grow organic apricots, cherries, peaches, and many other stone fruits as well as row crops, all framed with a gorgeous view of Mt. Diablo.
Along the tour, Barbara also proudly introduced me to her sons, Julian and Sebastian, who have built a wine making and bottling facility right next to the farm stand. I was duly impressed with this full-service farming enterprise! The farm stand was bustling with customers and fully stocked with fruit, produce, preserves, meats, other culinary products, and of course, the Cecchini family's wines, under the Mataro label.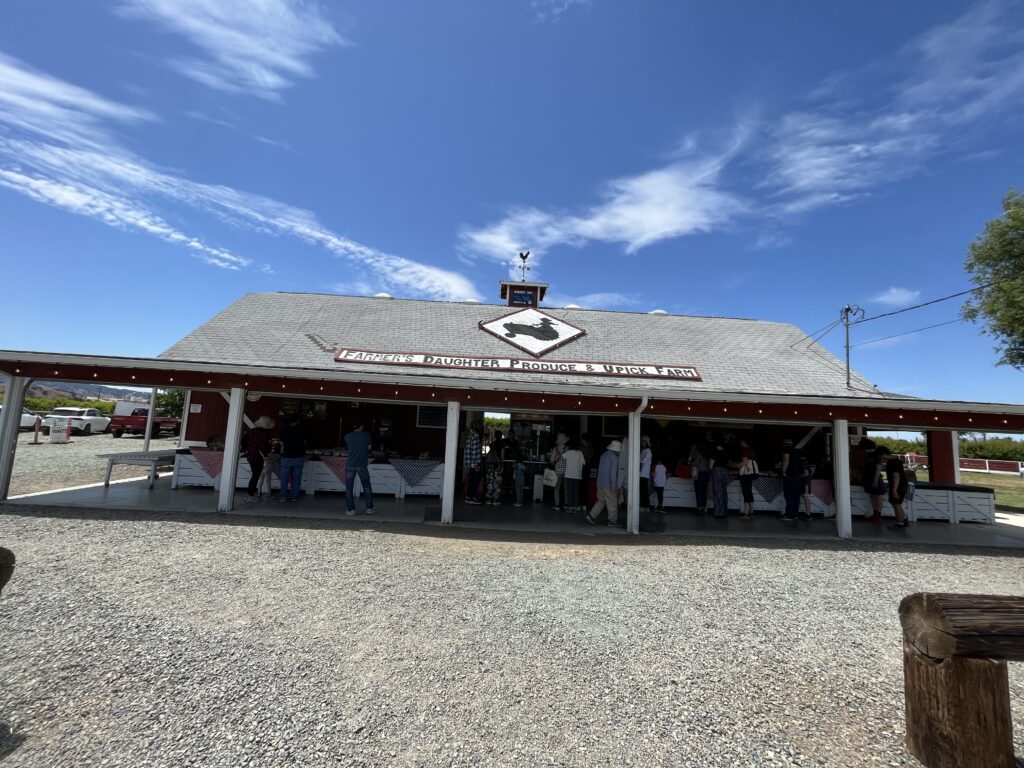 Continuing on through the verdant orchards and fields of Brentwood during cherry picking time, there was a crush of farm stand visitors and "U-Pick" activity, which is popular in this area. I made stops at The Farmer's Daughter farm stand and enjoyed meeting Hailey Nunn. Hailey's family, took over the farm after her Aunt Meredith passed away in 2019. While we talked about their orchards and farm stand operation, I purchased some ripe cherries and early fresh corn to bring home for dinner.
The next stop, down a a curving, narrow dirt road next to a brimful canal, was Frog Hollow Farm. Established in 1976, they are a popular vendor at Farmers Markets around the Bay Area, including mine in Marin County. The first of many apricot varieties they grow had just been harvested and were stacked and ready to transport when I visited. Frog Hollow Farm grows a wide range of stone fruits, berries and vegetables. Their farmers market stands also include preserves, beautiful baked goods, and olive oil. On their website, you can also subscribe to the popular CSA farm boxes.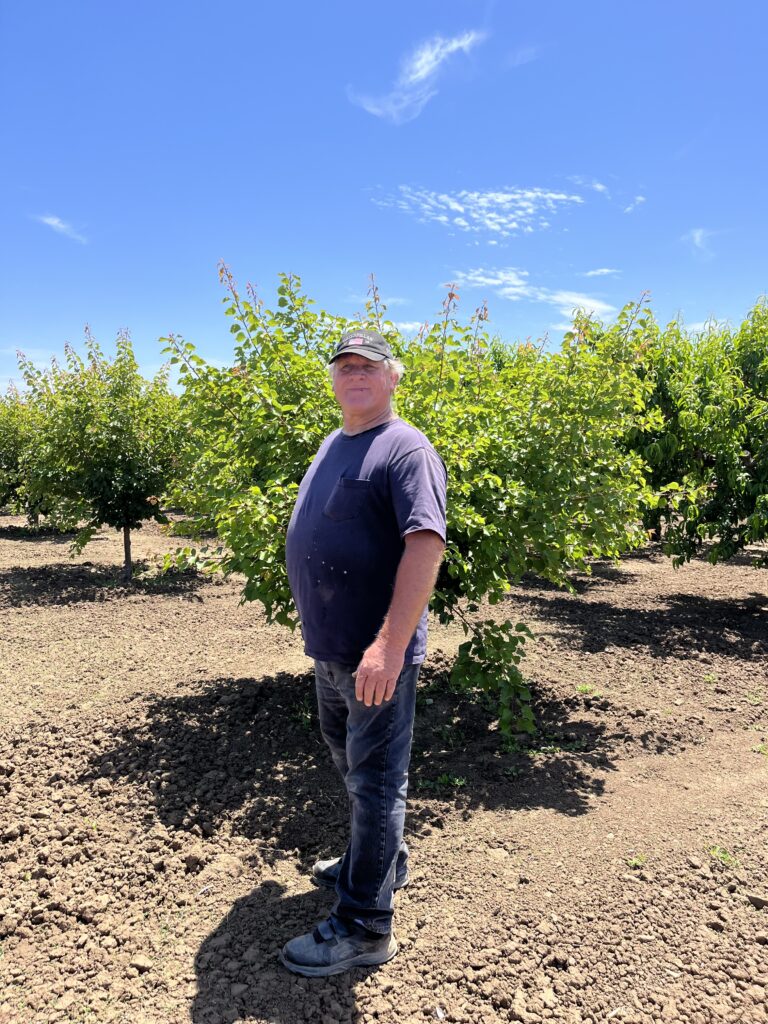 And last but not least, I took the opportunity to meet up with Mike McKinney at his Brentwood orchard. I have known about Mike since I first started doing research on the Bay Area's remaining apricot orchards for the cookbook in 2014 but had not met him personally. Mike is a remarkable farmer who's "day job" is managing the 67-acre apricot orchard owned by the Packard Family Foundation in Los Altos Hills. For fun, Mike tends his own orchard in Brentwood on the weekends!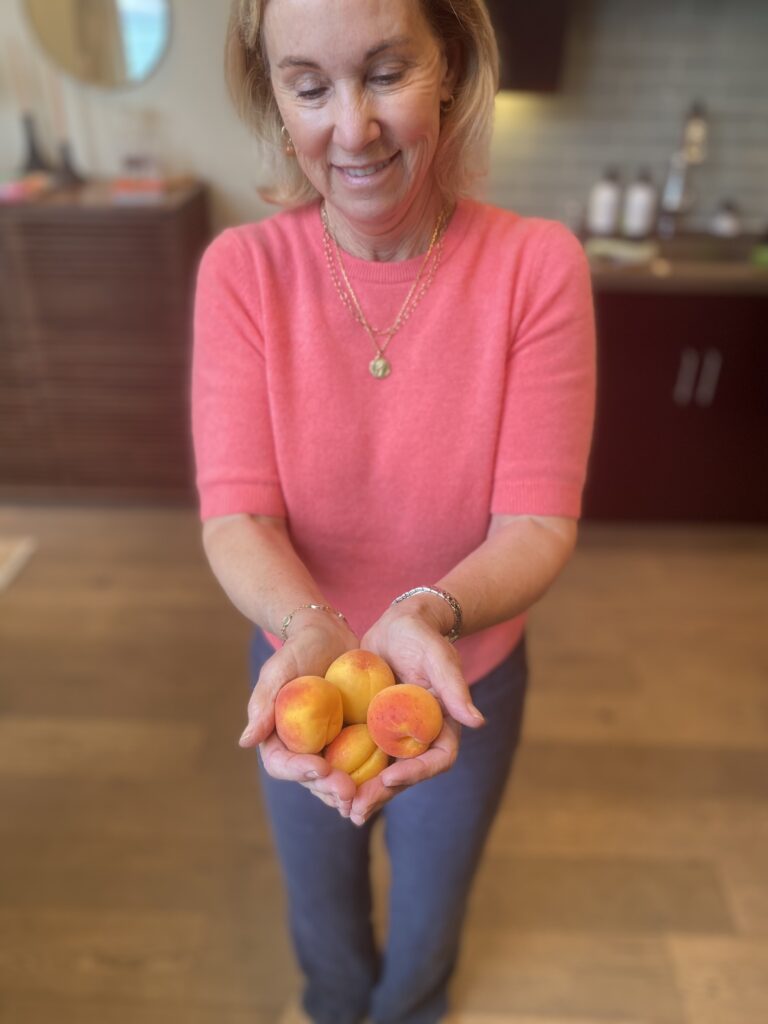 Between these apricot orchard adventure trips, I was invited to write an article for the Saratoga Spotlight magazine that was published in June. I hope you enjoy reading it while you plan your own outings to pick, purchase, taste, and cook with fresh apricots this season. I'll be out there with you as my own apricot crop is very light this year — though few in number they look and taste fabulous!
---
Saratoga's Fruitful History
Saratoga Spotlight, June 2023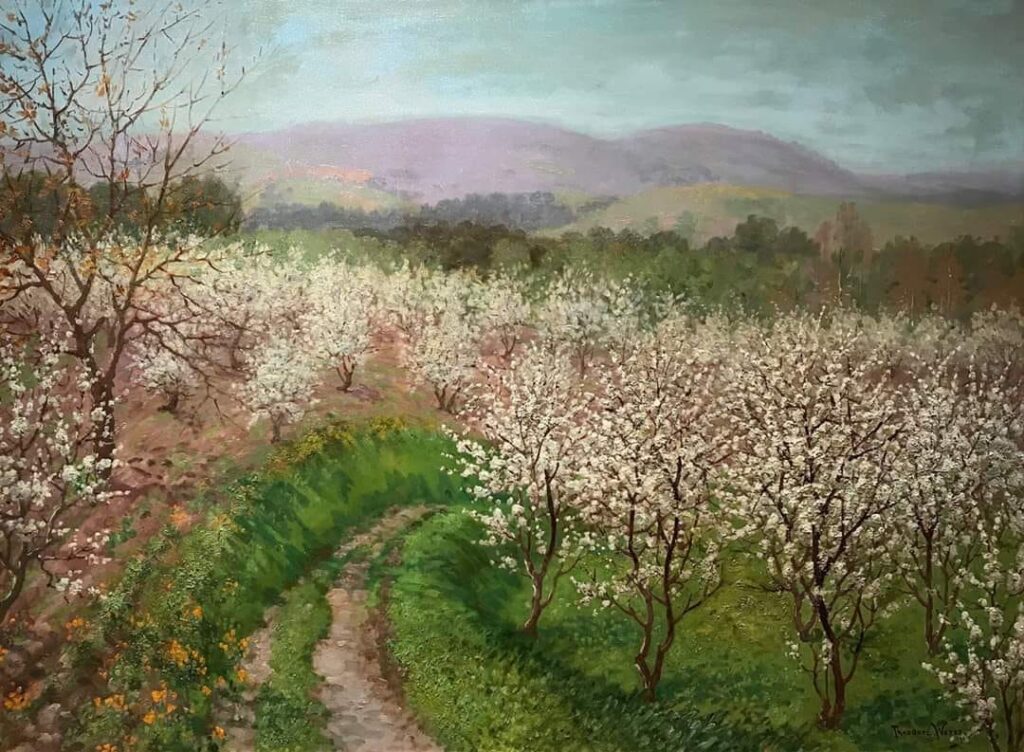 This year's wintry spring will soon turn to summer warmth and the much-anticipated local fruit season. In the orchards, a splendid cherry crop is ripening. Not long after the cherries, the beloved Blenheim apricots will be ready for picking, between Father's Day and the 4th of July. In August, French prunes will reach their dusty purple perfection. These are the fruits that made the Santa Clara Valley world famous for its extraordinary beauty and bounty. We are fortunate to still find them all growing right here in Saratoga.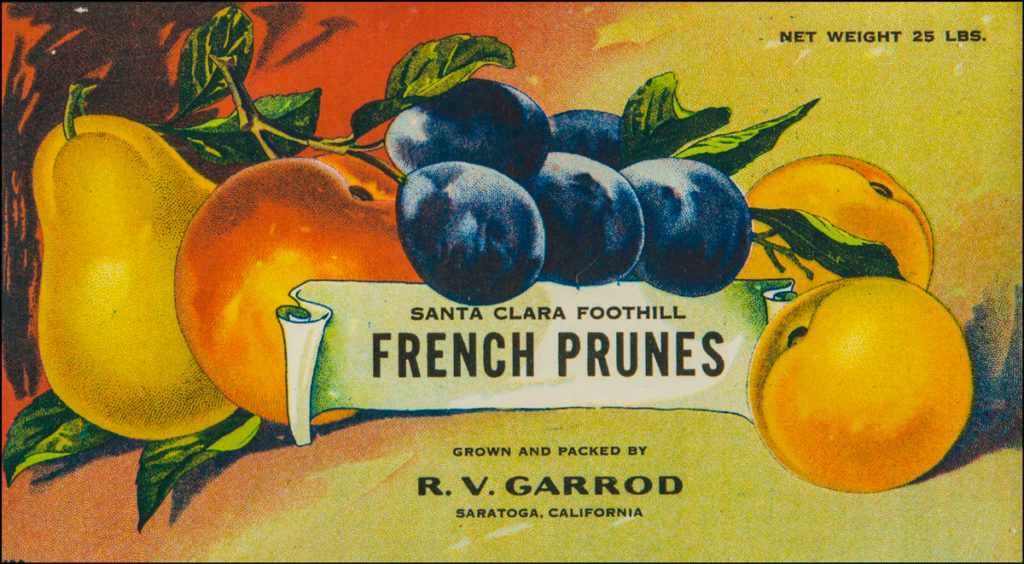 For about 100 years, from the 1849 Gold Rush to WWII, Santa Clara Valley transformed into the Valley of Heart's Delight. The valley's rich soil, plentiful water, and temperate weather were the resources immigrants turned into highly productive orchards and farms. Farms as small as 5 acres could support a family given the growing population's demand for fruit. At its peak in the 1940s, family farms spread across 125 square miles. French Prunes were the largest crop, with 56,000 acres of land. Apricots were the second largest covering 18,500 acres.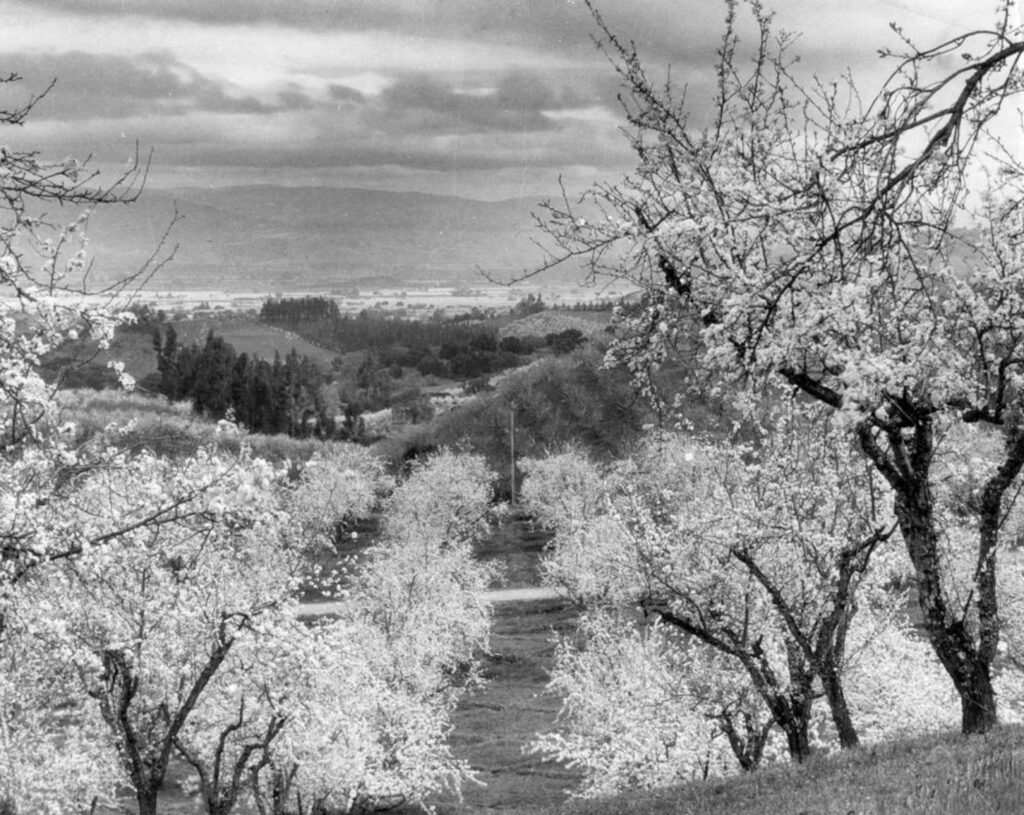 Many people still remember the orchards that spread across the hills and valley floor, perfuming springtime with their astounding blossom display. Travelers came to view the spectacle from trains, planes, and automobiles. Saratoga's Blossom Festival, which began in 1900, grew so popular it attracted visitors from around the world until it ended with WWII. Growing up in Saratoga in the 1960s as I did, orchards were still plentiful, but we were living on the cusp of great change. Farms were being sold and plowed under for suburban development and the world's most productive fruit industry was disappearing at an alarming rate.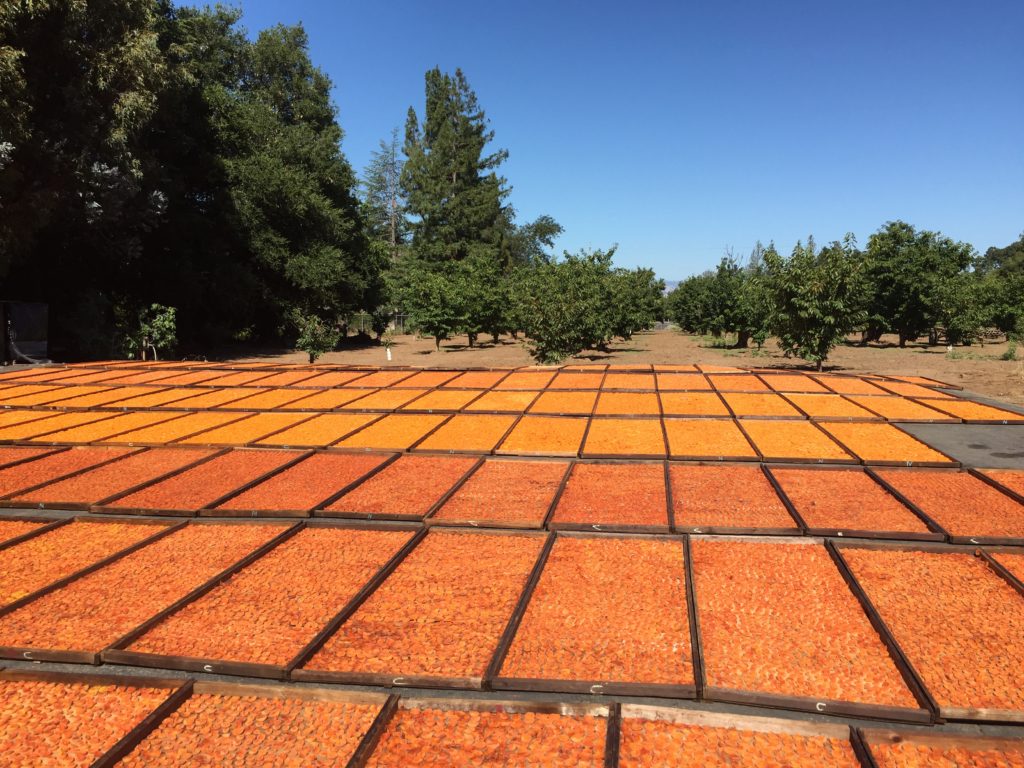 Fortunately, a little bit of our agricultural past remains today, thanks in part to a few steadfast fruit farmers who preserve the Valley of Heart's Delight heritage. Here in Saratoga, the Novakovich family have farmed their 11-acre orchard on Fruitvale Avenue for nearly 125 years. Novakovich Orchards features Blenheim apricots, Bing cherries, and other stone fruits they sell fresh in season while preserving much of their crop for year-round enjoyment and holiday treats. As the last family farm in Saratoga, Novakovich Orchards is a unique resource and a registered historic landmark with a farm shop that is open year-round. If you stop by to shop and chat with the family, you will find time slows down as you connect with Saratoga's deep agricultural traditions.
In the 1970s, the cities of Saratoga, Los Altos, and Sunnyvale preserved "Heritage Orchards" to demonstrate the agricultural history of the region. Local orchardists like the Novakovich family cared for the trees and preserved the fruit for public enjoyment. In 2020, Saratoga changed course to open the Heritage Orchard up to U-pick. While inviting the public to pick fresh fruit for free has proved popular, there are trade-offs to consider, including economic impacts to local commercial farmers, reducing the amount of fruit available to the community year-round, and fruit waste. A conversation between our remaining heritage farmers and the cities who operate "heritage" orchards is needed to find common ground for fair and best practices with a goal to ensure these community treasures are mutually sustainable and flourish for decades to come.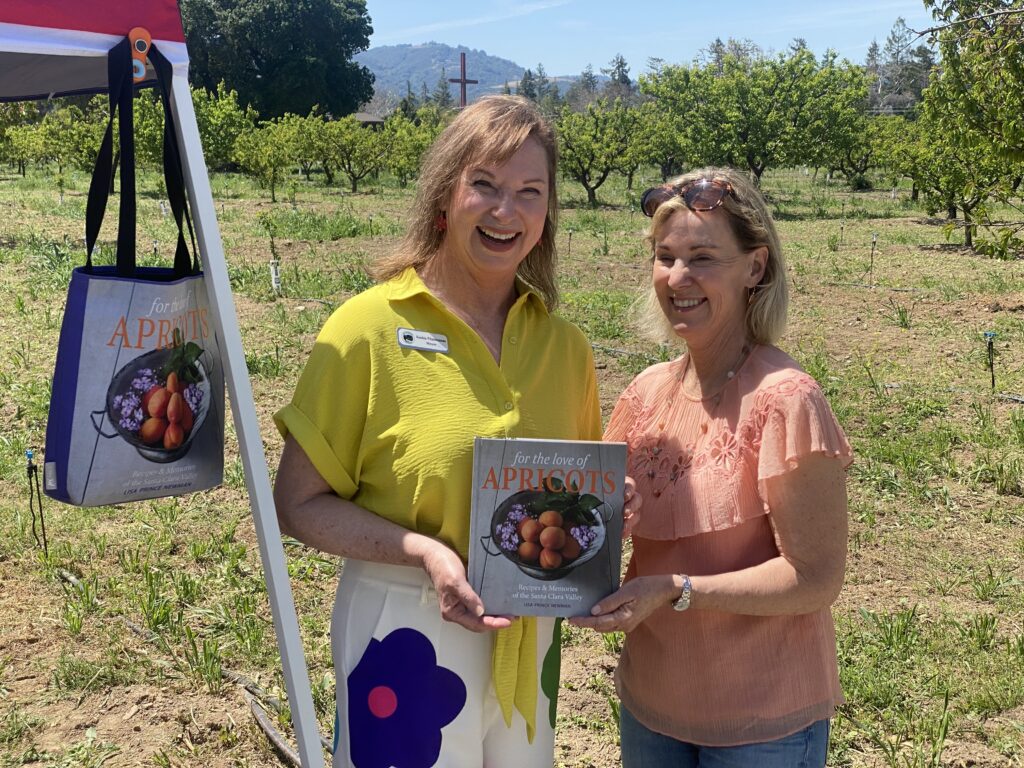 In 2013, Saratoga's Historical Foundation revived the Saratoga Blossom Festival celebration of springtime and the summer fruit harvest to come. The festival connects new and old residents to Saratoga's special place in the Valley of Heart's Delight history. I enjoy sharing my cookbook and memories with attendees, including Saratoga's Mayor.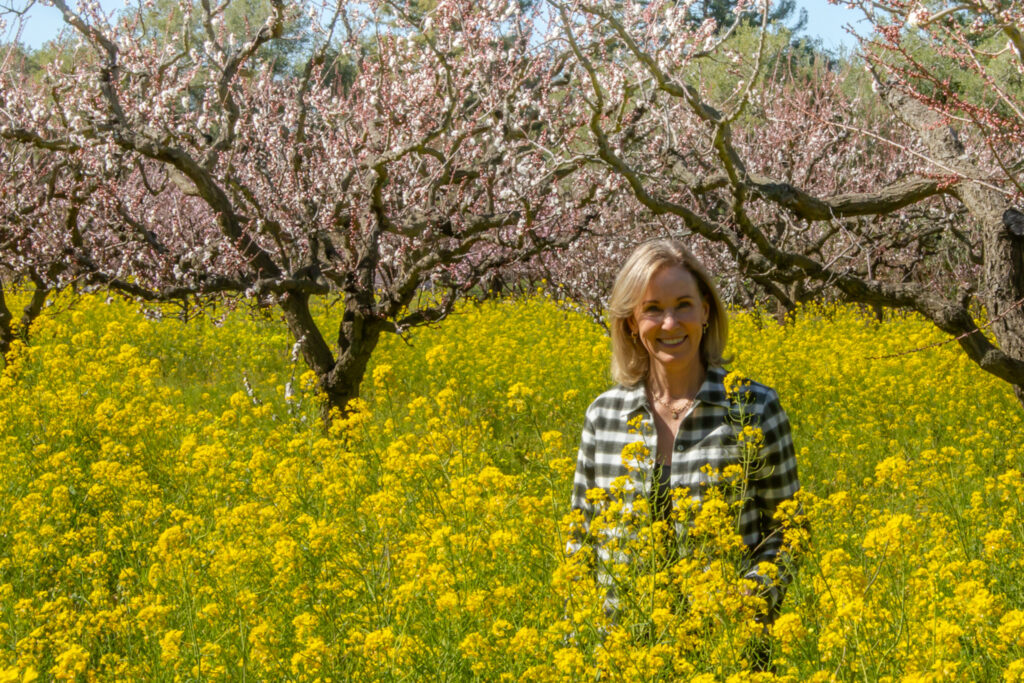 For more information about apricots, recipes, and history, please visit fortheloveofapricots.com.
Wishing you a blessed and wonderful 4th of July!